Double Up Bass Fishing
Have you ever wondered what else you can adventure on in Kissimmee, FL? When you are looking for something fun and exciting to do, don't overlook Florida Bass Fishing. Get out on one of our many freshwater fishing locations and explore what Central Florida truly has to offer. Our local experts are ready to help and provide you a fishing charter of a lifetime! Hop on board for a double up bass fishing experience on your next visit to Central Florida!
One of the bonuses of fishing with us is the ability to fish with a local expert. Years of knowledge and experience allows our professional captains to get you on the bass quickly. If you are exploring Central Florida, these are the captains to fish with. Big bass are caught all year long and now is your chance to land yours. Kissimmee is the home of Personal Bests, so come on down and let's get you hooked up!
Here is your Lake Toho Bass Fishing Update:
Captain Brent Nelson had the pleasure of fishing with Chad and his fiancée Tina. They had an unbelievable bass fishing experience while visiting Kissimmee, FL. It was an early morning trip that last a fantastic 8 hours. Every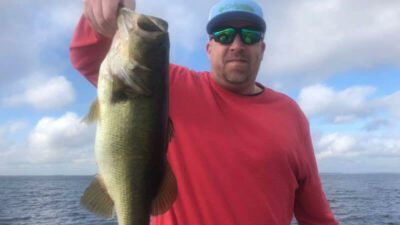 adventure is truly unique and this one was special for this couple. They were traveling from Minnesota looking to catch their personal best largemouth bass.
Chad and his fiancée enjoyed their time on Lake Toho. They got to fish with both wild-caught live shiners and artificial baits. All the bigger fish came on the live bait. Several of the catches were in the 4.5-5 pound range. The biggest catch was caught by Tina weighing in at 6 pounds 5 ounces. This fish was Tina's personal best. The bite was also strong on artificial baits as well. Chad and Tina caught a few on rattle traps and zoom June bug speed worms all over submerged hydrilla.
Chad and Tina are looking forward to their next adventure to Central Florida with Captain Brent!
Just shortly after this awesome trip, Captain Steve Niemoeller had to increase the bar. He had the pleasure of fishing with Doug and his good friend Ken. Doug was traveling from the Panhandle of Florida. Ken was traveling to Florida from the colder weather of the northern states. They were looking to see what Lake Toho in Kissimmee, FL had to offer. What was about to happen was a complete surprise and wish come true.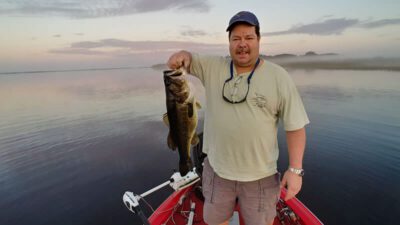 One of the many reasons you should always get out as early as possible is because the big bass come out to play. Ken caught the biggest bass of the trip on the first shiner on the first cast. This beast of a fish weighed in at 7.9 pounds. After this giant fish made it to the boat, these gentlemen also landed several quality fish. It was a productive day for them and they had a great time reeling in fish on their quick 4-hour fishing adventure!
Captain Steve is looking forward to their next adventure on the water in Kissimmee, FL!
It was not long after this fishing charter that Captain Devin Dickerson explored what Lake Toho Bass Fishing had to offer. He had the pleasure of fishing with Rob and his good friend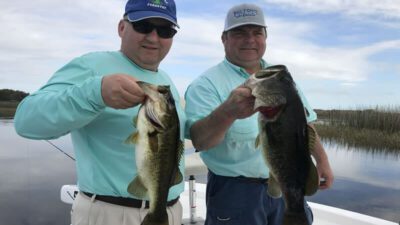 David. They were traveling from Tuscaloosa, Alabama looking for one amazing day on the water. Captain Devin provided them with a true trip of a lifetime.
Lake Toho Bass Fishing showed out on this fishing charter. It was a great day for Rob and David. They caught over 20 Florida largemouth bass with the biggest weighing in at 7 pounds. After landing this big girl, they also caught a 5.8, 5.5, and 5 pound largemouth. The action is hot and heavy and the bass continue to get bigger.
Rob and David will be going back to Alabama dreaming and wishing they were back on the water. Captain Devin is looking forward to seeing them back in Central Florida again in the near future!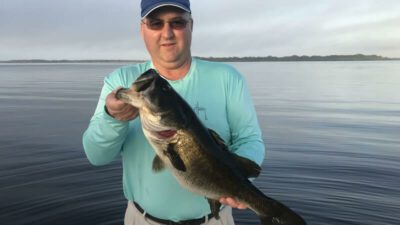 If you are looking for one of the best bass fishing experiences, now is the time to come. Explore and travel to Kissimmee, FL for the ultimate bass fishing. Largemouth are spawning and big females are rolling in every day. Make your dreams come true with one of our local experts and professional captains! We look forward to seeing you on the water next time!
Come Experience Kissimmee and Catch Yours Today…
[fusion_button link="http://bassonline.com/trips/city/kissimmee/lake-toho/" title="BOOK YOUR LAKE TOHO FISHING TRIP ONLINE NOW!" target="_self" alignment="center" modal="" hide_on_mobile="small-visibility,medium-visibility,large-visibility" class="" id="" color="default" button_gradient_top_color="" button_gradient_bottom_color="" button_gradient_top_color_hover="" button_gradient_bottom_color_hover="" accent_color="" accent_hover_color="" type="" bevel_color="" border_width="" size="" stretch="default" shape="pill" icon="" icon_position="left" icon_divider="no" animation_type="" animation_direction="left" animation_speed="0.3″ animation_offset=""]BOOK YOUR LAKE TOHO FISHING TRIP ONLINE NOW![/fusion_button]
If you enjoyed this post, you might also enjoy this fishing report from the same area.
Don't forget to follow us on Facebook, YouTube, Twitter and Instagram.