Big St Johns River Bass
This is Captain Steve Niemoeller with the bass fishing report for the St Johns River had another excellent day; I just can't believe the big fish keep coming like they are; we ended up with around 20 fish, with big fish going to Charlie. He's a first-time customer. They came down with a repeat customer, Alex's brother from South Carolina. And Alex was out with me last year. He caught an 8-pound 7-ounce bass, and he reminded me today that that's what he caught last year, and Charlie caught a 10-pound 5-ounce fish today, a prominent big St Johns River Bass.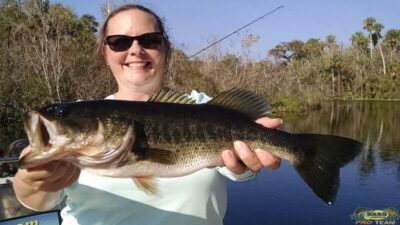 So we had a little bit of a rivalry, but that's alright; we're going back out again, so we will be on Rodman tomorrow. Hopefully out to catch him at 10 something or 11; the weather there was a little bit overcast end of the day, but most of the time sun was shining, and just a little bit of a breeze, and it was a nice day and good people to hang out with all day for all your freshwater fishing Adventures go to BassOnline.
St Johns River Bass fishing report
This is Captain Steve with the bass fishing report for the St Johns River today. I had a great trip with Mitch, a repeat customer of mine, and his father-in-law Heinz from over Ocala ways there, and I haven't seen him in a couple of years; it was just good to get back out with them and chat a little. I've taken him two or three times in the past, and you know you go fishing that many times you get to know someone pretty good, so we just got caught up and went out and caught about 15 or 16 bass today in a 6-hour trip was fishing with wild shiners.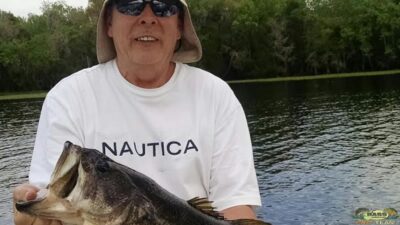 it was Cloudy all day; didn't very much sun, the sun came out just a couple of times but then went right in behind the clouds again, but other than that, it was a pretty lovely day. The wind blew a little bit harder for a while, but we kind of stayed tucked down around the trees and stuff up in the creeks and got out of the wind enough so we could enjoy our day and have a good chat and enjoy ourselves out there that's all for the st johns river bass fishing report. Give me a call, and Let's go do some fishing for all your freshwater fishing adventures; go to bassonline.com.
Big Bass on the St Johns River
This Capt Steve with the fishing report for this afternoon; after I got done with the Toho trip this morning got loaded and ran up to the St Johns River. I had Leo and Mike out of Pennsylvania down here for bike week, and they had a pretty good time. They wanted to go bass fishing, so we went out on a four-hour afternoon trip.
I got lucky the first shiner hit the water and didn't even get the second shiner on, and Mike got one; we caught probably close to a dozen or so there, and Mike caught one right at 7 pounds, an excellent example of Big Bass on the St Johns River, so he's pretty happy about that we already talked about coming back next year during bike week, and that would be great.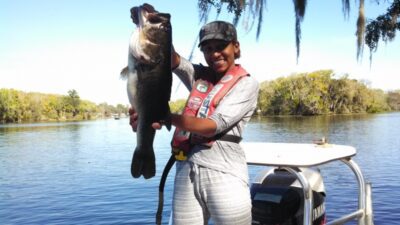 I hope they did. I always like repeats to come back and catch up on What happened during the year again. This is Captain Steve, and if you enjoyed this article, you might also enjoy these articles on types of bass, different lure types, bass fishing at night, or even finding out what is a panfish for all the future; saltwater fishing Adventures will go back online with your care of you.
Captain Steve Niemoeller is a full-time Professional fishing guide and Licensed Master Captain, primarily servicing the freshwater lakes for big St Johns River bass, Lake George, and Lake Monroe. He also regularly guides on Harris Chain and Lake Toho and has great success on Ponce Inlet and Mosquito Lagoon in the saltwater, catching redfish and other species.