Big Fish Today was 10 lbs 9 oz on Lake Toho
Hi this is Capt John Leech with your Lake Toho fishing report.
Well, we had a great day on the lake!
Big fish today was 10 lbs 9 oz on Lake Toho and caught a bunch of additional fish. We caught fish up shallow, caught fish in the middle, caught fish everywhere we wanted to go catch fish. It was just one of those days, you just couldn't do anything wrong!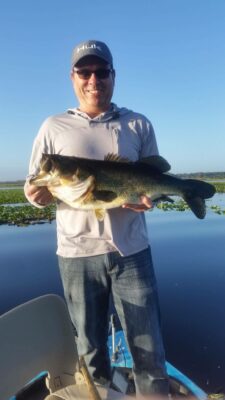 Our big fish came on live bait, which is called a big wild shiner. Caught some fish on artificial lures, that's what we started the morning off with, and then shifted gears over to the live bait. Right away we caught three or four fish, and then we caught that BIG fish. At that point, his day was made. He didn't care what he did for the rest of the day!
Anyways that's it for now, enjoy the beautiful pictures and for all your Florida fishing adventures go to BassOnline.com.
Enjoy and thank you for reading, Capt John leech.
If you enjoyed this fishing report you might like this fishing report on Lake Toho.
Don't forget to follow us on Facebook and Instagram.
Captain John Leech is a full-time guide for over 20 year in Central Florida. He specializes in Central Florida bass fishing and is one of the best at targeting big trophy size large-mouth bass in the Orlando area. His first guide trip was in Leesburg, Florida on the Harris Chain of Lakes. By 1983 I was fortunate to be able to do the one thing I loved the most FISH and make a living doing it. That is what I call a dream job Central Florida Bass Fishing Guide no doubt that fishing in Orlando is one of the best in the world.