Belle Glade Today on the South end of Lake Okeechobee
Hey, everybody, it's Captain Brian here with a late December fishing report. Fished out of Belle Glade today on the South end of Lake Okeechobee. We had an 8-hour full day trip today, we have 4 people we had Ron Power and his brother Shane & Shane two kids Chris and Brandon. All in all went out and just had a memorable day. It was great having the family on the water and being able to enjoy each other. Watching them talk about the stories that they have had made for a great time.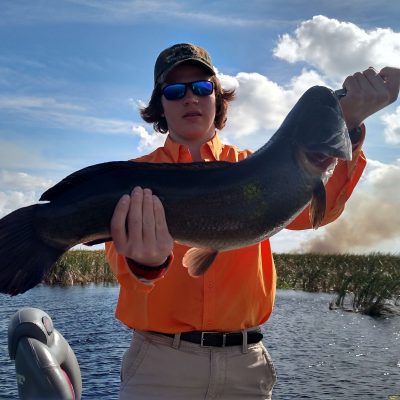 We caught a bunch of fish, we just never really got anything really big. We went through six dozen shiners, the bite was a little bit off in the morning. Fish didn't bite quite like they should, not the way we definitely thought they would eat. We did catch a couple of decent fish in the four-pound range, but no giant bass, but did catch a couple of giant mudfish.
We had one that was 8 pounds and one that was 10-1/2 pounds, not the bass you're looking for but they definitely provide a hard fight and pull hard on the end of that string while fishing Belle Glade Today on the South end.
So the guys overall had a great time and Florida provided great weather, even with a little bit of wind we're able to tuck away in a couple of areas and just enjoy the day…so come on down and treat yourself to vacation for the New Year.
Hopefully, we can get you out on the water and have a trip of a lifetime. Maybe you can even catch trophy fish for a lifetime!
About the Captain
Until next time, tight lines Captain Brian Brown
If you enjoyed this post about Belle Glade Today on the South end Lake Okeechobee you might also enjoy this fishing report from the same area.
Don't forget to follow us on Facebook and Instagram.
Capt Brian Brown is a seasonal full-time bass fishing guide, he is also your go-to Crappie fishing guide on Lake Okeechobee. With over 20yrs of experience, Brian can help you understand the movements of fish, understand how to read your electronics. As well as helping you choose the proper tackle to use for your next fishing trip. So if you are ready for a fun day on the water with great fishing tips thrown in, Capt Brian could be the guy for you.