The bass at Georgia's Lake Seminole have a reputation for acting a lot like the largemouths in neighboring Florida. Well, a couple of veteran Floridians and a guy who's already won a tour-level event in the Sunshine State this year put a hurting on them today.
Shaw Grigsby grabbed the first-day lead in the initial Bassmaster Elite Series event of the 2014 campaign by bringing a 30-05 sack to the scale. Grigsby is one of the game's top sight-fishermen and a lot of Seminole's bass are on the beds, but he compiled his stringer conventionally as strong winds made looking difficult.
He has a 3 1/2-pound edge over Bernie Schultz, whose 26-14 bag contained a 10-10 monster from a bed that he'd located during practice. He also roped its 4-pound male companion.
Kevin Short slid into the No. 3 position with a 25-09 sack that he compiled via casting. In 4th was the red-hot Brett Hite, the FLW Tour Angler of the Year (AOY) leader who won that circuit's opener at Lake Okeechobee last month and finished 10th at Lake Hartwell last week.
Tommy Biffle rounded out an experience-laden Top 5 with a 23-13 haul.
Here's how the early Top 12 stacks up, with red numbers in parentheses indicating deficit margin from the leader:
1. Shaw Grigsby: 30-05
2. Bernie Schultz: 26-14 (3-07)
3. Kevin Short: 25-09 (4-12)
4. Brett Hite: 24-11 (5-10)
5. Tommy Biffle: 23-13 (6-07)
6. Hank Cherry: 23-03 (7-02)
7. David Walker: 21-04 (9-01)
8. Mark Davis: 21-00 (9-05)
9. Todd Faircloth: 20-15 (9-06)
10. Chad Morgenthaler: 20-10 (9-11)
11. Brian Snowden: 20-03 (10-02)
12. Takahiro Omori: 19-11 (10-08)
The intensity of the wind varied throughout the day, and it was nasty when it was at its worst. Gusts were in the 25-mph range at times and there were extended periods when it blew at a sustained 15 to 20.
The wind made the sight-fishing conditions far less than ideal, but many in the field tried anyway, with mixed levels of success. The spawners that are left should be easier to spot on day 2 (as the wind is predicted to top out at about 7 mph) and more might move up, but the chilly night could slow that progression.
Aaron Martens, the 2013 AOY, opened with a 17-05 stringer that left him in 30th place. Seven-time points champion Kevin VanDam was 26th with 17-09.
It was a rough day for newly crowned Bassmaster Classic champion Randy Howell, who weighed just two fish for 6-10 and sits in 94th.
The field will be reduced to the Top 50 following the day 2 weigh-in. Only the Top 12 will advance to Sunday, when the winner will be determined based on highest cumulative weight.
Grigsby Fooled 'Em
> Day 1, 5, 30-05
It'd be natural to assume that Grigsby's massive sack was comprised of fish that had been actively involved in the reproduction ritual. That assumption would be incorrect, as he opted against plying the tactic for which he's most renowned.
"It was windy as a son of a gun and it was cold and a lot of places were muddying up," he said. "The sight-fishing conditions were brutal. The only time I looked at any today was when I was whipping them."
He wouldn't divulge what he threw, but said he had all of his weight by about 10 o'clock.
"After that I went looking and looking trying to find one that'd cull, but it takes a big one at that point. If I'd seen a 10 or an 11, then yeah, I'd have tried to catch it. But I wasn't going to mess with 4-pounders because you want to save those for the next day."
If memory serves him, the stringer was the fourth-largest of his professional career and the heaviest he's ever caught that didn't contain a single sight-fish.
"Anytime you break 30 pounds, it's just an awesome, awesome day."
He'll play the looking game on day 2 if the conditions are more suitable.
"I've got a lot of spawning fish," he said. "A lot of them certainly got picked off today, but there's still plenty to be caught. That's my base and it's what I'm relying on. If I can get one or two or three good ones tomorrow, that would be golden."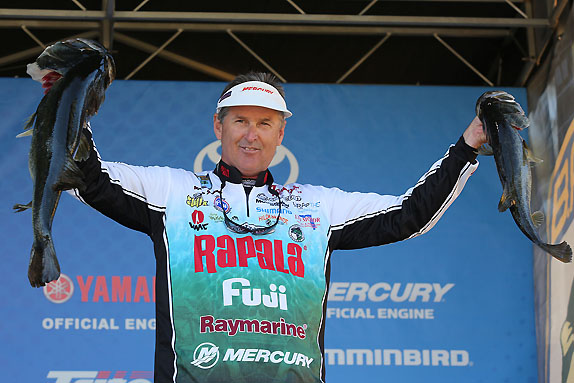 PHOTO: B.A.S.S./GARY TRAMONTINA
A 10 1/2-pound giant anchored Bernie Schultz's day-1 bag.
2nd: Schultz Looked at 4
> Day 1: 5, 26-14
Schultz's boat was the fourth to leave the launch this morning and he went directly to his best-bed fish area. He became frustrated less that an hour later, though, as he said he was joined by so many fellow competitors that he "couldn't even move."
He pulled up stakes and went to his backup plan, which was throwing a rattlebait in grass. That produced a 4-pounder, but nothing else.
"Then I went to another bedding area and there was nobody there," he said. "I got the rest of my weight there, and the big one was the first one I caught sight-fishing. That one took me about 45 minutes, and then I caught the male a few minutes later."
He'd found that fish in practice, but estimated it to be a 6-pounder. He got it to bite his Yamamoto Lizard three times before putting it in the boat.
"The first time I just pulled the bait out of her mouth. She was in some lily pads, and the next time I hooked her she got up on top of the pads and started carving across them and pulled off.
"I thought that was it, but then she came back again and I got her that third time. She was pretty tired out by then."
He'd prefer to avoid having to sight-fish throughout the event.
"I don't really like it, to be honest," he said. "When I was younger I did, but fewer guys sight-fished back then. Now most of the field does it and they're very capable at it."
3rd: Short Fished Alone
> Day 1: 5, 25-09
Short was in the same figurative boat as Grigsby – he decided that the sight-fishing conditions were less than satisfactory, so he went the conventional route.
"I didn't think today was a good day to be looking at them, so I just went fishing," he said. "I figured out a couple of different ways (in practice) to catch some."
Unlike Grigsby, he'd be perfectly happy if he never looks at one all week.
"I like doing it and I'm pretty good at it, but I'd rather not get into it in a tournament situation. It's not going to be my first deal."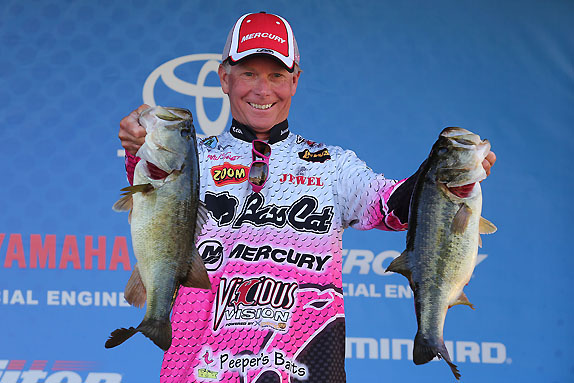 PHOTO: B.A.S.S./GARY TRAMONTINA
Kevin Short got his season off to a strong start with a 25 1/2-pound stringer.
He boated eight keepers on the day, the best of which was a little over 6 pounds. He didn't lose anything and had no company.
"I've got some stuff that I couldn't fish right today with the wind howling," he said. "I'm just going to keep it open-ended and see what happens. If it's not happening, I won't be afraid to pull the chain and move."
4th: Hite's Roll Continues
> Day 1: 5, 24-11
Hite is gunning for his second tour-level win of the young season and his third Top-10 placement in as many outings. He didn't sight-fish and will avoid that practice entirely if at all possible.
"I was never planning on doing that here," he said. "I don't really like it that much, and anymore there are so many people trying to be professional sight-fishermen that everything just gets so beat up. It's not my deal.
"This year I'm just fishing the way I want to fish and I'm not being influenced by anything that's going on. I'm just out having fun and going fishing. I'm not second-guessing myself and that makes a huge difference."
A 6-pounder was the heftiest of the dozen keepers he handled.
"I'm confident in what I'm doing and I think it's a good way to fish and I think there's plenty of fish to go around."
His practice was slightly abbreviated because he advanced to the final day at the Hartwell FLW Tour, but it was productive nonetheless.
"I'm just fishing real good right now."
94th: Howell's Gambles Didn't Pay
> Day 1: 2, 6-10
Howell had a lackluster showing on his first competition day as the reigning Classic champion.
"I did take some more chances (with a berth in next year's Classic already sewn up)," he said. "I was planning on mostly sight-fishing, but when I drew boat (No.) 100, I knew other people would be on the better fish I'd found, so I gambled on catching a big bag out deep.
"I caught those two 3 1/2-pounders back to back and there was nobody around, so I thought I'd get a decent bag. I roamed around to a few different places and I had a 6-pounder get off right at the boat, so that told me I was doing the right thing to catch a big bag. I kept chasing that, but time started running down and I went to the bank and wasted 2 hours because all of my bed-fish had been picked off.
"I couldn't even find the males to salvage the day," he continued. "Before I knew it, it was over with."
He plans to spend most of day 2 offshore.
"I've got nothing to lose, so I'll just try to get the big ones to bite. They're not biting real good and I think it's because a lot of the water's so muddy (from recent rains)."
Notable
> Day 1 stats – 108 anglers, 81 limits, 8 fours, 7 threes, 9 twos, 3 ones.
Weather Forecast
> Fri., March 13 – Sunny – 69°/45°
– Wind: From the SE at 7 mph
> Sat., March 14 – Mostly Cloudy – 74°/57°
– Wind: From the S/SE at 5 mph
> Sun., March 15 – T-Storms – 70°/54°
– Wind: From the S/SE at 8 mph
Day 1 Standings
1. Shaw Grigsby Jr. — Gainesville, FL — 5, 30-05 — 100
Day 1: 5, 30-05
2. Bernie Schultz — Gainesville, FL — 5, 26-14 — 99
Day 1: 5, 26-14
3. Kevin Short — Mayflower, AR — 5, 25-09 — 98
Day 1: 5, 25-09
4. Brett Hite — Phoenix, AZ — 5, 24-11 — 97
Day 1: 5, 24-11
5. Tommy Biffle — Wagoner, OK — 5, 23-13 — 96
Day 1: 5, 23-13
6. Hank Cherry Jr — Maiden, NC — 5, 23-03 — 95
Day 1: 5, 23-03
7. David Walker — Sevierville, TN — 5, 21-04 — 94
Day 1: 5, 21-04
8. Mark Davis — Mount Ida, AR — 5, 21-00 — 93
Day 1: 5, 21-00
9. Todd Faircloth — Jasper, TX — 5, 20-15 — 92
Day 1: 5, 20-15
10. Chad Morgenthaler — Coulterville, IL — 5, 20-10 — 91
Day 1: 5, 20-10
11. Brian Snowden — Reeds Spring, MO — 5, 20-03 — 90
Day 1: 5, 20-03
12. Takahiro Omori — Emory, TX — 5, 19-11 — 89
Day 1: 5, 19-11
13. Cliff Crochet — Pierre Part, LA — 5, 19-07 — 88
Day 1: 5, 19-07
13. Charlie Hartley — Grove City, OH — 5, 19-07 — 88
Day 1: 5, 19-07
13. James Niggemeyer — Van, TX — 5, 19-07 — 88
Day 1: 5, 19-07
16. Britt Myers — Lake Wylie, SC — 5, 19-03 — 85
Day 1: 5, 19-03
17. Morizo Shimizu — Osaka, Japan — 5, 19-02 — 84
Day 1: 5, 19-02
18. J Todd Tucker — Moultrie, GA — 4, 18-14 — 83
Day 1: 4, 18-14
19. Dennis Tietje — Roanoke, LA — 5, 18-11 — 82
Day 1: 5, 18-11
20. Dean Rojas — Lake Havasu City, AZ — 5, 18-09 — 81
Day 1: 5, 18-09
21. Davy Hite — Ninety Six, SC — 5, 18-08 — 80
Day 1: 5, 18-08
22. Clifford Pirch — Payson, AZ — 5, 18-07 — 79
Day 1: 5, 18-07
23. Chris Lane — Guntersville, AL — 5, 18-06 — 78
Day 1: 5, 18-06
23. Brandon Lester — Fayetteville, TN — 5, 18-06 — 78
Day 1: 5, 18-06
25. Ott DeFoe — Knoxville, TN — 5, 17-11 — 76
Day 1: 5, 17-11
26. Kevin VanDam — Kalamazoo, MI — 5, 17-09 — 75
Day 1: 5, 17-09
27. Josh Bertrand — Gilbert, AZ — 5, 17-08 — 74
Day 1: 5, 17-08
27. Justin Lucas — Guntersville, AL — 5, 17-08 — 74
Day 1: 5, 17-08
29. Matt Reed — Madisonville, TX — 5, 17-07 — 72
Day 1: 5, 17-07
30. Aaron Martens — Leeds, AL — 5, 17-05 — 71
Day 1: 5, 17-05
31. Marty Robinson — Lyman, SC — 5, 17-01 — 70
Day 1: 5, 17-01
32. Kurt Dove — Del Rio, TX — 5, 17-00 — 69
Day 1: 5, 17-00
32. Randall Tharp — Port Saint Joe, FL — 5, 17-00 — 69
Day 1: 5, 17-00
34. Gerald Swindle — Warrior, AL — 5, 16-15 — 67
Day 1: 5, 16-15
35. Brandon Card — Caryville, TN — 5, 16-10 — 66
Day 1: 5, 16-10
35. Jamie Horton — Centerville, AL — 5, 16-10 — 66
Day 1: 5, 16-10
37. Skeet Reese — Auburn, CA — 5, 16-07 — 64
Day 1: 5, 16-07
37. Byron Velvick — Boenre, TX — 5, 16-07 — 64
Day 1: 5, 16-07
39. Boo Woods — Oneida, KY — 5, 16-06 — 62
Day 1: 5, 16-06
40. Jeremy Starks — Scott Depot, WV — 5, 16-00 — 61
Day 1: 5, 16-00
41. Yusuke Miyazaki — Forney, TX — 5, 15-15 — 60
Day 1: 5, 15-15
42. Trevor Romans — Plano, TX — 5, 15-14 — 59
Day 1: 5, 15-14
43. Andy Montgomery — Blacksburg, SC — 5, 15-10 — 58
Day 1: 5, 15-10
44. Rick Morris — Lake Gaston, VA — 5, 15-09 — 57
Day 1: 5, 15-09
45. Kelly Jordon — Palestine, TX — 5, 15-05 — 56
Day 1: 5, 15-05
45. Nate Wellman — Newaygo, MI — 5, 15-05 — 56
Day 1: 5, 15-05
47. Matt Herren — Trussville, AL — 5, 15-04 — 54
Day 1: 5, 15-04
48. Kelley Jaye — Dadeville, AL — 5, 15-03 — 53
Day 1: 5, 15-03
49. Scott Rook — Little Rock, AR — 5, 15-02 — 52
Day 1: 5, 15-02
50. Casey Ashley — Donalds, SC — 5, 14-13 — 51
Day 1: 5, 14-13
51. Jacob Powroznik — Port Haywood, VA — 5, 14-12 — 50
Day 1: 5, 14-12
52. Stephen Browning — Hot Springs, AR — 5, 14-11 — 49
Day 1: 5, 14-11
53. Greg Vinson — Wetumpka, AL — 5, 14-10 — 48
Day 1: 5, 14-10
54. Alton Jones — Lorena, TX — 5, 14-09 — 47
Day 1: 5, 14-09
54. Jared Lintner — Arroyo Grande, CA — 5, 14-09 — 47
Day 1: 5, 14-09
56. Mike Kernan — Wylie, TX — 5, 14-08 — 45
Day 1: 5, 14-08
57. Jason Christie — Park Hill, OK — 5, 14-05 — 44
Day 1: 5, 14-05
57. Bobby Lane — Lakeland, FL — 5, 14-05 — 44
Day 1: 5, 14-05
59. Chad Pipkens — Holt, MI — 5, 14-04 — 42
Day 1: 5, 14-04
60. John Crews Jr — Salem, VA — 5, 14-00 — 41
Day 1: 5, 14-00
61. Michael Iaconelli — Pitts Grove, NJ — 5, 13-15 — 40
Day 1: 5, 13-15
62. James Elam — Tulsa, OK — 4, 13-15 — 39
Day 1: 4, 13-15
63. Cliff Prince — Palatka, FL — 5, 13-08 — 38
Day 1: 5, 13-08
64. Bill Lowen — Brookville, IN — 5, 13-03 — 37
Day 1: 5, 13-03
65. Casey Scanlon — Shawnee Mission, KS — 5, 13-01 — 36
Day 1: 5, 13-01
66. Zell Rowland — Montgomery, TX — 5, 12-15 — 35
Day 1: 5, 12-15
67. Brent Chapman — Lake Quivira, KS — 5, 12-13 — 34
Day 1: 5, 12-13
68. Gary Klein — Weatherford, TX — 5, 12-12 — 33
Day 1: 5, 12-12
69. Bradley Roy — Lancaster, KY — 5, 12-10 — 32
Day 1: 5, 12-10
70. Russ Lane — Prattville, AL — 5, 12-08 — 31
Day 1: 5, 12-08
71. Kotaro Kiriyama — Moody, AL — 5, 12-03 — 30
Day 1: 5, 12-03
71. Ish Monroe — Hughson, CA — 5, 12-03 — 30
Day 1: 5, 12-03
73. BJ Haseotes — Centerville, MA — 5, 11-14 — 28
Day 1: 5, 11-14
74. Fred Roumbanis — Bixby, OK — 4, 11-12 — 27
Day 1: 4, 11-12
75. Terry Scroggins — San Mateo, FL — 5, 11-11 — 26
Day 1: 5, 11-11
76. John Murray — Phoenix, AZ — 5, 11-10 — 25
Day 1: 5, 11-10
77. Tracy Adams — Wilkesboro, NC — 5, 11-09 — 24
Day 1: 5, 11-09
78. Keith Combs — Huntington, TX — 5, 11-03 — 23
Day 1: 5, 11-03
78. Fletcher Shryock — New Philadelphia, OH — 5, 11-03 — 23
Day 1: 5, 11-03
80. Jason Williamson — Aiken, SC — 4, 11-00 — 21
Day 1: 4, 11-00
81. Chris Zaldain — San Jose, CA — 5, 10-15 — 20
Day 1: 5, 10-15
82. Tim Horton — Muscle Shoals, AL — 4, 10-07 — 19
Day 1: 4, 10-07
83. Kevin Hawk — Guntersville, AL — 2 — 10-05 — 18
Day 1: 2, 10-05
84. Boyd Duckett — Guntersville, AL — 3, 09-12 — 17
Day 1: 3, 09-12
85. Edwin Evers — Talala, OK — 4, 09-01 — 16
Day 1: 4, 09-01
86. Brandon Palaniuk — Hayden, ID — 5, 09-00 — 15
Day 1: 5, 09-00
87. Glenn Browne — Ocala, FL — 5, 08-13 — 14
Day 1: 5, 08-13
88. Steve Kennedy — Auburn, AL — 5, 08-09 — 13
Day 1: 5, 08-09
89. Scott Ashmore — Broken Arrow, OK — 3, 07-15 — 12
Day 1: 3, 07-15
90. Keith Poche — Pike Road, AL — 4, 07-13 — 11
Day 1: 4, 07-13
91. Pete Ponds — Madison, MS — 3, 07-08 — 10
Day 1: 3, 07-08
92. Mike McClelland — Bella Vista, AR — 3, 07-04 — 9
Day 1: 3, 07-04
93. Billy McCaghren — Mayflower, AR — 3, 06-11 — 8
Day 1: 3, 06-11
94. Randy Howell — Springville, AL — 2 — 06-10 — 7
Day 1: 2, 06-10
95. Rick Clunn — Ava, MO — 4, 06-09 — 6
Day 1: 4, 06-09
96. Jonathon VanDam — Kalamazoo, MI — 3, 06-05 — 5
Day 1: 3, 06-05
97. Paul Elias — Laurel, MS — 2 — 06-03 — 4
Day 1: 2, 06-03
98. Jeff Kriet — Ardmore, OK — 5, 06-01 — 3
Day 1: 5, 06-01
99. Derek Remitz — Grant, AL — 3, 05-12 — 2
Day 1: 3, 05-12
100. Greg Hackney — Gonzales, LA — 2 — 05-00 — 1
Day 1: 2, 05-00
101. Kenyon Hill — Norman, OK — 1 — 04-10 — 0
Day 1: 1, 04-10
102. Michael Simonton — Fremont, OH — 2 — 03-15 — 0
Day 1: 2, 03-15
103. Joel Baker — Talala, OK — 2 — 03-04 — 0
Day 1: 2, 03-04
103. David Mullins — Mt Carmel, TN — 2 — 03-04 — 0
Day 1: 2, 03-04
105. Jared Miller — Norman, OK — 2 — 02-12 — 0
Day 1: 2, 02-12
106. David Smith — Del City, OK — 2 — 02-07 — 0
Day 1: 2, 02-07
107. Joseph Sancho — New Windsor, NY — 1 — 02-03 — 0
Day 1: 1, 02-03
108. Grant Goldbeck — Boerne, TX — 1 — 02-00 — 0
Day 1: 1, 02-00
Read more: http://www.bassfan.com/news_article.asp?ID=4825#.UyJ2S_ldVuk#ixzz2vu6iouAh
Join the Forum discussion on this post