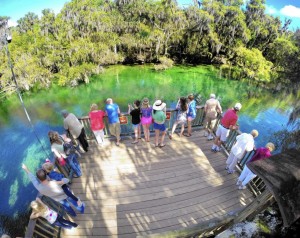 Blue Spring in Volusia County, an international tourism draw where sea cows hunker down during chilly weather, is about to undergo the most ambitious attempt in Florida to reverse the dwindling flow of a particular spring.
The number of manatees seeking refuge there is expected to increase in the coming years, so work to replenish water surging from the Floridan Aquifer at Blue Spring is needed to keep more of the spring's stream warm along its picturesque run of 1,000 feet to the St. Johns River.
Several environmental activists said the $155 million flow-restoration project is commendable and is critical for hundreds of manatees but highlights how many ailing springs get too little attention.
"Other springs should be getting the same help regardless of whether manatees are using them or not," said Patrick Rose, director of Save the Manatee Club in Maitland. "We are abusing too many of our springs."
Decades ago, Blue Spring's flow was more than 100 million gallons a day. State experts say pumping from the aquifer for drinking, agricultural and other uses has contributed to reducing the flow to as low as 80 million gallons a day.
In recent years, local governments grew anxious that authorities, encouraged by manatee defenders and others, would demand that utilities reduce pumping from the aquifer. They hired a lawyer and negotiated with the state for ways to increase Blue Spring's flow.
At a cost of nearly $20 million, inaugural work will connect new pipelines to shuffle 6 million gallons of treated sewage each day between Volusia County, DeBary, DeLand, Deltona and Sanford. The recycled water will be for lawn and landscape irrigation otherwise done with aquifer water.
State experts don't know how much that first phase will help Blue Spring. The entire project is to reduce local aquifer pumping by 35 million gallons per day and increase spring flow by more than 6 million gallons per day.
At a small recognition ceremony Wednesday, local officials made it clear that the cost of fixing Blue Spring would be cheaper than not fixing an environmental treasure that attracts 250,000 visitors a year.
"The funding will come," said DeBary Mayor Bob Garcia, expressing optimism for the financial challenge ahead.
But state officials at the gathering made no mention that the Blue Spring initiative stands as Florida's most significant attempt to restore a spring's flow.
When asked about it, Hans Tanzler, director of the St. Johns River Water Management District, emphasized that studies and planning have been undertaken on behalf of springs. Other state officials pointed to programs designed to conserve or increase water in the aquifer.
Volusia's Blue Spring is one of hundreds of springs in Florida's world-class collection of the environmental jewels.
Nearly all of them are north of Interstate 4 and many have decreased flows and increased levels of pollution related to sewage and fertilizer.
Bob Knight, director of the Florida Springs Institute in Gainesville, said the Blue Spring rescue proposal came about because of unique circumstances driven largely by the popularity of manatees and their clear need for spring water.
Declining flows at other springs, Knight said, have been more easily ignored or denied by state authorities.
Rob Williams, a Tallahassee lawyer working with the Center for Earth Jurisprudence in Orlando, added that Florida officials claim to rely on "sound science" to examine spring troubles.
"But they have no science for what a beautiful spring is," Williams said.
[email protected] or 407-420-5062