Quality Fishing Adventures
Kissimmee Florida is a wonderful place to explore and experience with your family. Attractions draw you to truly expose how exceptional Kissimmee is. One of the hidden fruits of this tourist attraction is the Quality Fishing Adventures you can embark on. Lake Toho Bass Fishing is by far the BEST location to fish and will continue to get better as the summer roles on.
Central Florida Bass Fishing can provide you with another great way to get outside. The ability to not only catch largemouth bass but sight see the birds, nature and alligators makes this trip worth it. Bring along your family and enjoy while your Captain takes you to all the hot spots on the Lake Toho.
Captain John Leech is a local legend that has extensive knowledge of Kissimmee. Lake Toho is his home base with many years of experience. Enjoy this fishing update that can help key you in on the action on the water.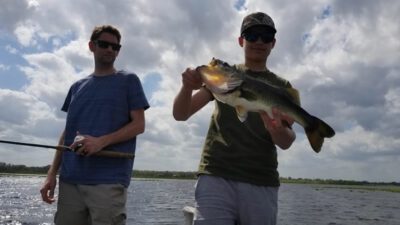 Rick Denike went out fishing with Captain John on Lake Toho this season. Rick has been out on the lake and continues to fish it every time he is traveling to Central Florida. One of the many reasons is that year after year, it continues to produce results. You can tackle Lake Toho in many ways but the most common is using wild caught live shiners.
A benefit to using live bait is the ability to attract the most and best fish in a given area. When you have kids on board, the action can be non-stop and extremely exciting for them. Rick landed numbers of Florida largemouth bass on his trip. Not only did he put great numbers in the boat but also excellent quality. Each month brings transitioning fish into new areas as they follow around the bait.
Rick had a blast while Lake Toho Bass Fishing landing 3 fish over 5 pounds. You can't beat that action and to many that would be a dream fish. We also enjoy fishing with Rick and we know he will be back very soon for more of this incredible bass fishing.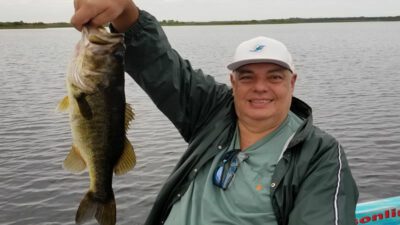 On Captain John's next Bass Fishing Charter, Jose and his buddy wanted to explore what Lake Toho had to offer. This was a morning trip which normally produces the best bite. Jose and his great friend were traveling from Brazil to experience Kissimmee and they got what they came for.
One of the best parts about being a Captain is the ability to connect and become friends with those on the trip. Each individual brings a personality that truly makes the fishing unique. The fish were biting early and that's when we caught the majority of them. As the trip went on, the fishing conditions changed and the wind picked up.
Luckily these big lakes have cover that you can hide behind. Jose and his buddy caught some quality bass with the biggest weighing 3 pounds. When you are coming to Kissimmee, you most certainly want to catch numbers and quality like this. They had a fantastic trip and are looking forward to fishing with Captain John again in the future.
Captain John's went out on another Quality Fishing Adventures for two days. It is always a great time to get to really know the clients you are fishing with. Fred and his buddy Jim went out and caught the Florida largemouth bass up. Lake Toho Bass Fishing really showed them a nice time with some quality bass in the boat.
Fred caught the biggest bass weighing 5 pounds in the two days on the water. You really can catch an awesome bass when you devote the time to fishing in Kissimmee. Whether you are traveling or you live here, don't miss out when the action gets like this. Fred and Jim are excited to get back to Central Florida to catch an even bigger bass.
Central Florida and more specifically Kissimmee is an excellent bass fishing destination for all ages. Our fishing charters have been fantastic and are waiting for you to catch your next personal best. If you are looking to land some of the best fish you have ever seen, let's get you hooked up next time visiting. We look forward to seeing you on the water next time!
Come Experience Kissimmee and Catch Yours Today…
 
[fusion_button link="http://bassonline.com/trips/city/kissimmee/lake-toho/" title="BOOK YOUR LAKE TOHO FISHING TRIP ONLINE NOW!" target="_self" alignment="center" modal="" hide_on_mobile="small-visibility,medium-visibility,large-visibility" class="" id="" color="default" button_gradient_top_color="" button_gradient_bottom_color="" button_gradient_top_color_hover="" button_gradient_bottom_color_hover="" accent_color="" accent_hover_color="" type="" bevel_color="" border_width="" size="" stretch="default" shape="pill" icon="" icon_position="left" icon_divider="no" animation_type="" animation_direction="left" animation_speed="0.3″ animation_offset=""]BOOK YOUR LAKE TOHO FISHING TRIP ONLINE NOW![/fusion_button]
 
If you enjoyed this post about Quality Fishing Adventures, you might also enjoy this fishing report from the same area.
Don't forget to follow us on Facebook, YouTube, Twitter and Instagram.
[fusion_text]

About Captain John Leech is a full-time guide for over 20 year in Central Florida. He specializing in Central Florida bass fishing and is one of the best at targeting big trophy size large-mouth bass in the Orlando area. His first guide trip was in Leesburg, Florida on the Harris Chain of Lakes. By 1983 I was fortunate to be able to do the one thing I loved the most FISH and make a living doing it. That is what I call a dream job Central Florida Bass Fishing Guide no doubt that fishing in Orlando is one of the best in the world.[/fusion_text]
Discover More Orlando Bass Fishing.