Peacock Bass Fishing At The Falls With Capt Robert
Hello this is Capt Robert Miley just leaving The Falls.
The weather has been brutal hot, and the fish were biting slow but we caught 8 really nice peacocks.
The water temp was almost in the 90s and the fish were really deep.
I fished with Gus and Marty they're tattoo specilists. they had an awesome time but they got cooked just like me.
It was really hot thought I was going down for the count I got a little whoozy Im glad they decided to quit an hour early.
We didnt catch anything on artificial, they were starting to school they were all just little fish.
But there was plenty of bait I dont know if thats why the bite was off a little bit anyways.
For all your freshwater fishing adventures go to BassOnline thank you.
[fusion_builder_container][fusion_builder_row]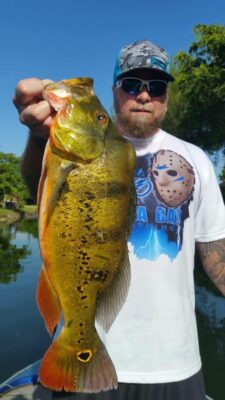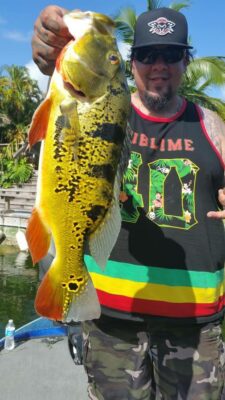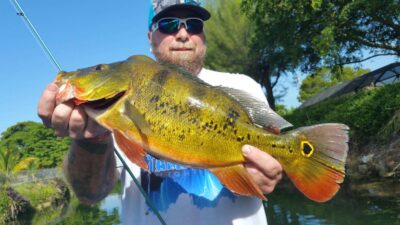 [/fusion_builder_row][/fusion_builder_container]
[fusion_builder_container hundred_percent="yes" overflow="visible"][fusion_builder_row][fusion_builder_column type="1_1″ background_position="left top" background_color="" border_size="" border_color="" border_style="solid" spacing="yes" background_image="" background_repeat="no-repeat" padding="" margin_top="0px" margin_bottom="0px" class="" id="" animation_type="" animation_speed="0.3″ animation_direction="left" hide_on_mobile="no" center_content="no" min_height="none"][fusion_accordion]
[fusion_toggle title="CLICK HERE TO WRITE A REVIEW" open="no"]

[/fusion_toggle]
[/fusion_accordion]
[/fusion_builder_column][fusion_builder_column type="1_1″ background_position="left top" background_color="" border_size="" border_color="" border_style="solid" spacing="yes" background_image="" background_repeat="no-repeat" padding="" margin_top="0px" margin_bottom="0px" class="" id="" animation_type="" animation_speed="0.3″ animation_direction="left" hide_on_mobile="no" center_content="no" min_height="none"]
[fusion_content_boxes layout="icon-boxed" columns="1″ class="" id=""]
[fusion_content_box title="About Capt Robert Miley" backgroundcolor="#b2ce96″ icon="fa-user" iconcolor="#3bbf4a" circlecolor="#ffffff" circlebordercolor="#oooooo" iconflip="yes" iconrotate="" iconspin="" image="/wp-content/uploads/2015/01/ROBERT-MILEY-50x50color.jpg" image_width="50″ image_height="50″ link="/fishing-guides/south-florida-fishing-guides/" linktarget="_self" linktext="" animation_type="0″ animation_direction="down" animation_speed="0.1″] Capt Bob Miley started bass fishing in the Florida Everglades.
The very first trip out he caught a 10lb 0/8 o/z largemouth bass, and has been fishing for bass ever since. Robert Miley has been fishing professionally on the B.A.S.S. Eastern Division, for the past 7 years. He also is the Bass Pro Shops Pro Staff representative for South Florida. Versatile in that he fishes for Peacock bass as well as trophy largemouth on Lake Okeechobee.
.[/fusion_content_box][/fusion_content_boxes][/fusion_builder_column][/fusion_builder_row][/fusion_builder_container]