MIAMI/HOMESTEAD SPEEDWAY, Fla. — It's a unique opportunity for fans of fishing and fast cars.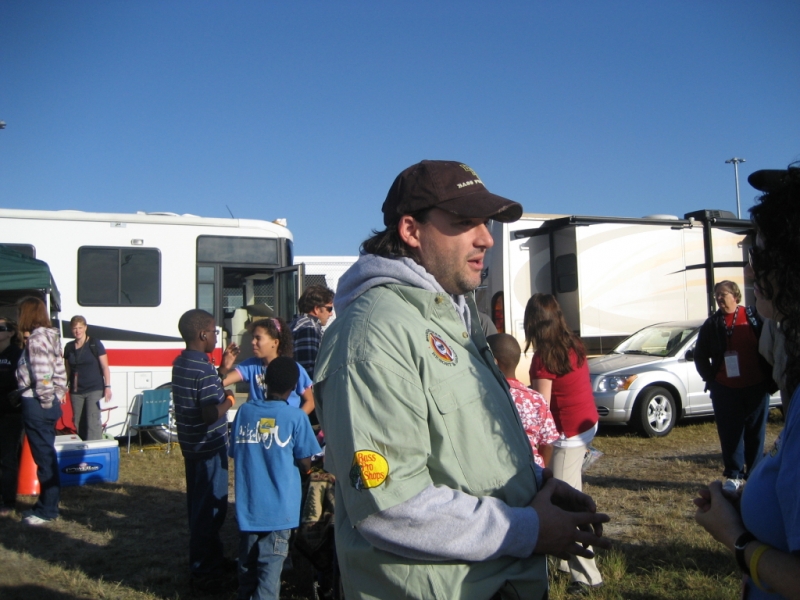 Where else can you fish in Florida with your favorite NASCAR driver under the guidance by the fishing pros at
BassOnline.com
and take a chance to win a million dollars, and then watch cars fly by at speeds of almost 200 mph, all for a worthy cause?
BassOnline guides & Participants prepare for there 6th annual 2007 Hot Rods & Reels tournament.
It happened in the infield of Homestead-Miami Speedway, where about 20 drivers fished with fans who entered by making donations to The Darrell Gwynn Foundation to Cure Paralysis.
The event is bordered by the million-dollar motor coaches that NASCAR drivers and team owners live in on race weekends, anglers fished on the speedway's 18-acre lake, one of three on the property.
Among the excitement of the final race for the NASCAR Nextel Cup championship, drivers Tony Stewart, Kyle Petty, Ryan Newman, Greg Biffle, Clint Bowyer, Martin Truex, Kyle Busch, and others took time out to relax and enjoy the sunny but crisp November morning and fish for trophy bass and Peacock bass which were both stocked in the infield lake.
The rules were simple: The boat with the heaviest combined largemouth bass or peacock bass weight was the winner. But the top prize, the chance to select from one of 250 envelopes, one containing the $1 million dollar grand prize from sponsor Miccosukee Resort and Gaming, went to the individual who reeled in the heaviest fish in the tournament.
The event raised more than $105,000 for the Gwynn Foundation and concluded with the awarding of a new power wheelchair from the foundation to Jonathon Gorenflo.
"This was a great day that combined fun, excitement, and two of America's favorite pastimes — Florida bass fishing and racing — all while bringing awareness to a worthy cause," Gwynn said. "The Miccosukee Resort & Gaming Hot Rods & Reels Charity Fishing Tournament continues to grow in both popularity and funds raised.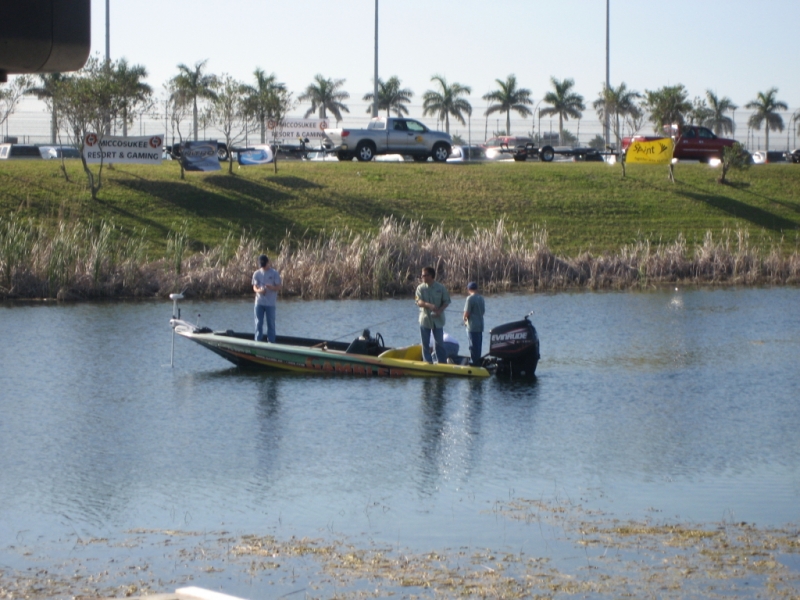 NASCAR driver Jeremy Mayfield surveys the competition.
"We are grateful to the NASCAR drivers and celebrities who donated their time to fish with both corporate and individual fans, plus the sponsors who make this unique event possible. It also gives me pleasure to share with all of our participants the smile on young Jonathon Gorenflo's face when he received his new power wheelchair because that is the reason why we are out here today."Each driver/celebrity was paired with two guest anglers in their own bass boat featuring a Bass Online.com recognized guide. After an hour and a half of fishing, only the top three catches of each team were weighed.
NASCAR championship team owner Richard Childress led the boat that took the combined weight trophy, at a total weight of 6.40 pounds. The top individual prize went to 14-year-old Alex Lambert, who brought in a catch weighing over two and a half pounds.
The fishing experience with his favorite driver, Kyle Busch, was a birthday gift to Lambert from his family.
NASCAR driver Greg Biffle tries to hide his excitement at sighting a huge bass.
"My dad and my godfather saw an ad in the paper, and they said, 'Oh, this is going to be great for Alex to go with his favorite driver,'" Lambert said. "I came in and just talked with Kyle for a while and had fun."I fish a lot," Lambert added. "My grandfather is a big saltwater fisherman. He loves it. He was the first person to take me fishing. We went to St. Thomas when I was about a year old and started marlin fishing, so it was fun."
The eighth-grader landed three fish to Busch's one and said the NASCAR star was impressed by the catch.
"I've been a NASCAR fan for about five years and was a Kurt Busch fan before Kyle, but when Kyle came along, I love Kellogg's, so that just poked me," Lambert said. "I've been a devoted Kyle Busch fan ever since."
"There were big fish, but they just weren't really snapping. I think it was just the time of the day. If it was a little earlier, it would have been excellent. The coloring in the fish was great because it's a crystal clear clean lake.
"We used live shiners, and after about an hour, they started wearing down and nobody was catching anything. So we switched to lures, and Kyle caught one on a lure. I didn't have the best of luck. Live bait was just a lot easier because I think they used dynamite to dredge the lake out, so the fish just hang out at the edges. But Florida bass fishing is some of the best in the world and these guides know their stuff.
"I've done marlin and sailfish tournaments, but never bass," Lambert said. "I'll definitely be back next year, though."
Another great event put on by www.BassOnline.com