Fall Transition Period Time Now in Orlando
Hello all, Captain Tony Summers here come to you from West Orlando, on the south end of The Harris Chain of lakes.
Another beautiful day here in Florida, just a beautiful morning. With nice afternoon showers, about every day.  Another tough day we had today,  just one of those days we call fishing and not too much catching…lol. It is just all part of the fall transition period time now, the temperature changes, the air temp, the water temperature in everything's sort of in a transition period towards fall and in the winter.
So, it kinda sets back to fish their metabolism and their eating habits in Fall Transition Period Time Now. It slows down everything a little bit, but needless to say, we had a great time today with my buddy and repeat customer Scott Sims and his buddy Tom.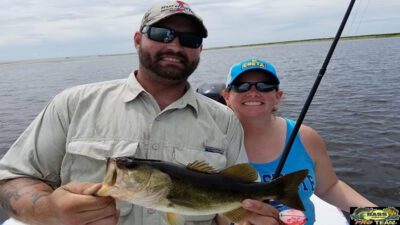 Down for a conference here in Orlando, had a great time on the boat. had a lot of bites, but the fish were biting really finicky. We weren't able to get too many in the boat today, had a lot of fun, and a great day on the water. Just one of those days when fish were transitioning in the Fall and things are starting to change.
On the brighter side, that change also brings fresh life into the water. As these baitfish start moving in shall it also brings a lot of these better predatory large-mouth. These are the fish feeding on all of these shad and baitfish this season coming up in this Fall season gonna be the ones to get a hold of to get out on the water and start fishing.
It's gonna be good based on the way the baits looking right now, baits are healthy, and baits moving the bait pods are really thick right now and starting to move in really shallow.
It will take a couple of weeks here in Orlando and around Central Florida once everything gets settled and gets into Fall Transition Period Time Now is going to kick off really nicely.
Look forward to seeing you guys coming out there…Till next time, fish on!