Catching a Bass with a Drop Shot: What Lures Do You Need?
Contrary to beliefs, fishing is not just going out on the water and casting a line. Yes, fishing may look relatively simple, but it requires much fishing technique knowledge. Reeling in big catches doesn't just happen, and an essential piece of the fishing puzzle is learning drop shot lures for bass. 
Fishing enthusiasts find drop shot the best fishing technique for catching largemouth and smallmouth bass. And while there is a wide selection of drop shot baits for bass available on the market, some will undoubtedly outperform the others. 
Here is everything to know on drop shot bass fishing.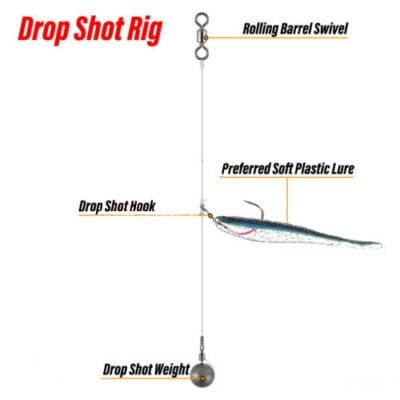 Drop Shot Lures for Bass:
The Complete List
The best thing about choosing the right drop shot lures for bass is that you can get creative in adapting the lure size, shape, and color to the existing conditions. 
Let's take a look at some of the manufacturers offering high-quality baits.
Roboworm 
These great lures can be used for bass fishing throughout the year. Their versatility and different colors allow for fishing in numerous ways. Used for both finesse and power fishing, these lures are very effective for drop-shot fishing. 
Zoom 
Another popular lure for bass, Zoom is successful for bass drop shot fishing. The Super Salt Plus Formula is one of the flavors that mainly attracts bass. They are intended for use in any weather condition and shine in drop-shot fishing. 
Strike King 
It has also proven to be effective for freshwater bass in saltwater. It is a shallow-running crankbait lure that sits beneath the water surface thanks to the front vertical bill. They perform well during inshore fishing and are considered a true wake bait, appearing natural in saltwater.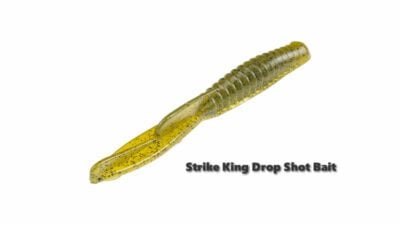 Berkley 
One of the most popular baits of this brand is the Berkley PowerBait, which is also the most versatile. It is a finesse bait due to its unique, simple design and tantalizing colors. Berkley baits are designed to make fish bite and hold the bait for a long time.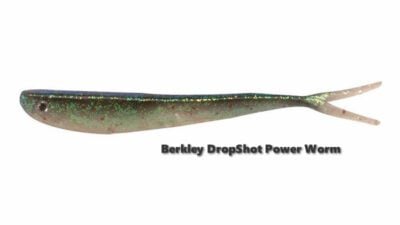 Yamamoto 
Another bait brand, Yamamoto, is a famous fishing arsenal among fishermen. They are incredibly engineered to attract solid fish volume and have an excellent track record in drop-shot fishing for bass. 
Best Drop Shot Baits for Bass
Two types of bass lures are applicable for drop shooting: soft plastic fish and worm types. Pick something that mimics the natural prey because bass will easily be lured to eat something they want. 
The Roboworm Straight Tail Worm, Strike King Rage Tail Craw, and Yamamoto Senko Baits are some of the best drop shot baits for bass. The four-inch worm from Roboworm is the best choice to target smallmouth bass. An action-packed Strike King Rage Tail Craw is known to create water vibrations and turbulence. 
It's known that the bait needs to be adapted to many factors like weather conditions, fish type, and type of water body where you are fishing. Fish react to pressure changes, so fishing during colder and cloudy days will require darker baits, while lightly colored baits are great for warm and sunny days.
Freshwater fish usually respond to artificial bait for largemouth bass, while saltwater fish prefer live bait.
At the same time, smallmouth bass tends to prefer stubbier and smaller baits like baitfish, gobies, and crawfish.
Best Drop Shot Baits for Largemouth Bass
The best drop shot baits for largemouth bass are larger baits like bigger size worms that outperform the rest. If you want to catch bigger fish like the largemouth bass, fishing enthusiasts recommend the six-inch Roboworm Straight Tail Worm as a favored choice. It will do the heavy lifting for you and is an excellent choice for fishing in waters with a serious weed cover. 
The Strike King four-inch Big Tex is an excellent choice for those targeting the big bass.
The slender yet dynamic body has delivered outstanding results during drop shot fishing.
Another great choice is the salt-infused Zoom Magnum Trick Worm which attracts attention and has terrific water displacement. 
Drop Shot Fishing for Bass
: The Bottom Line
A general rule of thumb when it comes to drop shot fishing for bass is matching the forage bass feed on in the water body where you are fishing. Using the best drop shot bait that resembles the prey's natural color is the most effective fishing technique. 
Anglers will prefer one or the other bait, but the most important thing is to select the ones that match your fishing habits. The proposed drop shot baits are a suggestion that you can quickly build on.  
FAQs
Is drop shot good for bass?
A drop shot is often associated with vertical and deep-water fishing but is also one of the most versatile options. So yes, it is undoubtedly one of the most used techniques for catching bass at any depth and year-round.
How do you rig a drop shot for largemouth bass?
The drop shot method includes the hook and the bait sitting and moving about while the bait sticks to the bottom. Since largemouth bass like to hang out around heavy vegetation, adjustments must be made to target them. 
Texas rigging hides the hook, making it less vulnerable to snagging. Apply heavier line, around 10-12lb fluorocarbon, to quickly deal with vegetation. The key to a drop shot rig is the weight to get through the vegetation, and the cylinder-style weight is considered the best option. 
People Also Ask
How deep do you fish a drop shot?
The special weights allow movement to adjust the depth where the lure sits. It can be 6-8 inches to 14 inches from the bottom. It is a deep-water technique, but if the hook and weight distance are well-adjusted, shallow-water fishing can also be successful. 
What baits to use on a drop shot?
There is a wide selection of drop-shot lures to choose from. Some of the most popular are Roboworm Straight Tail Worm, Strike King Rage Tail Craw and DreamShot KVD, Zoom Bait Finesse Worm, and Magnum Trick Worm. The list goes on, but the main thing is to adapt the bait to the fish species and use the right leader length. Use colorful and flashy baits in muddy and stained water or naturally colored ones in clear water. 
When should you throw a drop shot?
Drop shot fishing can be done all year round in just about any water. Use the technique in any place that allows working with the weight at the bottom. The best time to throw drop shot lures for bass is when the fish is out of position.