The Wacky Rig: Is It the Right Choice for Bass Fishing?
Anglers have learned to accept many baits and tactics in their never-ending quest to capture more and larger fish. We've figured out how to flip and pitch, cast massive swimbaits, and even build a drop shot. Though these fishing approaches were initially unfamiliar to most of us, they gradually found their way into the bass fishing lexicon.
Because of its incredibly realistic appearance of soft plastics and capability to sneak inside a fish's striking zone without scaring them, the wacky rig for bass fishing has emerged as all the rage in recent years.
The bass wacky rig, which consists of an O-ring, a hook, and generally a straight-tail soft plastic, provides a lot of variety in a straightforward rig.
In this article, you will learn what a wacky rig for bass fishing is, what to consider when choosing a wacky rig, and how to fish for bass with a wacky rig for all types of bass.
What Is A Wacky Rig for Bass Fishing
?
The wacky rig, sometimes known as the Jersey rig, has existed for a while. Still, it has recently gained vogue with the introduction of "Senko-style" plastic "stick" lures. A wacky rig is a plastic worm cast with the hook put through the midsection of the bait rather than the head, vertical to its length.
What makes this bait so appealing to bass might require some clarity. It might be the senseless, do-nothing manner it falls through the water. Or it irritates fish who can't believe somebody would try to capture them with anything so silly.
Choosing a
Bass Wacky Rig
: What to Consider?
The Bass Wacky Rig is a very simple setup consisting of an O-ring, a straight-tail soft-plastic worm, and a hook. Depending on the fishing conditions, you need to consider a few things when choosing the color of the soft-plastic worm and the hook style.
Worm Colors
When fishing with a Wacky Rig, a few colors appear to be fruitful all over the nation in almost every scenario. 
Green pumpkin is likely the most favored soft plastic bait color because it closely resembles common bass forage. This hue may be utilized all year in various water temperatures and clarity levels. 
Choose a darker color palette, such as purple or black with blue, when the water is dirty or murky. These dark hues shine when fishing in shallow covers where water clarity makes it difficult for bass to detect the bait. 
Watermelon and green pumpkin are more likely to encourage a strike in clear water. These and other lighter hues are better suited to clear water since they more closely resemble a bass' natural food and are more detectable.
Hooks
For casting the most preferred 5″ stick bait, we recommend a 1/0 octopus hook. The 1/0 hook size is ideal for retaining enough worm while exposing only a small portion of the hook's shaft. The Octopus design has a short shank with a large gap for speedy hook placement. 
You can alter hook styles and sizes depending on the bass size you're after and the worm size you're rigging on. If you're interested in trying out different wacky styles, numerous companies provide high-end hooks for customized wacky rigging.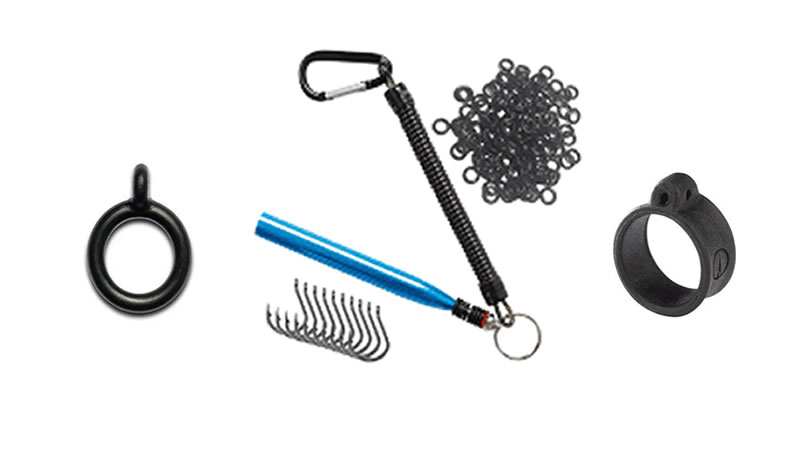 O-Ring
The wacky O-ring is another time-saving and cost-effective item. The stick bait is threaded with a little rubber ring. Pull the soft plastic through the O-ring and fasten it halfway up. Then, peeling the top layer of the worm to achieve a snug fit, put the hook parallel to the bait through the O-ring. 
While an O-ring isn't essential to fishing with a bass wacky rig, it does make a distinction once the fish start biting. When battling a fish, the O-ring allows the bait to go around the hook and upwards through the line. This feature is especially critical during a hot bite, as it allows you to retain your lure on the rig despite incurring several fatalities from aggressive bass.
How to Fish a Wacky Rig for Bass
?
A wacky rig is always a good choice when difficult conditions arise or you want to catch a few fish that day. You may throw it anywhere at any time of year. While designed for shallow water, you may work longer depths by adding a little weight or counting methodically. The secret to getting strikes is to target the structure that attracts the bass.
Fish will be in the shallow water in springtime as they prepare to breed. Look for hatching grounds along calm shorelines, such as coves or marinas. In the summer, look for shade-giving structures such as docks, weed lines, and open areas of vegetation. Winter may be a difficult season to catch bass on a wacky rig based on the lake as the bass goes deeper.
Cast as far as possible when fishing with a wacky rig and let the worm gently sink to the bottom. A slow-falling motion provides dual-tail movement as the worm sinks. Repeat this persuading action with short jerks of the rod as you retrieve. 
Always keep an eye on your line when the bait is descending, and bass will regularly dart up and snag it just as you begin to retrieve. Begin slowly, maintaining your line taut to check for a fish before manipulating the bait.
Wacky Rig Bass Fishing
: The Final Take
The wacky bass rig is not only one of the easiest and most successful ways to capture largemouth bass, but it is also helpful for various other species. 
Many seasoned bass tournament fishermen have been annoyed by the ease and efficacy of this method as they have witnessed amateurs get incredible catches employing it. It has also delighted many parents, who have seen their children use it to catch their first fishing rigs for bass.
Make sure to try bass wacky rig fishing. We're confident you'll find a place for it in your bass-fishing arsenal. Along the road, you're likely to transform some impatient kids into the future generation of bass fishermen.
FAQs
Q: Is the wacky rig good for bass?
A: The wacky worm rig is a convenient bass fishing approach. Using a wacky rig bait is a straightforward approach to regularly catching fish, whether you are a novice hoping to catch your first bass or a veteran competition angler.
Q: How deep can you fish a wacky rig?
A: You may fish 4- to 6-inch wacky rigged worms in 20 to 30 feet of water by adding a 3/16-ounce tungsten nail weight.
Q: Should I put a weight on my wacky rig?
A: It's meaningless to use a wacky rig setup without a weight. If you don't put weight on your rig, your worm will take an excruciatingly long time to get to the bottom of the lake.
People Also Ask
Q: Is Wacky or Texas rig better?