February Rodman Reservoir Fishing
The warming trends of February after some consistent cool weather have turned on the largemouth bass considerably. When looking to cash in on some giant Florida bass or even a trophy-sized fish, North Florida is one of the PRIME destinations to visit. The Rodman Reservoir pleasantly located near Gainesville, FL holds some of the best waters to land your next personal best. Our February Rodman Reservoir Fishing trips can provide you a trip of a lifetime!
The Rodman Reservoir only has several more days of Drawdown fishing left. Shortly, the water management will begin to flood and fill the reservoir back up with water. As this occurs, the fishing conditions will most certainly change. Now is the time to get out on the water and witness a fishery in a unique fashion.
One of the most important aspects of fishing in the Reservoir is being a local expert. This fishery and destination are loaded with hazards that can cause problems for navigation. As well, the fish have congregated in small waters and only the experts know exactly where they are. Our local experts have years of experience not only fishing during drawdown but also during regular conditions.
Check out what these travelers have caught in this Rodman Reservoir Fishing Update:
Fishing with Captain Ken Walker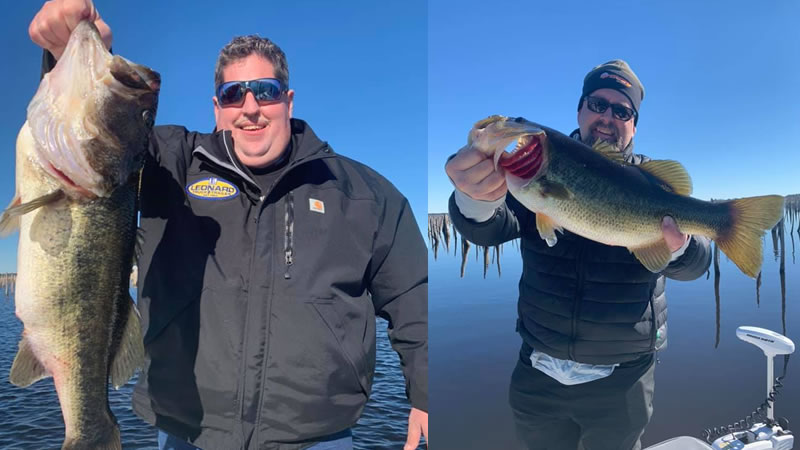 "When you are looking to catch big bass in Florida, the Rodman Reservoir has to be in your search. As you stumble upon it, especially this year, you may come across our current drawdown fishing conditions. This is the year to come explore what the Rodman Reservoir has to offer.
I had the pleasure of fishing with repeat clients Jeff, Clint, and their buddy John. John was a first-timer on the reservoir looking to check out what it was all about. Being Florida natives, they knew what this place could produce for them.
Well, they timed it right and the fishing was fantastic. When coming to explore the reservoir, you should not expect huge numbers. Jeff, Clint, and John caught over 15 largemouth bass on their quick fishing trip. John came in strong with a Rodman Reservoir GIANT largemouth bass weighing in at 9.5 pounds.
That is why you come to the reservoir, especially this time of year. The bass fishing has been fantastic. Jeff, Clint, and John had a fantastic time on the water and are looking forward to their next adventure!"
Fishing with Captain David Lang
"The Rodman Reservoir is one of my favorite places to go exploring. It is always a pleasure getting the chance to show travelers why I fell in love with North Florida. I had the pleasure of fishing with Ted on a solo bass fishing trip to explore what the Rodman Reservoir drawdown had to offer.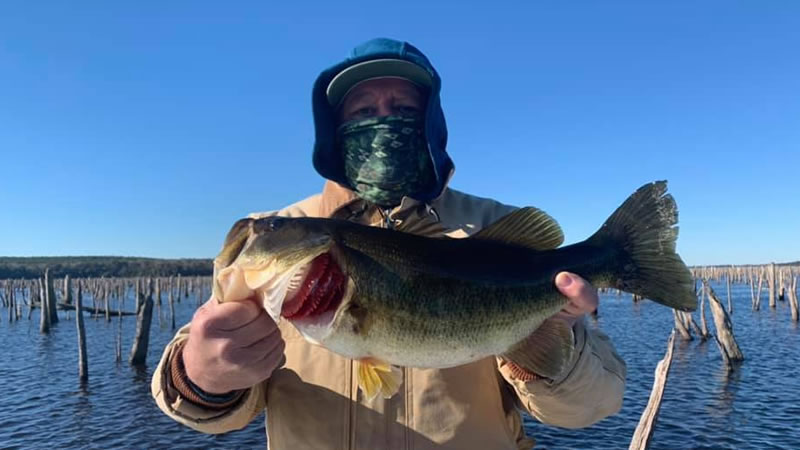 Sunny and beautiful conditions made for the perfect day on the water. Ted caught bass all trip long on wild-caught live shiners. Live bait is the way to go when looking to cash in on some bigger bass here in Florida. Ted caught a nice healthy largemouth bass weighing in at 5 pounds.
Ted was visiting from South Florida looking to get away from the remoteness of North Florida. Every trip is unique and he most certainly knew that. Getting on the reservoir was a must and he enjoyed his time away from urban life.
I am looking forward to getting the chance to catch big bass with him again soon!"
The Rodman Reservoir is one of our favorite fisheries to explore and catch trophy largemouth bass. Almost all year long you can catch some big bass in this reservoir. It is a magical place to bring your whole family and friends to land their personal best largemouth bass. Our local experts work hard to make sure that you have the most fantastic fishing experience possible.
If you are looking for the most remarkable fishing adventure of your life, the Rodman Reservoir is the place to visit. We hope to see you on the water next time!
Don't forget to follow us on Facebook, YouTube, Twitter and Instagram.