Lake Okeechobee South Side Bass Fishing Trip
This is Capt Mark Shepard with your Lake Okeechobee fishing report.
Well, folks over the last few weeks we have had a ton of fun on light tackle light line.
Doing a variety of different types of fishing from topwater to crankbaits plastic worms and a little bit of live bait.
Not doing a whole lotta live bait been mostly doing artificial having a great time out there on the water.
Some days the numbers have been really good and we had a few days that were a little tough but it's still been overall very good fishing.
Today out on the water with a couple of folks from Pennsylvania we ended up getting an 8 pounder a 5 a 4 some really good quality fish.
We did a little live bait in the morning and then we finished up with soft plastics which was fantastic picking up numbers.
A lot of good opportunities out there this is Capt Mark Shepard all the best.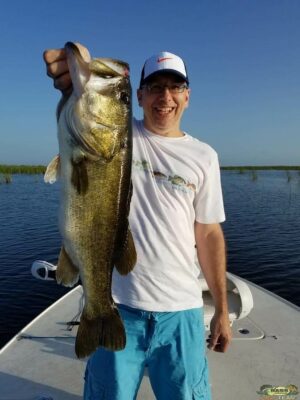 About Capt Mark
Captain Mark Shepard is a full-time guide and touring professional. Experience includes BASS Master, FLW Tours, Everstart, BFL tournaments, and many others. Mark has a list of accomplishments in the fishing industry a mile long including an Everstart WIN on Lake Eufaula, AL. Mark originally from Florida moved to Ohio to sharpen his northern skills and moved back from Ohio years ago to master guiding on world-famous Lake Okeechobee for over 10 years now.
Capt Mark Shepard is a full-time fishing guide on Lake Okeechobee. Do you want to explore Okeechobee the right way? Based in Clewiston, Florida, Capt Mark was in Ohio and raised in South Florida in the fishing industry, with over 30+ years of fishing experience.
 If you're itching to experience the best Lake Okeechobee fishing, he is a legend on this lake, the guy with the most experienced, most superior boat, and most adequate equipment. You can't & won't go wrong, specializing in trophy largemouth Bass only, but also likes to catch crappie during seasons. With FLW tournament wins and experience,  you choose to use live bait or artificial baits on your trip.
Enjoy a comfortable high-end ride aboard a spacious 22-foot Sterling boat powered by a 250 HP four-stroke Mercury engine for more security and speed. Its navigational electronics include a GPS, a fish finder, a VHF radio. There are custom fishing seats to make sure you have the most relaxing day out on the water. As well as that, the boat an ice-box, with the additional extra room you which to bring whatever you like. I can accommodate up to four guests who are welcome aboard.
Capt Mark likes to start just before sunrise but is open and flexible to your scheduled start time. Included in all trips, is the boat, fuel, cooler, ice, bottled water, and all tackle & equipment necessary for fishing. The trip ends when you are ready; having a great time, let's continue.
Capt Mark is knowledgeable in light tackle & fly fishing in all areas of the lake and surrounding waterways. Kids, veterans, pets, and disabled anglers are more than welcome to join my adventures.