The Escambia River is a 92-mile river of which 54 miles are found in Florida. The river has its headwaters in southern Alabama and is called the Conecuh in that state, changing names as it comes into Florida as it drains into Pensacola Bay. The Escambia is the fourth largest river in Florida and harbors the richest assemblage of native North American freshwater fish of any Florida river with 85 native freshwater species. Numerous access points are available along the Escambia River. Three fish camps are located along Highway 90 between Pensacola and Pace. From these, the lower river and delta marshes may be accessed directly. A boat ramp is also located just below the mouth of the river on the northeast shore of Escambia Bay, just south of Pace. In addition, a popular public fishing pier has been built along Highway 90 (Simpson River) just west of Pace. Quintette Landing, north of Pace off Highway184, is good point from which to reach choice fishing spots of both the upper and lower river, including backwater areas. Other boat landings along the upper river include Molino, Webb Lake, McDavid, Cotton Lake, Bluff Springs, Kyser Landing, Sandy Landing (Closed Jan 1st to Feb 15th), Fisher landing (Century) and Oil Plant (North of Jay).
The Escambia River has the richest assemblage of freshwater fish of any river in Florida, including numerous sportfish species — shadow bass, warmouth, bluegill, longear sunfish, redear sunfish, spotted sunfish, spotted bass, largemouth bass,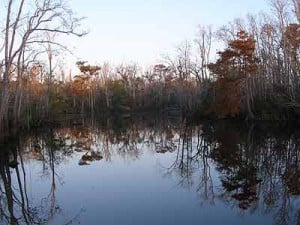 black crappie, chain pickerel, blue catfish, channel catfish, flathead catfish, and sunshine bass. Bluegill and shellcracker fishing is best in the spring near the delta area on earthworms. Many anglers also catch good strings of bream in the spring by fly fishing. Bass fishing is good on the Escambia river during spring and fall. Best baits are crankbaits, but live shrimp produce good strings especially in late summer. Sunshine bass fishing is excellent in late summer primarily in the delta area. Live shrimp, jigs and spoons produce the best results. Speckled perch can be caught in the river near treetops and sloughs in January and February using live minnows. All black bass less than 13 inches in length must be immediately released unharmed.
Escambia River Fishing
Fishing is GREAT! Customers are still reporting great Bluegill and some Bass and Catfish action in the "Lake". Our Bayou has been known by many for over 50 years as the best fishing spot in Northwest Florida. Bank fishing is good in this area as well by boat, it's really the anglers preference. The lower Escambia river and Bayou level is good right now, but always subject to change and should always be considered in your outing to this area. The lower region, doesn't have the low water problems the upper river has because we're closer to Escambia Bay and receives some tidal influx.
The lower river is also a good place to fish for a mixed bag of saltwater fishes such as spotted seatrout, redfish, and sheepshead. The spotted seatrout bite has really heated up in the past weeks. Several anglers report catching more than 50 seatrout in one trip fishing where the Escambia River crosses under the Highway 90 bridge. Anglers were trolling jerkbaits, medium-running crankbaits, and double jig "speck rigs". Most of the seatrout run smaller in this area, but several larger fish have been caught. Fishing live bull minnows on the bottom in deep holes are a regular producer of bigger seatrout. When fishing for redfish you should use live shrimp and bull minnows along any shallow flats north and south of the Highway 90 bridge. Sheepshead tend to bite better during the winter months than most saltwater fish. Try small to medium size shrimp on a jig head or below a sliding egg-sinker rig. This species of fish feeds on barnacles and other invertebrates around structure such as bridge pilings, which can provide great fishing opportunities for both bank and boat fishermen alike.
In addition to typical sunfish and bass species, the Escambia River also harbors other sportfish such as spotted bass, longear sunfish, warmouth, spotted sunfish, shadow bass, and black crappie. While all these species can be caught from the mainstem river, large tributaries should not be neglected. Big Escambia Creek and Pine Barren Creek have excellent spotted bass populations that are rarely exploited. Fishing should be good throughout the winter and early spring in the lower, tidal reaches of the river; however, fishing success in the upper river depends largely upon water levels. Normally, high water conditions exist during winter and early spring (January through April). Elevated water levels and flooding make the upper river more difficult to fish at times.
The river is easily reached by anglers. A map below is available from Blackwater Fisheries Research and Development Center, 8384 Fish hatchery Rd., Holt, FL, 32564; (850)-957-6175.