CLEWISTON FISHING TRIPS & TOURS
★★★★★

based on

43

reviews.
Overall rating:
WELCOME TO CLEWISTON FLORIDA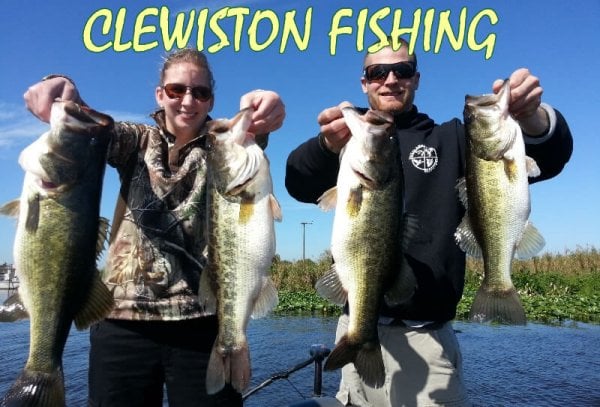 Clewiston fishing is the most famous location on Lake Okeechobee for several reason, but no other than its home of Roland Martin. Even with his enormous notoriety the size of 730+ square miles of lake is bigger. Clewiston is a small town, known as America's sweetest because of the rich history of Sugar farming. You can find a some shopping of urban culture, beaches are about 1-1/2 hours away where you can get fine dining. But second to none is the Clewiston fishing...who needs that stuff at the lake. You recognize in Clewiston on Lake Okeechobee it is as unique as the lake itself. Our marina is convenient no matter where you are visiting or driving from east or west coast. While other fishing services sell you on there location and why it's the best...we're here to service you at the location that's best for you! The Clewiston Lake Okeechobee nature adventures can only be done by boat, because the lake has a 60' leeve all the way around it making it very difficult to experience the fishing from shore. There's nothing quite like fishing side by side with the alligators and birds, and the climate allows for year round fishing for several great species largemouth bass and Crappie (Speck).
What you might not know about Clewiston fishing, Fort Myers is the closest town from the west coast and Palm Beach is the main destination from the east coast of Florida contenting to Lake Okeechobee. Many forget about the spectacular freshwater fishing in Clewiston, so while your friends are out cruising around in the ocean getting Sunburn, you will be enjoying the sights and sounds of World famous Lake Okeechobee in the sweetest town around!
OKEECHOBEE CLEWISTON FISHING LOCATION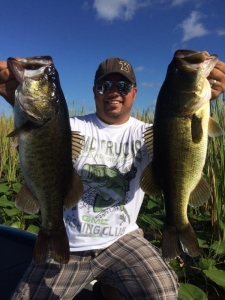 Clewiston Fishing is located on the Southwest shores of Lake Okeechobee, is one of the most favorite locations for the B.A.S.S. and FLW fishing tournaments, the area is well-known for the bass the lake produces and great boat ramp access. While Clewiston on the Southwest corner of the lake is not located in Palm Beach, it is located in Hendry County only located 75 minutes away from North Palm Beach and Fort Lauderdale, but is most popular choice for customers traveling from Fort Myers, Naples and Port Charlotte as well. The reputation on Lake Okeechobee has continued for many years as producing the biggest and best largemouth bass fishing in South Florida. On Okeechobee, the two primary ways to fish are with artificial lures or wild shiners. Bass fishing on the "Big O" with wild shiners is the preferred bait for many anglers for trophy bass. It just happens to be the natural food that they feed on daily. Wild Shiner fishing became very popular many years ago when anglers fishing Okeechobee for largemouth bass would see their feeding habits. It has become an increasingly popular choice because once you've experienced this style of fishing you'll quickly recognize that it's much more than just sitting and watching bobbers. We have a special kind of tackle and a secret way of hooking and rigging shiners.
Like some of you, we also prefer to fish with artificial lures as much as possible. When fishing Lake Okeechobee with artificial, you will have the choice of spinning, baitcasting or fly fishing. flipping and pitching on Okeechobee is always really popular, it's always a great lake for topwater plugs do to its shallow depths. We are open to any techniques you're interested in learning about, just let us know. READ MORE...or reserve below...
Searching Availability...
Clewiston Fishing Reviews
Fishing Trip - Capt Mark Rogers
★★★★★
"
Capt Mark and I fished Lake Okeechobee on July 25th. Yes, it was hot. Yes, it was off season for fishing in Florida. Yes, I had a great time and a very successful fishing trip. Mark did a great job of keeping me in great water all day. He provided the tackle/baits that were needed. He had tons of knowledge about the lake and the fishing techniques. Even in the heat of July, I still caught plenty of fish including a 6+ lb. Largemouth Bass. Thanks for a great time!
"
Excellent Trip
★★★★★
"
I fished with Captain Rob Alfano on probably one of the toughest days of the year thanks to a cold front. He was an excellent guide and put me on fish despite the cold. Felt like fishing with an old buddy!
"
Big-O
★★★★★
"
Had a great time learning Okeechobee with Captain Mark Rogers. Very informative and helpful guide! Will come back again...
"

FISHING CLEWISTON FOR VARIETY!
Okeechobee is home to a wide variety of beautiful locations to fish. When fishing sunny Central or South Florida there is always a destination near you. On both the east and west coast there is great fishing, whether it be deep sea or Inshore fishing for big Snook and Redfish and you can expect almost everything on Lake Okeechobee. But hold on, the freshwater fishing has its share of exciting species as well. Home of the trophy bass on Lake Okeechobee, quoted as the #1 bass fishing in the world. And while the local area has its share of trophy bass fishing lakes it have several other species that may peak you interest. Okeechobee fishing trips are also the home to the good eatin black crappie or also called speak.
There isn't any place in the world to match the bass fishing opportunity and with measured accomplishments for anglers then when fishing the BIG "O". It maybe the land of BIG bass, and lack great food and nightlife, but the great fishing is what keeps people coming back.