November Okeechobee City Fishing Charters
Lake Okeechobee is one of the most legendary lakes to experience. The bass fishing may be the highlight but its scenery is equally as good. When you are traveling to Florida and looking to explore all there is to offer, put Lake Okeechobee on the list. Bad press has made it look like Okeechobee would be a poor experience, but we are here to show you different. Come enjoy a November Okeechobee Fishing Trip next time visiting Florida.
One of the benefits of exploring this massive lake with us is that our local experts will put you on fish all trip long. Years of experience can allow you to sit back and enjoy while catching them. Captain Brian Brown and Captain Rob Alfano are our local experts in Okeechobee City, Florida. This is a beautiful destination to explore all that Lake Okeechobee has to offer.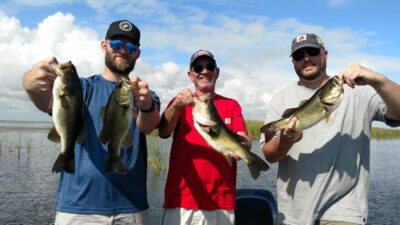 Captain Brian Brown had the pleasure of fishing with Scott and his two sons, Tom and Adam. Tom is the oldest and Adam is the youngest. This dynamic called for some sibling competition and a lot of fun on the boat. Scott was moving his RV down here and wanted to get out on the water. They were traveling from New Hampshire and Lake Okeechobee was on the list to do before Scott's sons left town.
Lake Okeechobee really showed up for them on this fishing trip. It gave them a true glimpse of all the possibilities. Fishing conditions were calm with a lot of wildlife out on the prowl. They got to see numerous alligators along with aquatic birds. Okeechobee City is a beautiful place to visit especially if you want to catch largemouth bass.
Wild caught live shiners were the most effective method to catch bass on this fishing trip. Scott, Tom and Adam caught 12 quality largemouth bass along with a giant mudfish, catfish and gar. It was an action filled trip with a lot of different fishing locations. They moved 5 different times to get a change of scenery along with locate the fish.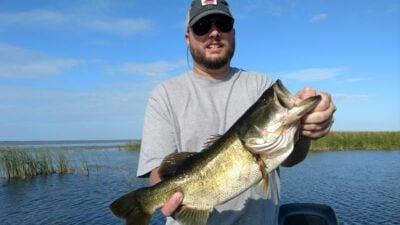 Captain Brian is looking forward to fishing with these gentlemen again in the future!
Just shortly after this awesome fishing trip, Captain Robert Alfano adventure out of Okeechobee City. He had the pleasure of fishing with Dale and his grandson. They were traveling from Idaho to hunt down some incredible largemouth bass. Lake Okeechobee was something Dale wanted to share with his grandson.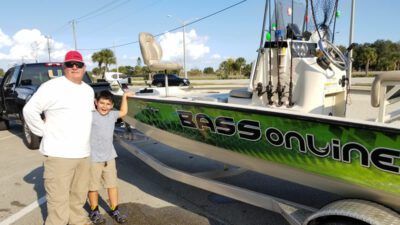 The fishing conditions turned out much better on this fishing trip. Bass were biting all trip long. The best method to catch Lake Okeechobee bass is wild caught live shiners. Dale got his grandson hooked on bass fishing now especially after landing an anchor 5 pound largemouth bass. You can't ask for better action with a nice bass like that to end off a great trip.
Captain Rob is looking forward to another great adventure with this family again in the future!
Lake Okeechobee is going to be one of the top lakes to fish this season. If you haven't had the chance to get out and catch a bass on this lake, please do next time you are visiting. Don't let the press and bad news take away from your Lake Okeechobee Bass Fishing experience. We look forward to seeing you on the water next time!
Come Visit Florida and Catch Yours Today..
[fusion_button link="http://bassonline.com/trips/city/okeechobee/" title="BOOK YOUR LAKE OKEECHOBEE FISHING TRIP ONLINE NOW!" target="_self" alignment="center" modal="" hide_on_mobile="small-visibility,medium-visibility,large-visibility" class="" id="" color="default" button_gradient_top_color="" button_gradient_bottom_color="" button_gradient_top_color_hover="" button_gradient_bottom_color_hover="" accent_color="" accent_hover_color="" type="" bevel_color="" border_width="" size="" stretch="default" shape="pill" icon="" icon_position="left" icon_divider="no" animation_type="" animation_direction="left" animation_speed="0.3″ animation_offset=""]BOOK YOUR LAKE OKEECHOBEE FISHING TRIP ONLINE NOW![/fusion_button]
If you enjoyed this post about Okeechobee Fishing, you might also enjoy this fishing report from the same area.
Don't forget to follow us on Facebook, YouTube, Twitter and Instagram.