Holiday Peacock Bass Fishing
South Florida is the perfect place to explore and visit during the holidays. Soak in the beautiful weather and the sun on a fishing adventure in Miami, FL. This destination is filled with endless activities that will keep you occupied all trip long. Enjoy a Holiday peacock bass fishing adventure with our local experts on your next visit!
Our local experts have years of experience fishing in Miami, FL. The exotic species is what they are after. Warm climates and weather allow the peacock bass to grow large. It is one of the most exciting bass to catch as they are incredibly colorful and hard-fighting. Captain Robert Miley is your expert that will put you on big bass all trip long.
Captain Miley had the pleasure of fishing with Allison and Robert. They were looking to escape Lousiana and catch some exotic species in South Florida. There is no better way to spend a vacation than to be in the outdoors and fishing here in Miami.
Weather conditions caused a slow bite on this fishing trip but they still put some quality numbers and bass in the boat. Florida experiences frontal conditions at times but that doesn't stop the bass from biting. Patience and allowing the water to warm are key ingredients to success.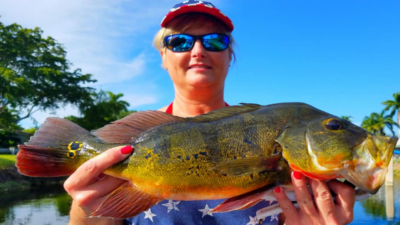 Allison and Robert had a fantastic day of fishing in the The Falls Canal System. They caught 10 quality peacock bass weighing up to 3 pounds. Most of the bass were in the 1-2 pound range. These fish still fight hard and make the trip one to remember.
This awesome couple will be back for more action next time they visit. Captain Miley is looking forward to getting out on the water with them soon!
Just shortly after this awesome fishing adventure, Captain Miley adventured out on the Miami Airport Lakes. He had the pleasure of fishing with DJ, a home builder from Boston and his father traveling from Brazil. It was a great fishing trip for them to spend time together and catch all that Florida has to offer.
The bite turned on in the afternoon as the sun heated up the water. Water temperatures were chilly at 71 degrees with air temperatures rising to 83 degrees. DJ and his father boated 10 quality peacock bass with a big one in the boat weighing 3.5 pounds. All the fish were full of fight and ready for you to catch them!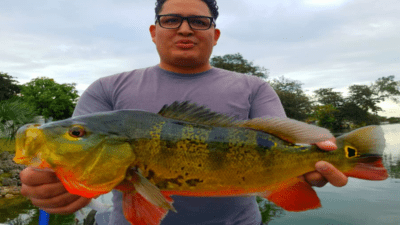 When you are coming to explore and catch exotics in Miami, FL, live bait is always the best option to catch fish. If you want the big ones and good numbers, make sure to have a lot of patience and a sensitive touch.
Dj and his Father are looking forward to getting back out on the water with Captain Miley again in the future!
Don't miss out on your holiday fishing adventure. You never know what you can get yourself into. The bass are biting as the weather and sun warm the water. Get out this holiday season and bring the whole family along. You will not regret the decision to spend a day in the outdoors with your family or friends with our local experts. We look forward to seeing you on the water next time!
Come Visit Florida and Catch Yours Today
[fusion_button link="http://bassonline.com/trips/city/miami/falls-system/" title="BOOK YOUR FALLS FISHING TRIP ONLINE NOW!" target="_self" alignment="center" modal="" hide_on_mobile="small-visibility,medium-visibility,large-visibility" class="" id="" color="default" button_gradient_top_color="" button_gradient_bottom_color="" button_gradient_top_color_hover="" button_gradient_bottom_color_hover="" accent_color="" accent_hover_color="" type="" bevel_color="" border_width="" size="" stretch="default" shape="pill" icon="" icon_position="left" icon_divider="no" animation_type="" animation_direction="left" animation_speed="0.3″ animation_offset=""]BOOK YOUR FALLS FISHING TRIP ONLINE NOW![/fusion_button]
If you enjoyed this post about South Florida Fishing, you might also enjoy this fishing report from the same area.
Don't forget to follow us on Facebook, YouTube, Twitter and Instagram.
Learn More about Florida Peacock Bass Fishing
[fusion_text]

About Capt Robert Miley started bass fishing in the Florida Everglades.
The very first trip out he caught a 10lb 0/8 o/z largemouth bass, and has been fishing for bass ever since. Robert Miley has been fishing professionally on the B.A.S.S. Eastern Division, for the past 7 years. He also is the Bass Pro Shops Pro Staff representative for South Florida. Versatile in that he fishes for Peacock bass as well as trophy largemouth on Lake Okeechobee.
[/fusion_text]