Florida Fishing Lesson Tips and Trips
Would like a fishing lesson…fishing lessons in fishing plastic worms, top-water plugs, cranking, flipping, shaky head fishing, swim-baits and Jig fishing among others, Whether fishing tournaments or fishing in your backyard.
In-Depth Fishing Lessons is a big part of our fishing guide service, a structure of fishing with BASSonline.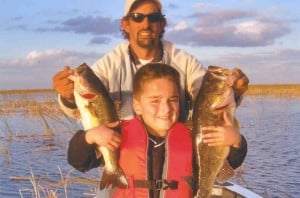 We can also help with teaching you to read maps, reading GPS, and also help with lure choice, fishing techniques, choosing the right rods, reels, line, and most importantly maximum use of your fishing day.
For those who are new to bass fishing gear or want to learn to fish with a bait caster reel have no fear we can do this in a matter of moments. Our personal fishing instruction will be designed to fit the need of you the angler. Tackle and bait selection, spin fishing, bait casting, fly casting, knot tying and most important presentation to the fish.
How to choose and select productive waters, as well as techniques on fighting fish are a small sample of topics we cover.
Sharing our fishing experiences of fishing for the 40 years, tournaments and being a full-time fishing guides help us to better prepare anglers and help them catch more fish.
If you are interested in booking a fishing charter for fishing lessons in South Florida, Central Florida or North Florida and need more information, contact us or call 888-629-BASS(2277).
Florida Fishing Lesson Tips and Trips…don't pass up the chance to catch more fish!
Go: Our Home Page
Lake Okeechobee bass fishing l Everglades Fishing l Bass Fishing Florida l Florida Peacock Bass l Strictly Florida Fishing Radio l Peacock Bass Fishing Blog l Everglades Fishing Blog l Florida Bass Fishing Blog l Central Florida Fishing Blog l Lake Okeechobee Fishing Blog l Bass Fishing in Florida