Bass Online on a Lake near You in Texas!
We know you have read many "Top 12" bass rankings, and most of them carry a grain of salt worth of experience. Many of you may have read about the nation's top lakes by BASS, whose claims are researched by state agencies and joined with tournament results. What they don't mention is that many of the results are financially driven results. Destinations in or near the bass lakes where the host tournaments pay them, so they have a financial incentive to promote the local fishery.
Now we're not concluding that they are entirely wrong, just screwed to what benefits them and their sponsors. So from all the results, you read online, you decide which fishing lakes in Texas are top rankings for best Texas bass fishing in the nation, not a political opinion; we already have too much of that. So we suggest that your favorite black bass fishing lakes in Texas be chosen based on many more specific factors other than just reading a magazine. Based on an author's opinion, where they may have not even visited these Texas bass lakes in their lifetime.
Best Bass Fishing Lakes
Is it any surprise what we have written so far? For many of you, it may not be; for others, it's got your thinking.
So naturally, you should ask, why are your results any different? Our 2023 Texas Top 12 Best Bass Lakes in the Nation are based solely on real people landing fish in the great state of Texas. Not at all politically driven.
Texas bass fishing is well known for many things, and experiencing excellent fisheries while bass fishing in Texas is one of them. They also have incredible southern hospitality, women who invented big hair, and perfect BBQ. Another three additional reasons to visit bass lakes in Texas and go bass fishing.
2023 Best Texas Bass Fishing Lakes
1. Lake Fork, Texas – Map
Anglers worldwide know a few famous lakes, like Lake Okeechobee and, shortly after, Lake Fork, clearly making it the most well-known in Texas. Like other famed lakes, it draws anglers worldwide to test their luck, and angling skills for the trophy bass Lake Fork consistently produces. Records show, most of the top 50 largest Texas bass come from Lake Fork, but keeping this real.
That's because Lake Fork is the most popular; most people fish it, and they record more data here than any other location. Lake Fork is a fantastic reservoir, and well-reviewed in most cases is true, but it's crucial to know the facts. It means that you have a real good chance at a lunker on Lake Fork in angler's terms!
2. Lake Sam Rayburn Reservoir, Texas – Map
Lake Sam Rayburn Reservoir, Texas bass anglers favorite. Better known as Big Sam to professional local Texas bass anglers and pro fishermen that make a regular stop here each year. It s the largest reservoir in Texas, and that's solely in Texas. Whether you are a tournament angler, touring pro, local black bass angler, or homeowner weekend anglers, a trip on Lake Sam Rayburn always has the possibility of landing the biggest bass of a lifetime. And this is what keeps them coming back, again and again!
Lake Sam Rayburn has over 740 miles of shoreline for the Texas bass factory to explore, crappie, catfish, hybrid stripers, white bass, gar, bowfin, and several species of sunfish. Lake Sam Rayburn is virtually surrounded by parks and campgrounds, most of which allow access to the shoreline for fishing from the bank. Big and small boats are welcome here. Lake Sam Rayburn boat launching area is active, users of pleasure boats, everything from sailboats, ski boats, jet skis, pontoons, what else they can find. But with more than twenty boat launch ramps scattered around that Texas parks and wildlife have installed it helps!
3. Falcon Lake, Texas – Map
Falcon Lake, another famous Texas is known for producing "big fish." Like its counterpart, Lake Amistad is located off the Rio Grande by the border in Zapata, Texas, half in Texas and the other half across the Mexico border. Now that water control is back to normal, the lake has an influx of water and a resurgence in the trophy Texas bass population. When Falcon Lake is on, it quickly established itself as one best bass lakes in Texas and maybe the US. Consistency has been its problem, but Falcon Lake is headed in the right direction for some time now, producing quality trophy Texas bass.
4. Toledo Bend Reservoir, Texas – Map
Inhibiting east Texas and Louisiana, Toledo Bend Reservoir is so big there are many places to start. The reputation for producing quality black bass has made Toledo Bend's popular with recreational and professional tournament fishermen alike as one of the best Texas bass fishing lakes.
Toledo Bend is in Lake Country; the area is rich in angling but also in history. It has a state historic site, a championship golf course, two state parks, and over 35 resorts and accommodations—so many rewarding experiences to make you a memorable trip to east Texas.
5. Lake Conroe, Texas – Map
Positioned north of Houston, in South-Central Texas. One of the most popular and best bass lakes for anglers to catch largemouth bass in Lake Conroe. Why Lake Conroe boasts an excellent largemouth bass population, it has many species found in Texas freshwater fisheries. While lake Conroe doesn't produce the trophy bass of other bass lakes in Texas, the lake favors quantity of quality, which show up in numbers we catch. Like in Texas, Florida, and most of the south's best bass lakes, the spring season is when the bass are spawning. Consistent again, a large change of temperature and the big fish start to get active.
Lake Conroe has submerged trees in the southern section; this is the place to start your largemouth bass fishing excursion. Lake Conroe has species attractors throughout the reservoir. You'll find the bass near the shore in the cooler months, but as the temperatures warm up, they move to the deeper waters. When you're done targeting bass, check out the healthy population of catfish found on Lake Conroe as well.
6. Lake Lyndon B. Johnson, Texas – Map
Placed northwest of Austin in Central Texas, is Lake Lyndon B Johnson in Llano County. It consists of 6,500 acres of trophy bass fishing prime waters and is the most consistent fisheries throughout the entire year.
Lake Lyndon B Johnson keeps a constant level and is not affected during more droughts. Most anglers focus their efforts on underwater structures, either on boat docks or brush piles, which all create excellent habitat for big bass to live all year round!
Consistent with the others, Fall and Spring are considered by most anglers as the prime times to be on the water for largemouth bass on Lake Lyndon B. The variety of techniques to catch largemouth bass always depends on water levels, the time of year, weather, bait, water temperature, etc.
7. Lake Ray Roberts, Texas – Map
Approximately 2,000 acres of standing timber, Lake Ray Roberts has two major arms, both near bridge crossings, dams and provide lots of Rip-rap for anglers. Shorelines are sparse with aquatic vegetation, but some can be found.
Lake Ray Roberts angling structures to bass are flooded main points; Additional system is provided by stream channels, inundated brush piles, pond dams, saturated rocks, or stumps. Many modern GPS maps now show structure in these locations, making it readily available to anglers.
8. Lake Alan Henry, Texas – Map
Considerably smaller, but don't be fooled by its size. Lake Alan Henry, when it comes to catching double-digit trophy bass, this reservoir has proved that it can compete with the biggest names in the United States.
Still, Allan Henry the only Texas reservoir ever to produce more than on ShareLunker entries in a single season, other than Lake Fork. In Lubbock, West-Central Texas, roughly 45 miles south of the Brazos River. Alan Henry is considered a clear water canyon reservoir that's long, narrow, very deep with steep banks along rocky cliffs. Horizontally aligns west to east and gets its water reserves from several creeks. These also provide prime habitat for migrating big bass, white bass, yellow bass because of all the brush and floating timber. Alan Henry is one of the Texas bass fishing fisheries that received a tremendous amount of fishing pressure, especially during the spawning months when the trophy bass moves shallow.
9. Lake Texoma, Texas – Map
When we're discussing fishing trips, you can't leave out Lake Texoma. Every angler who loves to catch fish should experience Lake Texoma at least once. Located on the opposite side of the state compared to most, it falls on Texas and Oklahoma's border. A human-made reservoir with deeper water at the assemblage of the Washita River, Red River, and Lake Texoma is one of the largest in the World. The Lake Texoma reservoir has excellent access in Texas and Oklahoma, with various splendid options to go pleasure boating.
The surprising flow of boats' traffic and fishing pressure never feels overwhelming because of its size and the variety of species of fish anglers target on Lake Texoma. It is easy to be fishing next to another boat and be fishing for something completely different. This fishery is fertile with everything listed for Texas bass fishing, from largemouth bass, smallmouth bass, white bass, giant catfish, huge crappie, and the most popular striped bass, also known as a rockfish to locals!
Out of all of the species we listed, without a doubt, the fish that keeps Lake Texoma so popular among anglers is the striped bass. Funny fact, the striped bass in the 1960s was native to saltwater and introduced in freshwater, and made an excellent addition to Lake Texoma's habitat.
The striper is prevalent to catch on Lake Texoma, as it's available year-round and great species for families with kids, and new anglers who want to make sure the day ends with many exciting, fun activities for all!
10. Lake O' the Pines, Texas – Map
Lake O' The Pines, known as a diverse fish community with a variety of angling opportunities. Yes, excellent largemouth bass fishing not only bass but its sister the smallmouth bass. Because of the northeast Texas location, the water cooler, you'll find vegetation and overall good quality bass, especially in the fall and spring as listed with all the others.
Lake O' The Pines helps with separating the fish, so you have fewer local honey holes and fewer boat docks. It does have a great variety of water depths. Provides ample shallow water fishing and provides cover for fish down deep.
If panfish is one of the things you like to catch, then sunfish and crappie are very abundant. Why stop there? Blue catfish, Channel and flathead catfish are also readily available to catch. A standout is an outstanding summer fishery for anglers, as well-spring and fall, which makes it ideal for family outings.
11. Lake Amistad, Texas – Map
Lake Amistad was established when the Rio Grande was dammed in 1969. It is located near the border town of Del Rio in Central Texas. Its remote location is one of the only reasons it was rated number ten. Part of its uniqueness is the massive clear waters.
Lake Amistad encircles 70,000 acres, which are partially in the United States and Mexico. Amistad is known for big bass but is very scenic, coupled with one of the best bass lakes to catch a trophy largemouth bass.
Why it's known as a bass factory and one of the best bass lakes in Texas, it also has white bass, catfish, and striped bass.
12. Choke Cayon Reservoir, Texas – Map
If you enjoy fishing for bass or catfish, add Choke Canyon Reservoir to your bucket list. It is a 26,000-acre reservoir located just south of San Antonio in the Central part of the state, at Three Rivers, TX. The Choke Canyon Reservoir also maintains populations of crappie, sunfish, gar, and white bass. Two boat ramps and several area campgrounds simplify camping for Texas bass fishing and is a great place to bring the family. Fishing options span 130 miles of shoreline, offering deep and shallow brush and trees, rocky points and humps, and aquatic vegetation.
Options on Choke Canyon
Bank fishing on Choke Canyon Reservoir is an option at various locations around the reservoir, and boats of all kinds provide access to some of the less accessible shoreline areas. Canoes, kayaks, fishing boats, and pleasure boats are all welcome here. During spring, anglers have the potential to catch a lunker over 10 pounds. Spring and Fall fishing tips, feature shallow-water fishing, while most of the fish move deeper in summer and winter.
Many angler conversation circles around the greatness of Lake Fork, Lake Sam Rayburn, Caddo Lake, Falcon Lake, and Lake Amistad. But when the water temperatures are right, Choke Canyon Reservoir is one of the best lakes in Texas. Choke Canyon Reservoir is known for quality bass fishing in Texas and better for average weight.
Based on the Overall Satisfaction rating from Actual Customers!
4.95 Overall Satisfaction rating
Join us in Texas, interested in a Career as a Fishing Captain?
Full-time or Part-time
We have a 99% Success Record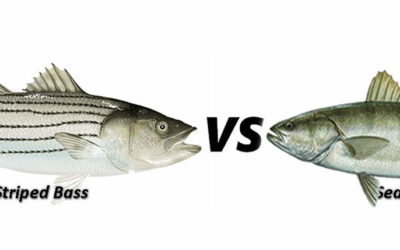 Sea Bass & Striped Bass: A Comparison The sea bass and the striped bass are different types of species even though they have the ''bass'' word in their name. When it comes to targeting the right fish, anglers need to know their similarities and differences. The...
read more
Other Great Ways to Experience Bass Fishing