Lake Rating:
Lake Rating - Read customer reviews of lake, click to read
About Ontelaunee Lake
Lake Ontelaunee is a reservoir in Berks County, Pennsylvania, in Reading, covering 1082 acres. Ontelaunee Lake offers a wide variety of fish species, including largemouth bass, bullhead, black crappie, white crappie, white perch, alewife, sunfish, bluegill, and channel catfish. You can also ice fish during the winter on Lake Ontelaunee for pickerel, bass, and northern pike.
Lake Ontelaunee is a historical water body created in 1926 by damming Maiden Creek to extend and improve the city's water supply, which was later rewarded with a meaningful dedication ceremony. The lake's construction was completed in 1933, making Ontelaunee the largest human-made lake in Pennsylvania.
Apart from its serenity, Lake Ontelaunee is a suitable venue for hikers, hunters, and anglers. Ontelaunee lake is a popular outdoor recreation destination and a popular fishing spot that is reputable for having colossal bass and catfish.
Lake Ontelaunee Fishing
Otelaunee lake is home to a large and healthy fish population. Anglers come here to catch various fish species, especially bass, channel catfish, black crappie, and white crappie. Other popular fish species are white perch, yellow perch, grass carp, bluegill, and other panfish. Boats aren't allowed on the lake, but you can reach productive fishing spots from the shoreline.
Pennsylvania is known for its incredible fishing, and the best way to learn about the area and its fishing habits is with a local fishing guide in one of the nearby waters. With a guide, you will have a fun day full of catches while improving your skills.
Largemouth Bass and Catfish
Lake Ontelaunee, Pennsylvania, is best known for its local trophy bass and monster catfish. The best fishing spots are the shady covered areas and coves. Catfish in the 8-10 pound range are often caught near the spillway with bait.
Top Targeted Fish Species
Regulations
Regulations guiding Lake Ontelaunee are pretty extreme, given that it is a water reservoir for Reading city. No boats or swimming are allowed in Lake Ontelaunee. The only activities you can indulge in around this area include fishing, hunting, hiking, strolling, and the like. However, there are many other lakes and rivers nearby that you can boat, kayak, and swim in. Boating or no boating, a Pennsylvania Fishing License is required to fish from shore legally.
Place is Pretty Dope
★★★★★
"
This lake is absolutely beautiful. We went fishing here on the first day and their was nobody around. So peaceful, the water was beautiful, the nature was gorgeous. We want to go again and bring more people to show them this place.
"
Area Things To Do
Ontelaunee Lake is known for its hiking, hunting, and shoreline fishing for largemouth bass, channel catfish, perch, and crappie. Between the lake and its nearby adventures, there is plenty to do.
Kayaking and Boat Rentals
Water bodies near Otelaunee Lake in Berks that you can go kayaking or rent a boat are the Schuylkill River, Tulpehocken Creek, Blue Marsh Lake, Green Lane Park, and many others. Many of these areas make for good bass and catfish fishing too.
Trails
Lake Ontelaunee is full of wooded and scenic trails. You'll have to pass through the rural areas and woodlands to get to this historic lake. Around the lake's location, there are old homes, barns, and farmhouses. There are also ancient bridges worth exploring, such as the Dreibelbis Covered Bridge.
Birdwatching
The fauna near Lake Ontelaunee is as remarkable as the places themselves. Birds and ducks of different types are also found around this great lake. The Canada goose is one bird that will catch your attention close to the lake, given its constant and noisy honking.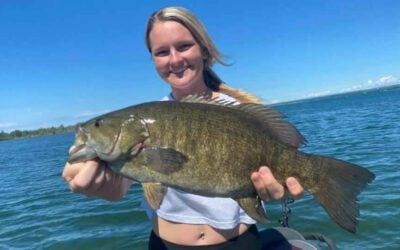 If you're a fan of freshwater fishing, there is no better place to be than Lake Erie. Many consider North America's fourth-largest lake...
read more
Attractions
Popular attractions in Berks, Pennsylvania, near Ontelaunee Lake, include The Pagoda, Crystal Cave, and Hawk Mountain Sanctuary. Berks is known for its famous fairs and festivals featuring excellent music and mouth-watering food.
What are you waiting for?
We also have great deals available on the following lakes that match your search criteria.