Lake Rating:
Lake Rating - Read customer reviews of lake, click to read
About Erie PA
Erie is a city located on the south shore of Lake Erie in Erie County, Pennsylvania, United States. Erie is the fourth-largest city in Pennsylvania. Its located north of Pittsburg, Pennsylvania, halfway between Buffalo, New York, and Cleaveland, Ohio.
Fishing in Erie Pa is known for being the "Flagship City" because of being the home port for the wooden-hulled ship, Niagara, used at the Battle of Lake Erie in the War of 1812.
Erie, Pennsylvania, is home to the oldest land lighthouse on the Great Lakes and was chosen by Field and Stream as one of the nation's top twenty family-fishing spots. The waters of Lake Erie are known for incredible sport fishing for Walleye, Steelhead, Lake Trout, and smallmouth bass.
Lake Erie PA
Lake Erie is the 13th largest natural lake globally and is a unique waterway with incredible fishing in Erie Pa. Lake Erie is the shallowest of the Great Lakes with a depth of 210 feet at its deepest points; other Great Lakes reach depths of over 1500 feet. Lake Erie covers 9,910 square miles, bordering four states and Canada.
Lake Erie supports a wide variety of healthy fish populations, including bass, trout, walleye, steelhead, salmon, crappie, bluegill, yellow perch, sunfish, pike, and muskie. These fish species thrive in quality and quantity, making Lake Erie a top destination for fishing charters. On top of its famous sport fishing, Lake Erie has more consumable fish than all the other Great Lakes combined.
Reserve a Spot for Fishing in Erie Pa
Searching Availability...
Smallmouth Bass Fishing Charters
Lake Erie, PA, is one of the premier smallmouth bass fisheries in the country. The big smallmouth bass is attracted to Presque Isle Bay, known as their premier spawning ground. Erie bass fishing charters are best when the lake begins to warm, making season from late April through August.
The hungry, aggressive smallmouth bites until early summer. It's not uncommon the catch 6-pound smallmouth bass in Lake Erie, Pennsylvania. To better understand fishing charter pros and cons, read this short article.
Sport Fishing
Lake Erie is most known for its size and abundance of gamefish, making for memorable fishing trips. An average of 1.5 million fish is caught every year in Lake Erie, Presque Isle Bay, and the tributaries.
The most popular game fish that call Lake Erie home are largemouth bass, smallmouth bass, lake trout, walleye, and steelhead.
The fish in Lake Erie is known for being plentiful and to grow large, which is the reason for such successful fishing charter trips. The sportfishing season officially starts when the water warms up in the early summer and the larger fish move to deeper waters. 
Top Targeted Fish Species
Erie PA Fishing Charters
Anglers from all over the nation and walks of life come to Lake Erie, PA, to target game fish like bass, trout, walleye, and steelhead.
Your full-time captain is available to accommodate families, couples, kids, avid anglers, or novices looking to target a specific fish species or experience all of the famous Lake Erie.
Our Lake Erie fishing guides have been fishing the lake since they were kids. Our mission is to expose the great town of Erie, PA, and all the great smallmouth and walleye sport fishing Lake Erie has. Your licensed captain will have everything you need for a successful trip, including the United States Coast Guard Safety equipment, fishing gear, tackle, boat, and knowledge of Lake Erie fish's habits to find the best spots.
The high season for smallmouth fishing charters begins in May after their annual spawn. The Walleye fishing charters prime time starts in June.
Guided fishing itrips are an ideal way to experience the incredible fishing on Lake Erie. Your chances of going home with your personal best are the highest while onboard a Lake Erie fishing charter.
Walleye Fishing Charters
Lake Erie, PA, is often referred to as the Walleye sport fishing capital of the world. The Walleye charter fishing heats up in Lake Erie, PA, as temperatures begin to rise in the early summer months.
The best months for walleye sport fishing charters are June, July, August, and September.
Walleye charters are done when the water temperature reaches the mid 50's to low 60s when the Walleyes begin to school in 50 to 60 feet deep waters. Resident Walleye can be caught near shore as the season starts picking up and offshore as the summer progresses.
Later in the summer, walleye fishing charters usually involve your guide trolling deeper water with downriggers, spoons, and dipsey divers. Another productive method used on Walleye fishing charters is open water drifting with jigs toward the water column's bottom.
Lake Erie fishing in Erie Pa provides an ideal environment for trophy Walleyes by giving them easy access to colder water and high-protein baitfish.
Lake Trout in Lake Erie, PA
Lake trout are active targets starting as early as April. The month of May is the best month for fishing in Erie Pa for a Lake Trout fishing charter, with the highest chance to catch a hard-fighting trophy, Lake Trout. Typically trolling is the best method to fish for Lake Trout in Lake Erie. These Lake Trout tend to prefer Shiners, Gobies, and other small baitfish. Fishing for Lake Trout slows down around early June, right as the Walleye season is starting.
Steelhead in Lake Erie, PA
Lake Erie fishing means steelhead to many anglers, providing world-class steelhead charters. Fishing in Erie Pa and its creeks provide the perfect habitat, allowing them to thrive in great numbers. A steelhead fishing charter is best during the fall months in Lake Erie. Steelheads gather at the creek's mouth as the waters of Lake Erie start to cool down for their annual run upstream. The creeks of Lake Erie, PA, are famous internationally for the annual spawning runs of Pacific steelhead trout.
Buchholtz
★★★★★
"
I fish for smallies all over the Great Lakes. Did an evening trip with Capt Johnathan while traveling for a buisness trip to Erie PA. We battled wind and summertime patterns and still managed to boat both smallmouth and largemouth. By the end of the trip I felt like I was fishing with a fishing buddy vs a fishing guide. Bonus sunset while ramping out over the bay!! Awesome evening on the water. I will book with Captain Johnathan again.
"
Great Day on Lake Erie!
★★★★★
"
My daughter and I had an awesome time on the water with Captain Jonathan. We caught some really nice largemouth. My daughter caught a 3.5lb on top water! Looking forward to going back out soon when the small mouth are hitting!
"
Super day on Presque Isle Bay
★★★★★
"
What a day of fishing on Presque Isle Bay yesterday. On his maiden voyage as a full-time guide, Jonathan Polanco and the Erie smallmouth did not disappoint. Despite not being peak season, some rain and the 2-3 ft rolllers we dealt with most of the day (and could have used some Dramamine) we caught approximately 30 smallmouth and one surprise largemouth. best 5 smallmouth went 24.20 as shown on scale and I'd say the next best 5 would have been 22+. Nat and I both had our PB smallmouth on lures and a great father-daughter dance on the water. I'd highly recommend Jonathan, who grew up in Erie and who's first language is bass - just like mine. When he hands me a rod with an Architect reel…that's catering to your clients!!! #ioutdoor #Bassonline.Com #ErieFishing
"
Mark Rose
★★★★★
"
Mark came through again. I needed to end the year with a picture worthy fish. The fishing gods were not kind to me this year with big fish. A 25 pound lake trout did the trick. Last year Mark helped me finish the year with a 5 pound smallie. Plus you always learn something spending time with him on the water. Thanks Mark.
"
Big Lake Erie Bass in the rain
★★★★★
"
I was scheduled to fish Lake Erie with Captain Mark Rose on 11/11 but the remnants of hurricane Nicole was moving through the area with heavy record setting rainfall. After debating if we should go out in that weather we decided to give it a shot, I'm glad we did. I had a great morning of fishing. I caught a personal best 6 pound small mouth and quite a few 4 to 5 pounders. Captain Mark is an awesome guide and will put you on the fish regardless of conditions.
"
Great Father and Son trip
★★★★★
"
My son and I went bass fishing with Captain Mark and had a great time. What a beautiful boat, quality gear and great advice. We were challenged by the unpredictable Lake Erie weather but Captain Mark really put in the extra effort to put us on the fish. We both had a fun and productive trip. In fact, we're already looking forward to our next trip to Erie PA!
"
CLICK TO WRITE A ERIE REVIEW
Lake Erie PA Fishing Charter Seasons
January, the ice over Lake Erie, PA, is thick enough for ice fishing or fishing for pike in the bay with large golden shiners.
In February, target Steelhead with egg sacks or perch with minnows. Ice fishing can still be good if the weather calls for it.
In March, the Perch, Walleye, Steelhead, and smallmouth are there but hard to find. Tributaries would be the best place to go.
In April when fishing in Erie Pa, Early season Walleye fishing charters are jigging and trolling the lake's tributaries' waters.
In May, the fishing is rapidly picking up in Lake Erie, PA. Lake Erie fishing charters are catching Perch, Walleye, and Smallmouth bass.
In June, Steelhead is found in deeper waters offshore on Lake Erie, PA, fishing trips. Smallmouths are biting, and Walleye fishing charters are entering the prime season.
July fishing charters mean Lake Erie's Central Basin's deeper waters to find large quantities of Trout and Walleye. Some Walleye fishing charters are also staying nearshore to find the resident walleye.
August is still all about the Walleye fishing charters and catching that trophy Lake Erie Walleye. Steelhead and bass are still being caught.
In September, Walleye and Steelhead fishing charters are still thriving in certain parts of the lake.
In October, the Steelhead and Perch are numerous. Walleye charters are still running.
In November, local fishing charters while fishing in Erie Pa were running in the tributaries, but boating season has generally ended.
December is for the Erie ice fisherman to head to the bay. Steelhead can be found under the Lake Erie bridges. All species require a Pennsylvania fishing license.
Nearby Tourist Attractions
Erie, Pennsylvania, is home to several professional arts groups and semi-pro sports and offers plenty to do on both land and water. Attractions and waterfront dining surround Lake Erie.
Lake Erie attracts over four million visitors every summer for recreational activities in Presque Isle Park. Presque Isle State Park has 7 miles of beaches for boating, swimming, fishing, and world-class sunsets.
Popular Erie Tours and Attractions
The fishing in Erie Pa in the city of Erie has a tour for almost everything. Some of the most popular tours include Whiskey Barrel Tasting, Erie Food Tours, Allen Stoneware Gallery, and Board and Brush. Other popular attractions near Lake Erie, PA include Erie Zoo, Splash Lagoon, the Erie Maritime Museum, and the Tom Ridge Environmental Center.
Lake Erie Wine
Lake Erie is also known as the Lake Erie Wine Country because of its 20 distinct wineries across the lake's southern shores. Pennsylvania ranks 4th nationally in the number of grapes grown and 8th in wine production, with approximately 14,000 acres of grapes. Pennsylvania's mild climate and rolling terrain provide some of the best grape-growing conditions on the East Coast. Specifically, the warm waters of Lake Erie are ideal for growing grapes.
Lake Erie Ale Trail
Erie's region is home to many different breweries that make up the Lake Erie Ale Trail together. Each brewery uses simple ingredients and personalization to refine its beer. Each brewery is unique and continuously expanding.
Presque State Park
The fishing in Erie Pa is around Presque Park and provides a lot to see and do. The 3200-acre park has some of the region's most scenic beaches, trails, and marinas. The park has plenty of spots for biking, hiking, skating, swimming, fishing, boating, canoeing, and sports. Many different types of birds migrate through Presque Isle, making this park perfect for birdwatchers. 
Lake Erie fishing charters Reports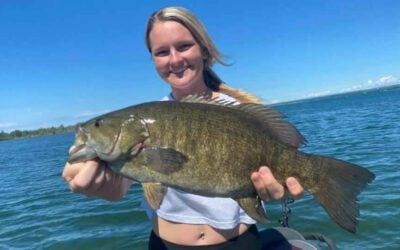 If you're a fan of freshwater fishing, there is no better place to be than Lake Erie. Many consider North America's fourth-largest lake...
read more
What are you waiting for?
When fishing in Erie Pa you also have great deals available on the following lakes that match your search criteria.