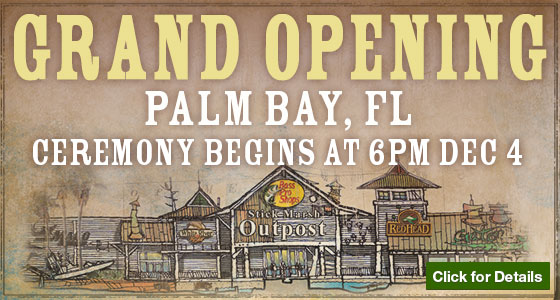 A cast that reads like a who's who in the world of sports, entertainment and the great outdoors will help Bass Pro Shops celebrate the opening of its newest store in Palm Bay on Wednesday evening.
The grand opening event, an Evening for Conservation, will begin at 6 p.m. with legendary angler and television host Jimmy Houston, of "Jimmy Houston Outdoors" as the emcee.
Other celebrities scheduled to appear and sign autographs include:
• NASCAR driver of the No. 1 Bass Pro Shops Chevrolet, Jamie McMurray
• Nine-time Bassmaster Angler of the Year, Roland Martin
• Host of "George Poveromo's World of Saltwater Fishing" show, George Poveromo
• Former Miami Dolphin and Bass Pro Shops/NITRO team member, Kendall Newson
• World renowned artist and conservationist, Guy Harvey
• Cast member of National Geographic Channel's "Wicked Tuna," Paul Hebert
• Three-time World Sailfish champion, Peter Miller
• RedHead Pro Hunting team member, John Paul Morris
• Retired pro bull rider, Luke Snyder
• 2014 Miss Florida USA, Brittany Oldehoff
Patrick Air Force Base will hold a color guard presentation, Brevard resident Janna Ivey will sing "God Bless America" and music will be provided by Penny Creek.
The event, which is free and lasts until 10 p.m., includes special exhibits and giveaways. Experts on fishing, hunting, boating and more will be available to talk with customers. In addition, factory representatives from the industry's top manufacturers will be on hand to answer questions.
For every dollar spent during the Evening for Conservation, 50 cents will be donated to the Wildlife Foundation of Florida in support of the Florida Fish and Wildlife Conservation Commission.
There also will be a special surprise guest for the kids. The event kicks off a week of celebration for the 64th Bass Pro Shops store.
The store also will give the first 200 customers a free gift each day through Sunday, beginning Thursday.