Georgia Fishing – Home of Great Georgia Bass Fishing
Bass fishing in Georgia is almost as common as Tarpon fishing in the Florida Keys. Everyone can share his favorite river or lake with a great fishing story.
After starting to fish in Georgia, you will immediately notice that all the lakes have plenty of bass. Although it's not common in every town for largemouth bass to be the king, striped bass, crappie, catfish, stripers, and trout fishing are a big deal in many areas!
Anyway, after many years of experience – here's our comprehensive outline of the best bass fishing in Georgia.
The 8 Best Places to Fish in Georgia
Often when a visitor thinks about Georgia, the peach, pecan trees, and the fantastic fairways of Augusta's golf course come to mind. However, as the state offers great activities, many visitors neglect the tremendously lucrative fishery.
The waters around GA include bass of many types and other species. Below we break down the critical locations for you!
Key Featured Destination
Visit the North GA Mountain Range and experience celebrated trails, historic orchards and vineyards, serene rivers, and picturesque cabins. The Blue Ridge area is a beautiful mountain range with an iconic setting that offers small city charm in an urban environment.
Cartersville is the most comprehensive exhibition of Western-American cultural artwork in the world. The Chateau Elan Winery & Resort will have you taking in all amenities, including its historic Downtown Braselton, a great visit when not on the water.
So, Where is the Best Ga Fishing?
Here are our top Bass lakes in Georgia, and while we can't list them all. Maybe even a few that should make a list, like Clarks Hill, Lake Eufaula, Lake Lanier, and many of the Blue Ridge water bodies. No worries, we covered them on our GA lakes page. Let's get started!
2022 Best Georgia State Parks Public Fishing Areas
One of the most significant Georgia fishing reservoirs of the Tennessee Valley Authority is known for North Georgia fishing. Located entirely in Union County, Georgia, and siding with Helen Georgia fly fishing on Lake Nottely.
It was formed in 1942 within the Chattahoochee-Oconee National Forests by the damming of the Nottely River. Nottely Reservoir extends 20 miles upstream to the town of Blairsville.
2. Clarks Hill Lake – Map
Clark Hill occupies approximately 71,000 acres and is one of the largest lakes in Georgia. Blueback herrings are a common species that mainly foraged at Clark Hill.
This can sometimes make bass fishing challenging, but striped bass fishing is highly possible here. Anglers generally capture striped bass of over 21kg, while catching over 40kg strippers is not as common these days when Georgia fishing.
Lake Seminole lies on the boundary of FL and GA. It has much aquatic vegetation, mostly hydrilla groves, and huge forests, suitable habitats for bass.
Bring on grass-based fishing gear, including topwater trick worms and lipless crankbaits. It also is one of the exceptional crappie fishing in Georgia spots.
Lake Allatoona was once an established spotted bass fishing lake. Fish weighing 9 pounds, averaging more weight than the more significant, more popular historical sites to fish.
Bass anglers catch fish all winter long on drop shots; jerk baits and topwater walkers are the preferred tactics for landing trophy spotted bass in this region.
Lake Hartwell is considered one of the best bass fishing lakes in the Southeast United States. There are substantial populations of largemouth bass and spotted bass living in the deep clear waters.
Lake Hartwell is an artificial reservoir bordering GA and SC and encompassing parts of the Tugaloo, Savannah, and Seneca rivers. Lake Hartwell is one of the Southeast's largest and most popular recreation lakes adding to the great fishing season in Georgia.
Fannin County reservoir, known as Blue Ridge Lake, is in the northern portion of the U.S. state of Georgia. The reservoir encompasses 3,300 acres of water and a "full summer pool" of approximately 1,686 feet above mean sea level.
The Tennessee Valley Authority manages it, and its primary water source for North Georgia trout fishing is the Toccoa River.
7. Chattahoochee River – Map
The Chattahoochee River sits on half of the AL and GA border and FL, which gets water from the Lake Walter reservoir.
Bring your fly fishing equipment and hit Chattahoochee! Since its introduction in 1955, white and rainbow spawning trout on the Chattahoochee has been off the charts. The state-record brown trout taken off the Chattahoochee in 2014 weighs just under 16 ft 11 ft 7 lbs.
8. Flint River – Map
The Flint River is 344 miles long in the state of Georgia. The river drains 8,460 square miles of western Georgia, flowing south from the upper Piedmont region south of Atlanta to the wetlands of the Gulf Coastal Plain in the state's southwestern corner.
Flint Creek runs south across Lake Seminole and provides a prominent fishing location for GA fishermen. Shoal bass can be found only in the Flint River and draws out anglers searching for the rare cross between largemouth and smallmouth bass.
Top 5 Lures for Largemouth Bass Fishing in Georgia
Bass will ideally be caught in deeper water with spinnerbaits, crankbaits, or topwater lures. Over time, the depth will increase and decrease in these structures, making worms, senkos, and other slower-moving lures the best product during the summer months.
Generally, Ga fishing is like the rest of the Southeast; the same lures work with the same colors. Check this article to read more on the Best bait for largemouth bass.
What is the best month for bass fishing in Georgia?
This depends on where in the state of GA. It depends on what season spawning starts at the beginning. So as early as March and as late as May, the bass begins moving out into shallow water which is common on Lake Oconee and others.
Winter and Spring is always the best time to fish for bass because they're starving. And the easiest time to catch is by land or boat.
What kind of Trout Fishing is there?
Freshwater anglers will enjoy an excellent and lengthy trout fishing season which ranges from late March to almost September. Meanwhile, the crappie fishing across GA and Musky, Catfish, and wide varieties of panfish.
Among the many bass species, the largemouth bass, smallmouth bass, spotted bass, striped bass, and hybrid bass, it truly is the bass capital for catching bass.
Where is the biggest bass in Georgia?
Species – Weight – Location
Bass, Largemouth22 lb. 4 oz Montgomery Lake
Bass, Redeye3 lb. 7 oz. Lake Hartwell
Bass, Shoal8 lb. 5 oz. Chattahoochee River
Bass, Smallmouth7 lb. 2 oz. Lake Chatuge
Top Destination in Georiga
Based on the Overall Satisfaction rating from Actual Customers!
4.95 Overall Satisfaction rating
Join us in Georgia, interested in a Career as a Fishing Captain?
Full-time or Part-time
We have a 98% Success Record
Georgia Fishing Reports & Articles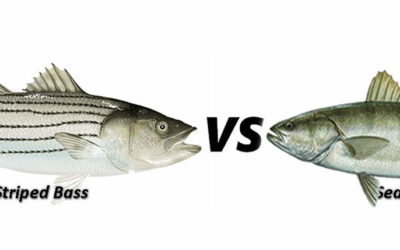 Sea Bass & Striped Bass: A Comparison The sea bass and the striped bass are different types of species even though they have the ''bass'' word in their name. When it comes to targeting the right fish, anglers need...
read more
Other Great Ways to Experience Fishing Charters in Georgia
Let's Goooooo!!!
★★★★★
"
Been out with Capt. Bill twice and both trips we landed so many Bass that I lost count. Done Headwaters and Winter Haven. Both locations were great. Can't. Bill is the coolest guide you could ever hire for your trip!! Don't hesitate to book with him!! We will be back again soon.
"
PB Largemouth
★★★★★
"
Had a great day on lake Toho with captain Mike. I caught my personal best a 7.25 lb bass. I'm looking forward to going again and top my PB.
"
Headwaters - Caption Paul
★★★★★
"
Don't think just go! Captain Paul and Headwaters is a blast. Go catch some big bass and have a blast!
"
CLICK HERE TO WRITE A GA REVIEW