Bainbridge Rating:
Bainbridge Rating - Read customer reviews, click to read
Bainbridge, GA
Black Creek, GA
Complete Guide to Brainbridge Ga Fishing
9 Spots to Go Fishing in Bainbridge, GA
If you love nature, and if you love to fish, the Peach State is one of the best places to be. Filled with beautiful and historical water bodies brimming with fish, Georgia is a haven for anglers—the city of Bainbridge in particular. In fact, in 2008, Bainbridge was dubbed the "Bass Capital of Georgia" by the Georgia State Legislature.
If you're an angler located in Decatur County—or are visiting there—you're probably wondering what the closest and best Bainbridge, GA fishing spots are. Well, you're in luck, because you'll find enough bass, crappie, and trout to make any fisherman happy.
Below, we've laid out 9 of the best fishing spots near Bainbridge, GA, with the farthest fishing hole 2 hours away.
Popular Nearby Brainbridge Fishing Locations

Instant Confirmation

  Angler's Top Choice

FREE Cancellation
Fishing in Brainbridge Reviews
Great vacation adventure!
★★★★★
"
What a great day we had!! On time and efficient from the start. We each caught at least one fish and enjoyed every minute of the trip! Easy to book, easy to find.
"
Great experience!
★★★★★
"
We purchased a 6 hour trip. It was down to earth and very successful trip. We managed to catch 3 big fish on our trip, one which being the nearly 10lbs. Overall the trip was a blast! Thanks Alex
"
CLICK HERE TO WRITE A BAINBRIDGE GA REVIEW
1. Seminole State Park
Located 24 minutes away from Bainbridge, the Seminole State Park is only 23 miles west of Bainbridge and host to Lake Seminole one of the best fishing destinations in all of Georgia. One of Georgia's grandest parks, the Seminole State Park spans 604 acres and has its own campsites, swimming areas, and of course, fishing docks and ramps, promising anglers fun for days!
The location of the Seminole State Park is on the breathtaking, 37,500-acre reservoir known as Lake Seminole, which is fed by the Rivers Chattahoochee and Flint known for great fly fishing. The Seminole is admired by anglers for its abundance of bream, crappie, striped bass, and catfish, which love feeding on the plentiful hydrilla that grows within. You'll also find redear sunfish, channel catfish, and black crappie here as you cast your rod contentedly from the fishing dock or one of the three boat ramps. Kayak fishing charters are also available.
If you're thinking of making a day out of with a Lake Seminole fishing expedition, there are numerous options for accommodations — the place has 14 cottages, as well as tents, trailers, and RV campsites, so there's plenty of space for fun with family and friends to enjoy the activities on Lake Seminole.
2. Tired Creek Lake

Located only half an hour away from Bainbridge, Tired Creek Lake has been open to the public for fishing since 2018. Named for its slowly moving water, the Tired Creek Lake is formed by the Buss, Black, and Sapp creeks feeding into it, resulting in 960 acres of fishable water, which in some places is as deep as 30 feet.
Anglers will find Tired Creek to be a wonderful fishing spot for hooking bass, bream, and crappie, but if you're not from Grady County, you'll have to pay a fee for daily use. The good news, though, is that kids under 15 can fish at Tired Creek for free!
Top Targeted Fish Species
3. Black Lake
Are you in the mood to take a trek before casting your fishing rod? If you're in Decatur County, Black Lake is the perfect place to do just that. Located only 10.5 miles away from Bainbridge, Black Lake is rife with all the fish your heart could possibly desire.
You'll revel in the variety of catches available, from largemouth bass, smallmouth bass, striped bass, crappie, bream, perch, and sunfish down to rainbow trout, northern pike, walleye, catfish, panfish, and black bass.
Sounds too good to be true, doesn't it? But it's real! Locals will also tell you that Black Lake is also a great place for anglers who like fly fishing. Just remember to bring provisions and check the weather forecast before leaving, as there aren't too many facilities around.
4. Kolomoki Mounds State Park
If you're an angler who's also a history buff, take the time out to make the trip to Kolomoki Mounds State Park, located approximately an hour away from Bainbridge.
So named for housing The Peach State's oldest great temple mound, this historically significant park is the southeastern United State's biggest and oldest Woodland Indian Site, with a museum containing artifacts and even an educational film.
But whether or not you're interested in the history lesson, you'll find the fishing facilities here to be top-notch.
Kolomoki has not only endless angling opportunities but wholesome accommodation as well. It boasts two whole lakes for boating, kayaking, and fishing, as well as a breathtaking campground shrouded by pine and hardwood trees with leaves of various colors.
We trust you'll find the fishing dock, boating ramp, and sand beach to be perfectly suited to both your fishing and relaxing needs. In fact, if you haven't fished here, you're missing out!
5. George T. Bagby State Park
Located in Fort Gaines, GA, the George T. Bagby State Park is a spectacular spot along the shores of Lake Eufaula in southwest Georgia. From Bainbridge, it'll only take you one hour to get there. Complete with accommodation options, it's the ideal weekend getaway spot.
This State Park contains a full-service marina (complete with gas pumps and a store), beach, fishing dock, and slipway, giving you easy and full access to the 48,000-acre lake, where you will find largemouth bass and hybrid bass in abundance besides other Southern freshwater fish, such as channel catfish and crappie. In fact, George. T. Bagby holds the Georgia record catch for blue catfish.
Local Bainbridge Fishing Guides
Meet the team of
Bainbridge Fishing Guides
, we know the best spots, baits, and techniques to give you the greatest fishing experience in the Bainbridge area.
Fishing License Requirements on Fishing Charters
You don't need to purchase a fishing license for saltwater fishing charters as the captain's license covers you. This goes for both inshore and offshore fishing charters. For freshwater fishing charters, all non-residents over age 16 need a freshwater license, and residents between 16 and 65 need a freshwater license.
6. Alapaha River
A trip to the Alapaha River is for the more adventurous amongst you. Beginning its 202-mile span in Dooly County and flowing southeast, it ends in the Suwannee River inside Hamilton County, Florida.
If you can make the two-hour journey there from Bainbridge, you'll be handsomely rewarded with lots of fish species, including redbreast, crappie, bluegill, and warmouth, as well as several species of pickerel and catfish.
But remember to bring all required gear with you as you might not find it nearby. Pro tip: one of the best baits to use in this river are grass shrimp.
7. Lake Andrews
A bit closer than the Alapaha, but just as rewarding, is Lake Andrews. Beginning near Fort Gaines at the Walter F. George Lock and Dam, the lake ends near Blakely at the George W. Andrews Lock and Dam.
At Lake Andrews, you'll find largemouth bass, channel catfish, and striped bass. White bass, crappie, and bream can also be found with some effort. This is also a great spot for fly fishing, so make sure you have all your gear.
The slipways at Lake Andrews are operated largely by the U.S. Army Corps of Engineers, so you can expect them to maintain top-notch conditions.
If you're interested in spending the night, a number of lodges and inns in the surrounding areas are available for all budgets when fishing Bainbridge Ga area.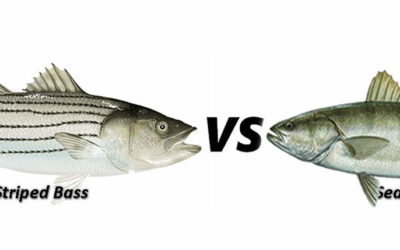 Sea Bass & Striped Bass: A Comparison The sea bass and the striped bass are different types of species even though they have the ''bass'' word in their name. When it...
read more
8. Lake Blackshear
Although far from Bainbridge — almost 100 miles and 2 hours away — Lake Blackshear is one of the most bountiful river bodies in the Peach State for fishermen. Spanning 8,500 acres, Lake Blackshear is home to a variety of crappie, bass, bream, catfish, and lineside.
Located on Lake Blackshear is the Georgia Veterans State Park, which operates a marina and two boat ramps and offers overnight facilities. You'll also find numerous Crisp County public boat ramps on the reservoir.
The park, which takes up 1308 acres, has 77 sites for tents, RVs, and trailers, so if you're in the mood for camping, you're in luck. If you get bored after your fishing session, you can also tour the museum built to honor American veterans.
9. Flint River
Located only 10 miles from Bainbridge and conveniently inside the county of Decatur, the Flint River is a must-see spot for both fishing enthusiasts and nature lovers. With headwaters at the Atlanta airport, the river flows for more than 200 miles with no obstruction from any man-made structures such as dams.
Upper and Lower
The upper part of the Flint River, which flows through the Talbot County and Thomaston area, is a great spot for finding shoal bass.
At the Flint River, anglers will find many other local fish species, including largemouth bass, catfish, redbreast sunfish, and striped bass.
Final Words
Fishing Bainbridge GA, is one of an angler's best life experiences. Not only are the best fishing spots blessed with abundant fish, but the accommodation rentals are also very gratifying. If you're concerned about acquiring a fishing license, remember to visit the GA Department of Natural Resources website, where you will also find information about fishing rules in Georgia, as well as important fishing regulations to follow.
Questions? Feel free to call us, Email us or use the chat us to speak to one of our specialists.
Questions? Feel free to call us, Email us or use the chat us to speak to one of our specialists.
Questions? Feel free to call us, Email us or use the chat us to speak to one of our specialists.
What are you waiting for?
We also have great deals available in the following cities that match your search criteria.