Wauberg Lake
Wauberg Lake this fertile 254-acre lake in a state park (electric trolling motors only)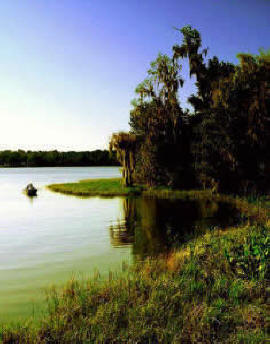 is famous for black crappie more than any other species. The fertile green water supports shad and a deep grass line is good to hold fish. Big largemouth bass are caught in spring, and redear sunfish and bluegill during spring and summer. There is a nice campground here for a relaxing fishing vacation.
Fishing the grass edge with a shallow running crank-bait or light colored spinnerbait is always a good bet for largemouth bass. Black crappie fishing should pickup in November and peak around Christmas, bluegill, and redear sunfish will feed on grass shrimp and crickets. Small tube rigs for panfish are deadly when tipped with a section of mealworm. For a different presentation when using tube-baits, insert the jig head only half way into the body of the tube. This provides a small air pocket in front that helps to plain the tube left or right on it's decent.
Location: Latitude 29°31'32", Longitude 82°18'7"
View Larger Map
Map was provided by Lake Wauberg