WELCOME TO DAYTONA BEACH FLORIDA
Daytona Beach is famous for its NASCAR, Motorcycles and racing in general. but the shopping, culture, beaches, big events and fine dining are second to none. From white sandy beaches, to connecting with a Cruise or traveling west to Disney World it's all in a stone throw distance. Not known by many, Daytona is recognized for having some of the greatest fishing on the east coast of the United States and yes, it does have great saltwater fishing. But the Daytona nature adventures can only be done in the freshwater...while fishing side by side with the alligators and birds just minutes from the speedways. The Daytona Beach climate allows for year round fishing for several great species which including largemouth bass and Crappie (Speck) just minutes from the Daytona Beach airport.
What you might not know about Daytona fishing, Deland is the closest town from the west and Palm Coast is to the north. Both destination close to St Johns River. Many forget about the spectacular freshwater fishing in Daytona, so while your friends are out cruising around in the ocean getting Sunburn, you could be enjoying the sights and sounds of World famous St Johns River in the surroundings of old Florida!
DAYTONA FISHING LOCATIONS
*****Daytona Fishing Reviews*****
Business Trip
★★★★★
"
In town for a few days, had a half day to kill and I love fishing. Got Bass Online recommended to me from the folks at Bass Pro Shops in town and I know why. What a top notch company and great guides, highly recommend if you're in the area.
"
St Johns River!
★★★★★
"
We did a trip on the St Johns River while at Bike Week, it was awesome. Quite, beautiful and very relaxing...yes we caught a lot of fish too.
"
LATEST DAYTONA FISHING REPORTS

Capt. Steve Niemoeller
is a full-time Daytona bass fishing guide, specializing in largemouth bass fishing in Rodman Reservoir, St Johns River and Lake George. Live-bait or artificial, Steve can teach you both of them. Steve's specialty is St Johns River and going way back into area where boats have never been with big shiners hunting trophy size bass, does that sound like fun or what! You can also read Capt. Steve fishing reports every morning giving his latest fishing tips. Your trip with Steve is guaranteed to be a fun trip, so do not ask for Steve unless you're interested in a good time.
[Read More...]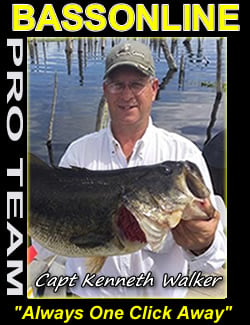 Capt. Kenneth Walker
is a full-time Daytona bass fishing guide, specializing on Daytona area largemouth bass on Rodman Reservoir, St Johns River and Lake George and has been known to be trophy hunter, live-bait or artificial he can catch them. No trip is too long and there's always more fish to be caught, that's his motto.
Kenneth's energetic customer catches can be found on our bass fishing reports every week giving his latest fishing report for the Northern Region of Florida.
[Read More...]

Capt. Chris Davey
is a full-time Daytona bass fishing guide and radio show host. Experience includes freshwater and saltwater, Chris's accomplishments in the fishing industry a mile long support in conservation, moved to Ohio to sharpen him northern skills and moved back to Florida years ago to master guiding in the Daytona Beach area. Chris is sponsored by: iOutdoor.com, Abu Garcia, Penn reels, BassAssassin Baits and BassOnLine.com. Chris's has become a master of the Daytona area for all your freshwater and saltwater needs
[Read More...]
FISHING DAYTONA BEACH FOR VARIETY!
Daytona Beach is home to a wide variety of beautiful fish species. When fishing sunny Florida in and around Daytona Beach we all know the deep sea fishing in Daytona Beach is excellent year round and you can expect almost everything. But hold on, the Daytona freshwater fishing has its share of exciting species as well. Home of the trophy bass on St Johns River, quoted as the #1 bass fishing in North Florida. And while the local area has its share of trophy bass fishing lakes it have several other species that may peak your interest. Daytona Beach fishing trips are also the home to hard fighting Redfish hear in Inshore fishing and much more.
There isn't any place in the world to match the opportunity and with measured accomplishments for anglers then when Daytona Beach fishing. It maybe the land of beaches, great food and nightlife but the fishing it what keeps people coming back.