Pricing?To get current pricing. Click on the AVAILABLE button on the pictures below. Then adjust the date, time, and the number of people and it will display the total price
Searching Availability...
About Lake Ida Fishing Charters
Welcome to Lake Ida chain of lakes, one of if not the most diverse fisheries in the state of Florida. Unique for being a dedicated urban fishery and more varied in the species of fish caught while fishing. The area is serene, represents South Florida well, and provides all the benefits of a great fishery, only adding to the argument of Florida being the fishing capital of the world.
 South Florida water management maintains the complete canal system; the Lake Ida system is part of the E-4 Canal System. SFWM opening the fishery and the local governments adding boat ramps. It has created a pathway to incredible gamefish, an anglers paradise for freshwater enthusiasts of all ages. Additionally, adding a significant boost to the local economy.
lake Ida Fishing Guide
Our Lake Ida fishing guide service provides peacock bass fishing charters and charters for every species available. We charter the lake seven days a week. Customers travel from every state in the US and more than 30 different counties to fish for Peacock Bass and Clown Knifefish on Lake Ida.
Anglers have drawn to this area for many years; Bass Online started the first fishing guide service for Lake Ida. So, with our experience and longevity, Bass Online wins by a landslide. Our focus point will always be on having the best quality Lake Ida fishing guides on the lake. That's what we have done, by training and using local anglers, and it provides the best results for every customer.
While fishing with our Lake Ida fishing guides, we like to share with you all these locations and, more, take you to the nonpublic and less pressured areas. While you can read about many guided opportunities, please read our fishing reviews, which clearly will be the deciding factor for you!
So let's get your friends and family out fishing for a memorable day of peacock bass fishing! Depending on if you're looking to go out today or tomorrow, or if you're planning a vacation and want to mix in a little fishing. Start your next trip with our local professional guides, and get the adventure started today.
Fishing Lake Ida
There is adequate access for all anglers; we will cover the shoreline access and boating access below. Shoreline anglers have complete access to Lake Ida's west and south banks in the Lake Ida County Park. On the east shore of Lake Ida, fishing lies within the City of Delray Park. There is also shore access along the canal's east side between Lake Ida Road and the I-95 overpass.
Looking more North, nearly the entire shoreline of Lake Osborne's north lake between Lake Worth Road and 6th Avenue South is accessible to bank fishermen.
The E-4 Canal is located in eastern Palm Beach County and flows south through a series of naturally occurring fishing canals, but highly modified freshwater lakes. The E-4 Canal connects the West Palm Beach Canal (C-51) near Palm Beach International Airport with the Hillsboro Canal (G-08) in Boca Raton. The E-4 Canal offers anglers nearly 17 miles of fishable waters as it flows through the Ida-Osborne chain of lakes and provides anglers access to 670 acres of lakes and 23 additional miles of boatable canals.
This map below highlights the sections between Lake Osborne and Lake Ida of the E-4 Canal system. The central section through Lake Worth, Lantana, and Boynton Beach flow through the E-4 Canal. The canal characterized by sloping sides stabilized with concrete revetment in this area. It ranges in width from 50 to 180 feet, averages about six feet deep, and has a sandy bottom. This section includes 50-acre Lake Eden, 120-acre Lake Ida, six-acre Lake Constantino, 20-acre Lake Leisureville, and 380- acre Lake Osborne.
The Boynton Canal (C-16) boat ramp on Lake Ida is 5.3 miles and to Lake Osborne, it's 7.8 miles. Traveling Boynton Canal west from the E-4 and the intersection is 1.3 miles to the water control structure. Traveling east the Pioneer Park boat ramp is 0.4 miles and the salinity structure (S-41) near Federal Highway is 1.8 miles. The canals range from 90 to 180 feet in width and averages about nine feet deep around the Boynton area.
The entire length of the E-4 Canal is posted as "No Wake Zone" so boaters should plan their trip accordingly. The E-4 Canal has many low bridges and overhead pipes and care should be taken when going under them.
lake Ida fish species
Lake Ida is a body of water in Palm Beach County, Florida. It's a year-round fishery due to the great Soth Florida weather. Available species are Common Carp, Peacock Bass, Largemouth Bass, Clown Knife Fish, Panfish / Bluegill, Spotted Tilapia, Pickeral, Oscars, Sunshine Bass.
Not all areas are good for all species, here are some key areas for specific species. The E-4 Canal is one of the better largemouth bass areas and the nearby associated lakes and lateral canals provide excellent bluegill and redear sunfish fishing.
The Boynton C-16 canals have more largemouth bass than most other southeast Florida canals, and 30% are more extensive than 14 inches. Overall, the average size of largemouth bass is 13.2 inches, 1.4 pounds. Fishing for largemouth bass in these areas tends to be best during the winter when the water temperatures are more relaxed and in the evening, night, and early morning during the summer.
Lakes Ida, Eden, and Lake Osborne are the prominent Sunshine bass areas that were stocked. The depth of these areas and the shad population keep targeted to these areas.
In addition, the E-4 Canal anglers can also catch several exotic fishes, including Oscars from South America, spotted tilapia from Africa, and Mayan cichlids from Central America. These exotic species were illegally released and posed a threat to native species.
Oscars spotted tilapia and Mayan cichlids are all bream-shaped fishes. Oscars have a red or orange circle at the tail base and have a thick layer of protective mucus on their bodies.
Spotted tilapia are golden with black vertical bars or spots, and some have red on them. Mayan cichlids are colorful and snapper-like in appearance, with a turquoise ring around a black spot at their tail base. These exotic fishes taste great, and you can keep every one you catch with no limit laws in place.
The quality of panfish in these systems is higher when compared to other area canals. But normal catching techniques can be used, crickets and live worms are common baits for many panfish anglers. Old reliable and conventional fresh bread dough balls still work well, are readily available, and costs less.
The bag limit for largemouth bass is five fish per day; only one can be longer than 14 inches. The butterfly peacock bag limit is two fish per day, per person. Which only one fish may be over 17 inches.
Fishing Chairs
GPS & Fishfinder
Life Jackets
Catch and Release Allowed
Keep Fish Allowed within Laws
Boat Specs: 20+ ft
Boat Capacity: 4 People
All Fishing Equipment
Boat & Fuel
Photos
Light Tackle
Heavy Tackle
Livebait
Artificial Lures
Spinning Rods
Baitcasting Rods
Left & Right Handed
Fly Rods (request only)
Braid & Mono Line
Top Targeted Fish Species
Lake Ida Fishing Techniques
Look for canal intersections where two canals come together. Additionally, culvert pipes are generally productive areas for catching most local fish species; these fish love the water flow and ambush ability. Anglers should look for rip-rap areas, shoreline vegetation, and shady areas associated with bridges that provide excellent places to fish. During a strong current in the main canals, look for any protected areas that offer refuge from the wind.
Fish will stage downstream side of non-flowing spillways of lateral canals and behind bridge pilings. The spillways with flowing water are sometimes great, also the downstream side of culverts especially on colder days. Suppose you have boat access, identified by bright yellow buoys in lakes Ida, Eden, and Osborne. In that case, fish attractors are also good fishing spots if near you.
Fishing Lake Ida
★★★★★
"
Had a great time fishing Lake Ida with Capt. Fellows. He knows his stuff. I want to return and fish saltwater with him next spring. PS : If you have white legs be sure to apply plenty of quality sunscreen!!
"
Amazing
★★★★★
"
Great time with captain Bobby Kimble. Hard working and we were put on fish all the time . Also very nice personality and very informative and knowledgeable . Thanks so much . We will be back for more
"
Awesome Trip
★★★★★
"
Bobby is a great guide! He instantly put us on fish, and he is also a very personable, nice guy! Can't wait to do it again! Thanks, Bobby!
"
Fishing with Captain Doug
★★★★★
"
My son is an avid bass fisherman (from Texas). I'm not - but wanted to take my son on a trip celebrating finishing high school and off to college in the fall. Capt Doug Kimble was our guide and was fantastic. He helped a total rookie (me) and yet coached my son on some intricacies. Caught a ton of fish while also learning a bunch. Hired him for two days and will hire him again when we go back next spring!
"
Happy a great time with Capt
★★★★★
"
Happy a great time with Capt Wayne we caught Peacock Bass, Large Mouth and even a Clown Knife fish. Great day with the boys!
"
Trip of a lifetime!!
★★★★★
"
Went peacock bass fishing with Captain Brett I had the best time and caught fish all day!! We went to lake Ida not only did he put me on fish right away the lake was full of wild life. He knows where the fish are I wanted to catch peacock bass and less that five minutes "fish on" Captain Brett then took me to catch clown fish!! This has been the trip of a lifetime!!! Coming back very soon
"
CLICK HERE TO WRITE LAKE IDA REVIEW
Frequent Asked Question of Lake Ida
What is Lake Ida?
Lake Ida is the second largest lake in Palm Beach County with 189.26 acres (includes Lake Ida Park) boating, paddle boarding, jet asking, and shore swimming or enjoyed by all visitors. It is a very active lake with an average of 9.5 feet depth and clarity on good days of 3 feet. Water levels maintained by South Florida Water Management and Fishery by the Florida Fish and Wildlife Commission and the leading desired lakes in Palm Beach County.
What is the best bait for canal fishing?
Bait must look natural as otherwise, the peacock bass fish will not eat it
Anglers use lots of different types of bait fishing Miami Airport lakes Canals, fly fishing, topwater lures, jigs, and hard jerk baits are some the most popular.
If you are not experienced, live bait or known as shiners are the most product for catching peacock bass.
When putting a shiner on the hook you must thread it through the lips of the shiner for the right action.
Where is Lake Ida Florida?
How big is Lake Ida?
Lake Ida has over 2240 feet of dedicated shoreline. Top that off with the maze of intersecting canals and this is some of what makes Lake Ida so impressive and one of a kind. Lake Ida is almost 200 acres in size and active 7 days a week and a favorite to local realtors and sellers.
How do people dress for fishing charter?
In layers is best, but fishing is casual. A sundress for ladies with bikini underneath is not uncommon. Khaki shorts for guys is as dressed up as anyone ever gets, long pants work if you're not using to the sun. In the same vein, there are no "styles." Get comfortable with whatever dress code is the norm. But always try to wear light colors as they are cooler.
Where can I park my car at Lake Ida?
As all the boat ramps are in City or County parks, they are very secure. All the parking lots have parking for boats and trailers and passenger cars as well. Currently, there is NO parking fee. You can also find local nearby parking, many places are city meter parking. Your captain can tell you the complete cost, if you use Uber or Lyft there is no cost to enter.
Lake Ida area Piers
look north of the Lake Ida boat ramp to find the closest fishing pier and open to the public for fishing. Additionally, Pioneer Park on the Boynton Canal east of the boat ramp on Lake Osborne is a very exciting and popular pier for shoreline anglers, and directly next to the boat ramp is a convenient pier for anglers.
We might add, the associated bodies of water receive a lot of fishing pressure. So we recommend when possible that anglers catch and release what they can. Especially the largemouth bass and butterfly peacock, as they are great sport fish for many anglers. If anglers don't release most of the sport fish they catch, these high-quality fisheries will deteriorate rapidly.
Lake Ida Fishing Report
Many of the exotic fish including the peacock bass expanded to Lake Ida after several backs to back warmer than average winters. The butterfly peacock is a world-renowned gamefish successfully introduced by the Florida Fish and Wildlife Conservation Commission in the mid-1980s. An investment was made to eat undesirable exotic fishes and provide more sportfishing opportunities for anglers near southeast Florida canals.
Cooler water temperatures below 60 degrees make Butterfly peacock more susceptible to periodic winterkills in the E-4 Canal system. To keep up with current fishing reports read them here.
Current Lake Ida Fishing Report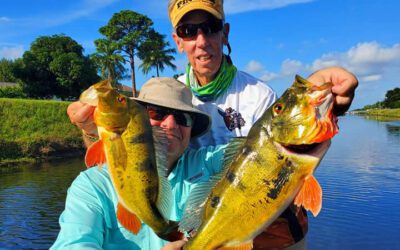 Delray Freshwater Fishing Trip Palm Beach County has been underrated for its freshwater fishing. When you are traveling to this beautiful destination, travelers tend to think...
read more
Lake Ida Boat Ramps
The Lake Ida chain of lakes provides great public access, with four public boat ramps on the system; all of them can be reached from I-95. Eventually by exiting at Atlantic Avenue, Boynton Beach Boulevard, or 6th Avenue South and using Google maps. All public boat ramps are concrete and paved, as well as very well maintained. They are located in city and county parks with plenty of parking, picnic tables, grills, playgrounds, and most have restrooms. All these parks are open from dawn to dusk.
Lake Ida Park
Another cool feature of Lake Ida Park is the dog park. If your fishing companion is a dog, there are two fenced areas one for smaller and one for larger dogs, with a bathing area in between. There are a few benches in each, and some trees.
ENTRANCE
1455 Lake Ida Road
Delray Beach, Florida 33444
Google Maps
HOURS: Sunrise – Sunset
ACREAGE: 189.26 acres (includes lake acreage)
Read More
AMENITIES

bicycle path

 (2 miles)

dog park, 

Lake Ida Dog Park

lake frontage (9,600 feet)

lake observation platform

parking

boat/trailer parking

regular parking

picnic areas with grills, single table

picnic pavilions

, reserved group (Heron, Ibis)

picnic shelters, family

picnic shelters, single table

pier (fishing)

playground

, including

play structure (ages 5-12 years)

play structure (ages 2-12 years)

play structure (ages 5-12 years)

play structure (ages 2-12 years)

restroom facilities

walking path

 (2 miles)
INFORMATION
Lake Ida East Park
ENTRANCE
950 N.W. 9th Street
Delray Beach, Florida 33444
Google Maps
HOURS: Sunrise – Sunset
Read More
playhouse hours vary according to event
AMENITIES

lake frontage

parking

picnic areas with grills, single table

picnic pavilion

, reserved group (

Lake Ida East​

)

playground

, including

play structure (swing set) (ages 2-12 years)

restroom facilities
LOCATION OF
Delray Beach Playhouse 

561-272-1281

(not operated by Palm Beach County Parks and Recreation)
What are you waiting for?
We also have great deals available on the following lakes that match your search criteria.