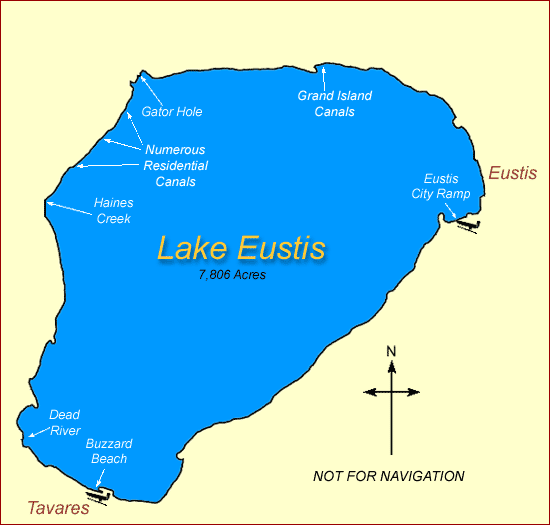 About lake Eustis
Lake Eustis is not the biggest lake of the chain, but it expands over 7,806 acres. It's connected to Big Lake Harris through the mile-long Dead River and Lake Griffin through Haines Creek. The surrounding Lake Eustis are numerous residential canals that can be very productive at certain times of the year.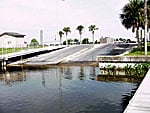 The East Lakes together, the East Harris Chain lakes; Dora, Beauclair, and Lake Carlton cover 4,475 acres. They are connected to Lake Eustis on the north through the Dora Canal and Lake Apopka to the South through the Apopka Beauclair Canal.
There are two public boat ramps on Lake Eustis. The popular Buzzard Beach ramp is located between Tavares and Leesburg on State Road 441. The Eustis city ramp is located on Lakeshore Drive just south of the City of Eustis.
Searching Availability...
Lake Eustis Fishing

A popular spot among anglers is the famous "Gator Hole," a natural sinkhole located in the lake's northwest corner leading off the main lake. At times, this hole produces good bass and can deliver the fish of a lifetime if you are there at the right time. For most of the year, the canals will produce consistent action from resident fish in Lake Eustis.
Both Haines Creek and the Dead River have excellent fishing in season.
Fishing Patterns
Lake Dora is traditionally the first to turn on in the spring and seems to hold giant fish than the rest of the lakes. Again, Kissimmee grass, reeds, and bulrushes are the predominant cover. The boat docks in this lake, especially along the north shore, can be very productive during the middle of the day.
South of Lake Dora is Lake Beauclair and tiny Lake Carlton. Access Lake Carlton through a small inlet on the southern shore of Lake Beauclair. Both of these lakes are known for giant bass. Most of the big fish are caught by flipping and pitching the boat docks and reeds, but local anglers have placed brush piles in these lakes, and these "secret" holes win many tournaments.
The Beauclair Canal off of Lake Apopka is a sizable area of clear water that holds largemouth bass year-round. The entrances of this canal is near the southwestern shore of Lake Beauclair. There is a lot of water to be fished, and it is all excellent at times. The so-called "Clear Canal" is located here, a significant sight fishing area in the bedding season. Many tournaments have been won in this area for those willing to make the long run.
Top Lake Eustis Fishing Guides