Lake Rating:
Lake Rating - Read customer reviews of lake, click to read
You Need to Fish the Harris Chain of Lakes
The Harrison Chain of Lakes died and came back to life; it's been through a significant restocking and restoration. Additionally, the lake is now full of giants. Lake Okeechobee and others may be on your bucket list for a good reason, but do yourself a favor and add this one.
BassOnline.com is the elite local experts to guide your friends, business associates, and family to a trip of a lifetime. Book a fishing charter today for a safe, fun, and successful fishing vacation.
Consider a Local Fishing Guide
Do you love bass fishing? You'll love our bass fishing guide Harris Chain. Considered a must-experience by the pros, the Harris Chain of Lakes, a unique chain of lakes. You can flip, topwater, finesse, deep crank, and sight fish, probably the most versatile fishery in Florida. Highly recommended for this reason and using a professional fishing guide makes it easy.
While catching fish, the lake's beauty is it's filled with wildlife, a birdwatcher's paradise. Plus, being a major stop on all fishing tournament trails leads us to help some of the industry's biggest names. Fish, with our Harris Chain of lakes fishing guides and gain the knowledge of the elites.
Harris Chain of Lakes Fishing Charters
Pricing?

To get current pricing. Click on the AVAILABLE button on the pictures below. Then adjust the date, time, and the number of people and it will display the total price
Searching Availability...
About

Harris Chain of Lakes

The nine Harris Chain of lakes totals approximately 76,000 acres. Twenty years ago, these lakes hosted numerous national bass tournaments, including the B.A.S.S. Megabucks and now on an annual basis the Bassmaster Elite Series tournament trail.

Knowledgeable local anglers and Harris Chain of Lakes fishing guides produce excellent catches of bass regularly. Many local clubs have conducted a weekly or monthly tournament on the Harris Chain for many years. However, over the last five years, analysis records show that the Harris Chain of Lakes is very productive, producing five fish tournament limits of over 20 pounds regularly. 

Many times, Nine, ten, and 11-pound bass regularly anchor these catches. In 2012, our fishing guides were more consistent year-round on this Harris Chain of lakes than ever before.      Read More
Trip Core Details
Region: Florida – Leesburg
Duration: 4, 6, & 8 hrs
Cancellation: 12 hrs in advance
Weather-Related: Full refund
Instant Online Confirmation
Includes All State Taxes
What's Included:
All Fishing Equipment
Professional Captain
Boat & Fuel
Cooler & Ice
Bottled water
Photos
What's NOT Included:
Florida Freshwater Fishing License for those ages 16+
Live bait if desired is also additional and is purchased the morning of the trip. (optional)
Food or Specialty beverages
Fishing Chairs
GPS & Fishfinder
Life Jackets
Catch and Release Allowed
Keep Fish Allowed within Laws
Boat Specs: 20+ ft
Boat Capacity: 4 People
All Fishing Equipment
Boat & Fuel
Photos
Light Tackle
Heavy Tackle
Livebait
Artificial Lures
Spinning Rods
Baitcasting Rods
Left & Right Handed
Fly Rods (request only)
Braid & Mono Line
Fishing beautiful Harris Chain of Lakes in Leesburg Florida on a boat fully equipped with top quality rods, reels, hooks, and artificial lures. 
Exploring state-top #5 ranked Harris Change of Lakes in search of trophy largemouth bass, hard-fighting black crappie (speck) and so much more.
Guided fishing tour by a USCG professional fishing captain knowledgeable of Central Florida and all of its waters. 
Take home a souvenir of your big catch with perfect photos taken by your guide and spread on social media as desired.
Local Operator Information:
Complete Operator information, including local telephone numbers for your destination, are included on your Confirmation email. Our Trip Managers select only the most experienced and reliable guides in each destination, removing the guesswork for you, and ensuring your peace of mind.
Participants are encouraged to bring comfortable shoes, a light-colored shirt, a hat, sunglasses, and sunscreen.
Harris Chain of Lakes Fishing Guides
Harris Chain of Lakes Reviews
Absolutely a 5 star experience
★★★★★
"
Absolutely a 5 star experience. Not only did Captain Jai put us on fish in a few different locations, it was just overall a great time. It was great to get some of his knowledge and he's obviously passionate about what he does. It was just A LOT of fun. This was my first fishing trip with my dad in over 35 years and I could not have asked for a better trip. We also got to see a couple gators and manatees up close. To future clients: Skip the live the bait and go for the true bass fishing experience...you won't regret it.
"
Beyond amazing
★★★★★
"
Bass Online is beyond amazing. They are super great with kids. Takes time to find the fish so he can put you on them. Highly recommend him. If 10 was an option he would be rated a 15
"
Lots of great guides
★★★★★
"
I would start off by saying I have hired a lot of guides in many different parts of the country. I am a very experienced. Bass Online Captain are clearly trained and professional grade guides. Top of the line gear, and will work his butt off to put you on fish.
"
Fantastic guides!
★★★★★
"
Let me start by saying not only is there Captains fantastic, as a guide they are even better people. They are always willing to share fishing knowledge and fantastic teachers.
"
Very knowledgeable
★★★★★
"
Our Captain was very knowledgeable fisherman. He is kind, courteous, and professional. I would definitely recommend Bass Online for your next guided trip on Harris Chain of lakes.
"
Book a trip!
★★★★★
"
These Captains are the best out there! Book a trip with them to go catch some monster bass!
"
CLICK HERE TO WRITE HARRIS CHAIN REVIEW
FISHING IN LEESBURG FLORIDA
Why the Harris Chain of Lakes?
The Harris Chain of lakes is incredibly fertile and contain mostly stained green color water. The primary cover is Kissimmee grass, eelgrass, lily pads, reeds, and bulrushes. There is some clear water, but it is limited to the backs of residential canals and the spring creeks that feed the lakes. If you are fond of fishing light tackle in crystal clear water, you will have quite a shock in these waters.
These are big fish lakes with robust and healthy bass, requiring stout tackle and power techniques. Finesse tactics work well in these lakes and canals; as always, you take your chances of breaking off a nice fish when using lite tackle. There is generally the same pattern on this chain of lakes as any other in Florida; two distinct main patterns to Harris Chain bass fishing is open water main lake fishing and canal fishing. The different two popular ways of fishing are deep holes and site fishing.
The seasons and the weather dictate which pattern is best for a particular time. Word of advice, if you not around them, find them. They generally in groups on this chain of lakes.
Lake Eustis
One of the more popular lakes in the Harris Chain of Lakes is Lake Eustis which covers 7,806 acres and is connected to Big Lake Harris through the mile-long Dead River and Lake Griffin through Haines Creek. Both Haines Creek and the Dead River have excellent fishing in season. 
Surrounding Lake Eustis are numerous residential canals that can be very productive at certain times of the year. It is also the home of the famous "Gator Hole," a deep sinkhole at the end of a natural canal leading off the main lake. This hole produces scores of bass and can deliver the fish of a lifetime if you are there at the right time. For most of the year, the canals have the most consistent action in Lake Eustis.
There are two public boat ramps on Lake Eustis. Between Tavares and Leesburg on State Road, 441 is the popular Buzzard Beach ramp. The Eustis city ramp is located on Lakeshore Drive just south of the City of Eustis.
Dora, Beauclair & Carlton
Together, the East Harris Chain of lakes, Dora, Beauclair, and Lake Carlton cover 4,475 acres. They are connected to Lake Eustis on the north through the Dora Canal and Lake Apopka to the south through the Apopka Beauclair Canal. During the recent drought, Game Officials and local anglers planted a considerable amount of new reeds in these lakes. 
These reeds are now flooded and have begun to fill in the shoreline. Lake Dora is traditionally the first to turn on in the spring and does hold bigger fish at times than the rest of the chain of lakes. Again, Kissimmee grass, reeds, and bulrushes are the predominant cover. The boat docks in this lake, especially along the north shore, can be very productive during the middle of the day.
The Southside
South of Lake Dora is Lake Beauclair and tiny Lake Carlton. Through a small inlet on the southern shore of Lake Beauclair, Lake Carlton has an entrance. Both of these lakes are known for giant bass. Most big fish are caught by flipping, pitching, and using wild shiners on the boat docks and reeds. Many local and professional anglers have placed brush piles in these lakes. 
The Apopka Beauclair Canal system is a sizable area of clear water that holds bass year-round. The entrance to these canals is near the southwestern shore of Lake Beauclair. There is a lot of water to be fished, and it is all excellent at times. The so-called "Clear Canal" is located here, a significant sight fishing area in the bedding season.
Many tournaments have been won in this area for those willing to make the long run. There are three public boat ramps on the East Harris Chain of lakes; two on Lake Dora and one in Lake Jem. The Lake Jem ramp is on the Apopka Beauclair canal.
Changes made to the Harris Chain of lakes
.
In the early nineties, Florida Fish & Game implemented a five-bass 14″ daily limit that went a long way to improving the overall success of the Harris Chain of lakes for Florida bass anglers in Leesburg, Florida. Catch and release caught on with anglers and guides all over Florida since 2001, after a severe drought created an artificial drawdown that re-grew mile of eelgrass, pads, and shoreline cover. 
During the drought, game officials and residents also replanted acres of beneficial reeds in large areas of the Harris Chain of lakes. Water levels have now returned to normal, and the chain is producing good numbers of bass. Many 10 and 11 pound fish are l each spring and an occasional giant in the 12 to 13-pound range.
Big and Little Lake Harris
A big part of the Harris Chain of Lakes is Lake Harris, the bigger of the two leading lakes of this chain of lakes at over 15,500 acres. Big Lake Harris's average depth is much deeper than Lake Okeechobee to the south and has many deep holes and ledges. Beautiful homes and cypress trees surround the lakes. 
There are three public launching ramps on Big Lake Harris, off of U.S. Highway 27 to the west, Venetian Gardens in Leesburg, and Hickory Point near the Howey bridge off State Road 19. There is a small but serviceable ramp located on the east side of Little Lake Harris in the City of Astatula. The lakes almost ringed with Kissimmee grass and reeds except for the occasional boat dock or seawall.
The depth in the grass ranges typically from 2-5 feet. The bottom is mostly hard sand except for some shallow marshy areas where the bottom is soft mud. Ninth Street canals and the Dead River areas produce excellent bass fishing. These two locations offer an ideal place to fish during lousy weather. Unknown to most anglers is a deep ditch that runs along the south shore of Big Lake Harris in Yalaha.
Find the Ditch
This ditch, which averages about 15-17 feet in depth, was created by a clay mining operation many years ago. The trench has a rigid bottom and many shell bars along its sides. Numerous large bass is caught on artificial lures each year by trolling and casting deep running crankbaits near this structure. 
Water skiers and jet skiers have mostly avoided these lakes as most of the larger lakes in Florida. In the last ten years, the lakes have cleaning up considerably, which also has started to bring more boating activity. Still, it's a fraction of the traffic found on most Orlando lakes like Lake Tohopekaliga of the Kissimmee Chain.
Lake Griffin
Lake Griffin is the last lake in the Harris Chain of lakes. Water flows into the Lake through Haines Creek and exits into the Ocklawaha River, flowing north through the Ocala National Forest. It winds towards the St. Johns River and out to the Atlantic Ocean at Jacksonville. After that, until the late eighties, Lake Griffin was one of the State's best bass fisheries.
 A host of problems contributed to the collapse of the fishery around 1990. A significant contributor being the over-application of herbicides, which killed all of the offshore covers in the Harris Chain of lakes.
However, bass fishing remained poor until consecutive droughts lowered lake levels and allowed new weed growth to occur. 
Besides, restoration efforts in the form of shad removal and run-off controls are starting to have a healing effect on the lake. In the process, Orlando airport's few small lakes were backfilled because birds were interfering with air traffic in 2007. Some of these lakes had never been fished and contained many large bass. 
Dr. Canfield, a professor at the University of Florida, was instrumental in convincing the authorities to relocate this bass to Lake Griffin. Two of the fish were known to be in the 14-pound range.
Lake Griffin Trivia
Also, an agreement was finally reached with waterfront homeowners to allow the State and Local Government to dredge the canals. After that, the dredging began in early 2007 and will continue until 2008. The water authorities also opened a navigable entrance into the Emeralda Marsh, which has produced several local and national tournament bags. At this time, good catches of bass are occurring as eelgrass, Kissimmee grass, and hydrilla return.
The water quality has dramatically improved, and we expect the lake to be an excellent fishery as restoration efforts continue. To learn more about Harris Chain of Lakes restoration, click here to view the Harris Chain of Lakes Restoration Council's website.
Lake Apopka
In conclusion, Lake Apopka, at this time Lake Apopka, continues to be under restoration. The State of Florida has spent over 100 million dollars buying out most of the farms around Lake Apopka. F.W.C. is currently working on a 10-year plan to bring back the lake's outstanding fishing was once known for. Bass fishing is mostly limited to the Gourd Neck Springs area. This spring pumps vast amounts of clear water into the lake and has produced large numbers of giant fish caught mainly through flipping the nearby grass.
Current Harris Chain of Lakes Fishing Reports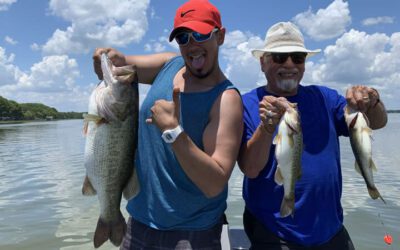 Florida Artificial Bass Fishing You are traveling to Florida and are wondering how to spend the extra days you have. You don't want to spend it on the beach or the numbers of...
read more
What are you waiting for?
We also have great deals available on the following lakes that match your search criteria.