Lake City Rating:
Lake City Fl Fishing Rating - Read customer reviews, click to read
Complete Guide to Lake City Fl Fishing
Lake City is a Florida city in Columbia County located in the middle of North Florida's panhandle. This town is situated between Jacksonville, Tallahassee, and Gainesville and attracts visitors every year for its natural beauty, outdoor activities, and local fishing spots. Lake City has reservoirs and streams to catch species such as Pickerel, White bass, and Sunfish.
Some of the top fishing spots near Lake City include Alligator Lake, Lake Hamburg, Long Pond, and Bell Lake for bass and panfish. The top fishing spot for guided trips near Lake City is Rodman Reservoir. This city has crystal-clear freshwater springs, top music festivals, history, paddling, and biking, and is near some incredible fishing.
Popular Nearby Lake City Fishing Locations

Instant Confirmation

  Angler's Top Choice

FREE Cancellation
Fishing in Lake City Reviews
Enjoyed the adventure
★★★★★
"
Very happy with our campground and fishing in the area! Has lots of places to fish and parking even the biggest rigs is easy. Most places were clean and the people very friendly. Great place to get away and recharge. We camped at Lake City and fished several different bodies of water.
"
CLICK HERE TO WRITE A LAKE CITY REVIEW
Freshwater Fishing
The best fishing charters near Lake City happen at Rodman Reservoir, Orange Lake, and Lake Santa Fe. Located very close to Lake City is a lake you can experience that will leave you with memories of a lifetime. The Rodman Reservoir is a beautiful lake in North Florida that is a must-experience when traveling here. Trophy largemouth bass reign supreme on this body of water, allowing for excellent fishing conditions and trips.
Also, you can experience a Lake City Fishing Trip on Orange Lake. Orange Lake is the largest lake in North Central Florida at 12,550 acres. It is also a designated fish management zone just southeast of Gainesville. Lake Santa Fe is 5,580 acres of spring-fed water that is uniquely beautiful for catching largemouth bass.
Florida's freshwater fishing regulations require all residents between the ages of 16 and 65 to purchase a Florida fishing license. All non-residents over the age of 16 also need a license as per the state's fishing regulations. Many local lakes have public fishing access, but checking private property signs and other local laws is essential when fishing without a guide.
Grass Shrimp and Other Techniques
A variety of methods will work when fishing Lake City, of live baits, including crickets, worms, grass shrimp, and small artificial lures will work. Grass shrimps are almost always effective bait for catching panfish in Lake City. Crankbaits and Texas-rigged soft plastics are some of the other popular options on the local lakes. Suspending jerk baits and rubber worms are effective along the grass edges for bass and pickerel. Live bait is an effective method to catch more crappie on the local lakes. The warmer water temperatures from spring run creek mouths attract fish in good numbers in the Santa Fe River.
Fishing Lake Hamburg
Lake Hamburg, or Lake Montgomery, is .5 miles from Lake City in Columbia County. Lake Hamburg is a favorite spot among local anglers. The surrounding area of Lake Hamburg features a public boat launch, paved parking, a large dock and fishing pier, a nature walk area, and a park for viewing wildlife. Boating and paddling are both available at Lake Hamburg. Lake Hamburg is home to a wide variety of fish such as largemouth bass, bluegill, catfish, and more.
Local Lake City Fl Bass Fishing Guides
Meet the team of Lake City Fl fishing guides, we know the best spots, baits, and techniques to give you the greatest fishing experience in Lake City.
Saltwater Fishing
Lake City is about 70 miles to the coast near Steinhatchee, Florida, to fish the Apalachee Bay and about 90 miles to Crystal River for the incredible Gulf Coast fishing. A fishing adventure in the bay is the perfect way to experience this charming old Florida town and its great angling opportunities. The fish in this location bite year-round and are ideal for anglers of all skill levels. This area is one of the top saltwater fishing grounds in the state; it even became known for various fishing tournaments and scallop specialties.
These waters are full of various fish species, but the most popular are Kingfish, Tarpon, Redfish, and Snappers. There are many different places to fish around here, but the top fishing spots are Steinhatchee River for flats fishing, Deadman's Bay for variety, Rock Point for sight-fishing, and The Gulf of Mexico for offshore fishing trips.
Current Lake City FL Fishing Reports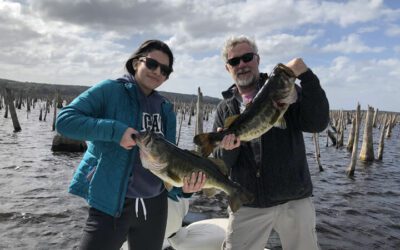 February North Florida Fishing Wondering where you can catch your next personal best largemouth bass? North Florida is the ultimate destination to search down some giant...
read more
Questions? Feel free to call us, Email us or use the chat us to speak to one of our specialists.
Questions? Feel free to call us, Email us or use the chat us to speak to one of our specialists.
Questions? Feel free to call us, Email us or use the chat us to speak to one of our specialists.
What are you waiting for?
We also have great deals available in the following cities that match your search criteria.