Kissimmee Rating:
Fishing in Kissimmee Rating - Read customer reviews, click to read
Complete Guide to Fishing in Kissimmee Florida
Want to go fishing in Kissimmee Fl, but visiting world-famous theme parks? Coming to Kissimmee and need additional information to make your plans for bass fishing Kissimmee Fl? Maybe looking to get up close and personal with Florida alligator?
Because when it comes to Kissimmee Florida vacations, it's got a lot more than just Micky Mouse. Bass Online is just minutes away from everything you have already planned for your perfect holiday. With so many options in Kissimmee, it's no wonder why, year after year, families come here to get-a-way and create memories.
So read our complete guide to fishing in Kissimmee, Florida, and we hope to answer all your questions and provokes you to try it shortly.
Popular Nearby Kissimmee Fishing Locations

Instant Confirmation

  Angler's Top Choice

FREE Cancellation
Kissimmee Pontoon Fishing Trips

4-HR PONTOON FISHING CHARTER
A 4-hour private fishing charter will allow you to get a taste of what Lake Tohopekaliga is like from a Pontoon boat.
Pricing4hr Trip Pricing
1-3 Anglers $374.99
$124.99 pp
4 Anglers $449.99
$112.50 pp
5 Anglers $524.99
$104.99 pp
6 Anglers $599.99
$99.99 pp
*pp - per-person

6-HR PONTOON FISHING CHARTER
This 6-hour private fishing charter will provide you a more in-depth experience of fishing on Lake Tohopekaliga for bass from Pontoon.
Pricing6hr Trip Pricing
1-3 Anglers $449.99
$149.99 pp
4 Anglers $524.99
$131.25 pp
5 Anglers $599.99
$119.99 pp
6 Anglers $674.99
$112.50 pp
*pp - per-person

8-HR PONTOON FISHING CHARTER
Our 8-hour private fishing charter is the ultimate experience when looking to catch the fish and the sightseeing only on Lake Okeechobee
Pricing8hr Trip Pricing
1-3 Anglers $524.99
$174.99 pp
4 Anglers $624.99
$156.25 pp
5 Anglers $724.99
$144.99 pp
6 Anglers $824.99
$137.50 pp
*pp - per-person
Fishing in Kissimmee Reviews
Great experience
★★★★★
"
Caught 8 large fish. One was over 7 pounds!! My largest bass ever!! Captain Reno was excellent guide. He made sure we caught fish! Had a fun day fishing, thanks!!
"
Great Trip
★★★★★
"
My husband and son really enjoyed this trip! They said the boat was really nice and they liked captain Frank was great! Caught lots of fish too!
"
April fishing trip
★★★★★
"
A great trip with Capt Frank, good fun and caught a lot of fish.
"
Wheelchair Accessible Fishing!
★★★★★
"
Excellent charter who was able to accommodate a disabled person in our party. Our captain met us with a pontoon boat which allowed a wheelchair to roll right on/off without needing to transfer to another seat. Highly recommend if anyone in your party has mobility issues and cannot board a typical bass boat.
"
Trip with Captain Frank
★★★★★
"
Friendly guide would definitely recommend Frank as my next guide.
"
Half day afternoon trip
★★★★★
"
I booked a trip with Captain Frank for my 9 year old grandson, son in law and myself. Captain Frank has a great fishing boat, knew Lake Toho extremely well and took us to several great spots where we pulled in the biggest bass we've ever caught as well as many beautiful pickerel. He was the perfect guide and we definitely recommend him. We used live bait which really helped catch the fish!
"
CLICK HERE TO WRITE A KISSIMMEE REVIEW
Places to Stay for Your Fishing Trip
Find a location near the meeting location that's the best option between a hotel and personal (AirBNB) stay lodging.
Top Targeted Kissimmee Fish Species
Local Kissimmee Bass Fishing Guides
Meet the team of Kissimmee bass fishing guides, we know the best spots, baits, and techniques to give you the greatest fishing experience in Kissimmee.
Getting Outdoors in Kissimmee
Kissimmee Fishing Rules & Regulations
Florida is like all other states in the US; they require a fishing permit to fish. Lucky Florida is one of the least inexpensive in the country. So know before you head out, you'll need to get a valid freshwater fishing license. They sell several types, residence license, which is if you live in Florida, and a non-resident license if you are just visiting.
The non-resident has a couple of options. The shortest license is a 3-day, which in many cases you only need one day, but this is good as it allows for flexibility of weather and other obstacles life brings on. They also have a 7 day and 30 days, and one year if you are coming back and forth a lot, these may be good options for you. The 3-day is $17 plus tax, less than $20, and available online, and no actual license is necessary.
Read More
Also, in Florida, we have a "No Cleaning Fish Act" in freshwater only. This means it prohibits your fishing guide from cleaning your legal catch at the boat ramp because it attacks alligators. This does not mean you can't keep your legal limit of bass, crappie, or other species, but you will need to make provisions to take your fish at the end of the trip so they can be cleaned elsewhere.

Areas Top Lakes – How to Choose
Below you can read more on the hottest Kissimmee fishing lakes; with so many areas lakes to explore, it's hard to know where to start fishing. Reading out current Central Florida fishing reports will provide some info on what's being caught. Below find a breakdown of the area best!
Lake Tohopekaliga
Lake Tohopekaliga is 20 minutes east of Walt Disney World, 30 minutes south of Universal Studios. You don't have to stay overnight; it can be a quick half-day trip. It does have an onsite camping ground if that is of interest to you. 
When fishing the lake, we will focus on natural vegetation in the lake. Bullrush, hydrilla, and maidencane are some of our favorites that produce quality bass consistently. It's a big lake; the top half gets more pressure and has more homes and boats. The bottom part of the lake is more suitable for big bass. One of Lake Toho is so popular that it has built a reputation for consistently producing bass compared to other lakes.
To read a complete guide and learn additional detail about Lake Tohopekaliga, please visit this page.
Read More
While water still has the same tannic acid rain color common to most Florida lakes, rivers, and Florida canals, the lesser vegetation results in only a noticeable color change rather than a dark stain.

East Lake Toho will have more traffic on weekends. Because of its location, it will have considerably more recreational watercraft like jet skies.
To read a complete guide and learn additional detail about East Lake Tohopekaliga, please visit this page.
East Lake Toho
East Lake Tohopekalgia (usually shortened to `Toho'), and not as popular as its more famous cousin, West (or Big) Lake Tohopekaliga. While they are located almost adjacent to one another and connected by a canal. 
Like most lakes, each of these two lakes is very different and have their own hotspots. West Lake Toho is different due to the islands, flowing feeder creeks, and big coves with naturally clear water and tremendous vegetation.
On the other hand, East Lake Toho is apparent cleaner, often with excellent visibility to depths up to 10 feet. It contains much less vegetation than West Lake Toho. Except for its northwest corner, the existing growths are basically confined to a narrow band of perimeter reeds and Kissimmee grass. 
Read More
Your content goes here. Edit or remove this text inline or in the module Content settings. You can also style every aspect of this content in the module Design settings and even apply custom CSS to this text in the module Advanced settings.
Lake Kissimmee
Lake Kissimmee not so famous for visitors but extremely popular to local anglers. This is because of its location, not because of its bass fishing. 
Lake Kissimmee covers some 38,000 acres from the Kissimmee river's mouth on the north end to the exit of the river near US Highway 60 on the south end. 
It is the fourth and final lake in what is considered the Kissimme Chain of lakes. Lake Toho is on the north, next to the lake south in Cypress lake, the next lake south is Lake Hatchineha. Which then brings you to Lake Kissimmee.
Read More
Don't let the tannin-stained watercolor of the lake's shallow waters detract you from the fishing. The lake is home to many trophy size bass, especially during tournament season when many anglers make the incredibly long run.

Because of the shallow depths, the lake is known for its slightly warmer water temperatures. During the winter and in cold front conditions does very well compared to others. However, despite the large concentration of bass, the lake's thick, heavy vegetation at times makes it difficult to locate fish. 
More experienced fishermen figure it out; this is a great situation where a local fishing guide can really help you. 
Lake Kissimmee is also rich with wildlife, including bald eagles, white-tailed deer, bobcats, turkeys, and giant alligators.
To read a complete guide and learn additional detail about lake Lake Tohopekaliga, please visit this page.
Kenansville Lake
Kenansville Lake is a shallow 2,500 area that was cattle pasture before flooding in 1993. A single lane concrete boat ramp is the only facility provided on the site. The town of Kenansville is the closest place to obtain gas, food, and bait. Bank fishing is allowed along the access canal and north end of the lake for those willing to walk or ride a bicycle to those areas. All largemouth bass are protected by a special no harvest regulation.
Read More
Kenansville Lake drains into Stick Marsh to the north and east, where vegetation will extract much of the nutrient load known to exist in these waters. Anglers should be aware that they will no longer run from Blue Cypress Lake to Kenansville Lake. READ MORE…about Kenansville lake and all your options.

Locating Bass in Kissimmee Fl
You can locate bass in the Kissimmee area in most local lakes by locating above or submerged vegetation. Bass are affected by water temperatures, weather, and shallow waters. To find largemouth bass in this region, you need to look for the hydrilla or ell grass with some lively activity around it. Both kinds of grass grow randomly in all the local Kissimmee lakes, and you may need to put some effort into finding the best locations. 
When fishing, use lures that will help you get through the grass to find the bass. The most useful tip is not to get hung up, so you don't scare the fish. Use any lure with a hidden hook, like a texas style worm, Fluke, Senko, etc. This will allow you to fish slowly in the grass and not get hung up all the time.
In Conclusion
The best fishermen in the world fish Lakes in the Kissimmee area; everything you need to know about these locations is on this website.
No matter the Kissimmee fishing guide you find, they should provide everything you'll need for your fishing trip. Boat, Gear, Fuel, Captain, Cooler, Drinks.
If you need assistance with your planning or booking, we hope to have the answers to your questions. Regarding other things to do for the rest of the family or group while in Kissimmee, Fl, please contact us.
Current Kissimmee Fishing Reports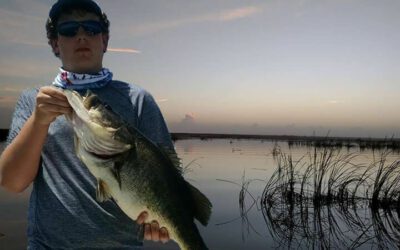 The easiest way to catch big bass is to know where in vast environment water they will live. So, have you asked yourself how to catch trophy bass? So let's get started. bass...
read more
Questions? Feel free to call us, Email us or use the chat us to speak to one of our specialists.
Questions? Feel free to call us, Email us or use the chat us to speak to one of our specialists.
Questions? Feel free to call us, Email us or use the chat us to speak to one of our specialists.
What are you waiting for?
We also have great deals available in the following cities that match your search criteria.