Instant Confirmation
No Waiting - Get an instant online confirmation that your trip is scheduled!
Angler's Top Choice
Our Captains are NOT available anywhere else, only Top Choice Guides work here!
FREE Cancellation
Canceled due to bad weather or bad health? We'll help reschedule or refund.
USCG Credentials

This captain has successfully passed an enhanced check by US CoastGuard and is Bass Online verified legal
Child Friendly

We look forward to the opportunity to teach children to fish. We carry all of the appropriate safety gear and ensure that our boats are a clean and safe environment for children all ages.
Disability FriendlyProvides Fishing Access for Anglers with Disabilities. Select an area below to book you next trip!
Capt Bobby Kimble is a full-time fishing guide in Palm Beach Florida and he was born in VA. As a teen was introduced to fishing and was hooked.
His love of sports and the outdoors kept him busy. He coached little league football for 5yrs and hockey for 4yrs, so loves working with kids. He also, participated in high school gymnastics 4yrs, organized football for 7yrs including high school and adult inline hockey for 23yrs. 
The entire time, always finding time to go fishing. Living in Va, the cold weather limited my fishing to 6 months per year. So we moved the family south, where we opted for the year-round fun in the sun of Florida. Always taking my friends and family out over the years, set me on the path of being a fishing guide.
Bobby says I get a great sense of satisfaction in sharing my knowledge and experiences with others while on the water! 
Living and fishing in the local area allow him the ability to have a superior experience on a selected choice of lakes.
Species Capt Bobby catches
Fishing Chairs
GPS & Fishfinder
Life Jackets
Catch and Release Allowed
Cooler, Ice, Bottled Water
Boat Specs: 22+ ft
Boat Capacity: 3 People
All Fishing Equipment
Boat & Fuel
Photos
Heavy Tackle
Livebait
Artificial Lures
Spinning Rods
Baitcasting Rods
Left & Right Handed
Fly Rods (request only)
Braid & Mono Line
WHAT IS BEING SAID ABOUT CAPT BOBBY
Giannasi
★★★★★
"
My wife and I had a great time with Capt Bobby Kimble , he is very knowledgeable and put us on the fish. We caught 5 different species. I highly recommend him
"
Best trip
★★★★★
"
Right off the bat Rick was very inviting and knowledgeable. We started catching fish from the start. Thanks Rick!
"
Trully awsome
★★★★★
"
Great experiance with Capt Bobby Kimble . First of all he has super nice personality , very profesional and more importantlly for people that want to fish hard all day is that he will put you on fish constantly . We landed so many nice bass and bunch of other spices i . Cant wait to come back and book another trip . Thanks captain !
"
Awesome Trip
★★★★★
"
Bobby is a great guide! He instantly put us on fish, and he is also a very personable, nice guy! Can't wait to do it again! Thanks, Bobby!
"
Fishing with Bobby Kimble
★★★★★
"
Bobby is an incredible guide! Not only did he instantly put us on fish, he is also just a very personable and nice guy! He enjoyed the entire 4 hours, and he made sure we stayed in the action. Thank you Bobby! Can't wait to do it again!
"
A Great Day of Fishing
★★★★★
"
We had a great day with Captain Kimble, He is very easy going and fun. He helped us with everything, even casting my wife's pole to get her bait under the docks. We caught a lot of fish and some really good size ones at that. He is a pro! I heartily recommend him to anybody who wants to catch a peacock bass. He will get you there and you will catch fish. My wife always wanted to catch a peacock bass, even had it on her bucket list. Captain Kimble helped make that dream happen. We both walked away happy. As a side note he let us bring our chihuahua with us, even our dog had fun, a great time and well worth every penny. I could write a whole page about how great Captain Kimble is.
"
CLICK HERE TO WRITE CAPT BOBBY A REVIEW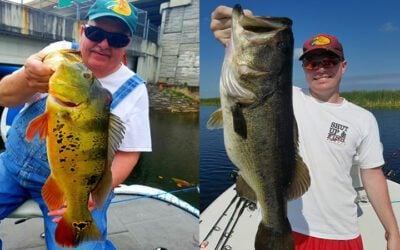 Florida Bass FishingTop Florida Bass Destinations Florida has hundreds of lakes and rivers full of fish, but some...
read more
What are you waiting for?
Other Nearby Local Experts