Lake Arbuckle
Lake Arbuckle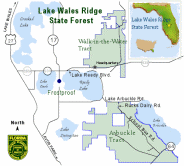 is located a few miles southeast of Reedy Lake, Lake Arbuckle WMA consists of 13,531 acres east of Avon Park in Polk County 5 miles south of Frostproof. It actually connects to Reedy via a shallow creek that is seldom navigable. Like Reedy, it too, offers dark water, but that is where the similarities end.
If finding bass during the spring is simplified on Lake Reedy, it is even easier on Lake Arbuckle. This is a shallow, bowl-shaped lake with only a few spots dropping to more then 12 feet. Very little offshore structure exists, but there is a large littoral zone loaded with lily pads and bulrush. There's will always some bass on the outer portion of the shallow vegetation. This lake is good every season of the year, because of it's feeding areas. During the spring, it's the doorway to shallow spawning, which makes this lake pretty simple like a lot of Florida lakes.
Lake Arbuckle Fishing
Bass begin to spawn on Arbuckle in January and are normally finished by early April. Given the water clarity, which is even darker than Reedy Lake, those bass spawn very shallow in 2 1/2 feet or less of water. Before they actually move onto the beds, however, they can stack up on that outer weed line. And they have definite preferences as to what areas they want to stage on.
The first thing I look for on this lake is a point of bulrush extending out from the main weed line, and that has a bunch of pads just inside the point. This combination of bulrush and pads seems to be a magnet for Arbuckle bass. Through Florida this pattern will work during the entire spawning period and even well into the summer. Even when the bass are spawning on the inside shallows, there will be bass coming and going on these points. Concentrating on this cover, especially during the morning hours, is the surest way to find bass on almost any Florida lake.
Unfortunately, finding them and getting them into the boat can be two entirely different matters. Hooking one of the Florida big bass is another thing, this lake is know to have trophy bass up to 15-pound in recent years. To tangle with a "hawg" like that in pad roots requires some serious tackle. Normally we can toss topwater plugs and crankbaits along cover edges with great success. Swiming worms, spinnerbaits and buzzbaits through the pads, a great way to catch big fish and quite exciting also.
We seldom throw a worms smaller than 8 inches on this lake and 10″ & 12″ inches isn't too big. If the outer cover doesn't produce, especially during an afternoon on a warming trend, move inside to look for bedding fish. Again, there is a key cover area.
Even in that extremely shallow water, bass are very difficult to spot on a bed before you get close enough to spook them off. The best you can expect is to see is a light-colored spot, and maybe some water movement as a bass patrols the bed. Savvy anglers sight-cast those targets with lizards or plastic worms, smaller worms can sometimes out produce larger lures.
The best access to Arbuckle is from the Polk County Parks and Recreation Department boat ramp on the north end of the lake off Arbuckle Road. It is free to use and easily handles the largest bass boat.
Lake Arbuckle History
Part of the Lake Wales Ridge State Forest area was purchased to protect numerous rare and endangered plants and animals. Arbuckle occupies a high ridge of ancient sand dunes and contains fast disappearing pine and oak scrub, home to Florida scrub-jays and gopher tortoises. Other natural communities include pine flatwoods, sandhill, and bottomland hardwoods along streams and creeks. Lake Arbuckle, where fishing and canoeing may be enjoyed year round, adjoins the area. The area offers very good deer hunting. On the area is a .8-mile nature trail as well as a segment of the Florida Trail.
Horseback riding is allowed on firebreaks, named or numbered roads or designated horse trails. Horses are prohibited on hiking trails and during established hunting seasons. Arbuckle WMA is part of the Great Florida Birding Trail. Scrub-jays inhabit the oak scrub along the road into the area. Short-tailed hawks may be observed on the Paula Dockery Trail, and at Lake Arbuckle are wading birds, bald eagles, limpkins, and ospreys. Camping is permitted at the designated campground off Rucks Dairy Road, and at designated campsites along the Florida Trail and at other sites by Special-Use Permit issued by the Division of Forestry. The Division of Forestry regulates camping and a daily fee is required per campsite. For information, call the Lake Wales Ridge State Forest at (863) 635-7801.

LAKE ARBUCKLE
Boat Ramp:
On the north end of the lake, boat access is on Lake Arbuckle Road off North Lake Reedy Boulevard, south of CR 630, east of Frostproof very limited bank fishing.
Additional links,,
http://www.floridaconservation.org/recreation/cooperative/arbuckle.asp
http://www.fl-dof.com/state_forests/lake_wales_ridge.html