Crescent Lake Fishing
★★★★★

based on

1

reviews.
Overall rating:
CRESCENT LAKE (Flagler & Putnam Counties): This 15,960-acre lake is a tributary of the St. Johns River. Public access to Crescent Lake can be obtained on the west shore off Highway 17 in Crescent City, please see Google map located below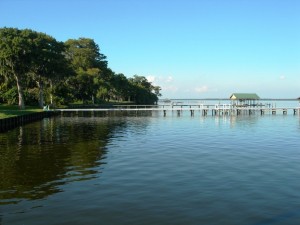 for ramp locations.
Crescent Lake Fishing
Lake Crescent fishing for bluegill and shellcracker is popular during late spring/early summer as the fish congregate during their spawn. Largemouth bass anglers, fish early mornings and late evening to avoid the heat during the summer months. Deeper docks and pilings on Lake Crescent provide great targets. Live shiners as well as artificial baits should both be effective during the winter months.
None of the lakes located off the St John's river are as unique as Crescent lake. Situated just a few miles North -East of massive Lake George. Crescent lake is approximately 30 square miles in length of clean water, abundant vegetation and beautiful scenery. The lake has a good amount of wildlife, including the majestic bald eagle. The lakes uniqueness stems from the fact that it has a large variety of bass fishing features. Shallow grass, shell beds, sharp drops, ledges, deep water, pad fields, logs and cypress trees, creek channels, canals and boat docks. Crescent lake has them all, no matter what the pattern or the fishing day provides there something here for everyone to fish.
Crescent Lake is fed by a large marsh to the east and two small creeks on its South end. It's main connection is to the St. Johns River, approximately six miles to the North, by Dunns Creek, a twisting, and winding creek, which has good bass fishing in its own. The water levels in Crescent are generally effected by the St. Johns River.
The lake averages about 10 feet deep, with some sustained areas of 12-16 feet along the lower West shoreline and a deep 20-30 foot channel between Crescent and Dead Lake.
One particular 'oddity' about Crescent, which is sure to make the structure-oriented bass fishermen sit up and take notice, is the excellent drop-off that runs parallel to the shoreline for nearly the entire circumference of the lake. In general, the bottom topography of the lake shows a slight tapering out from the shoreline until a depth of 5-8 feet. Then, in most locations there is a very rapid descent into 10-16 feet. There is a little, but not much. Hydrilla, milfoil and other grasses and the only lily pad fields of significance are in the shallow basin. These pad fields are also productive crappie locations during the spawning months of February through March. Local anglers find them schooling in the open waters just prior to and after the spawn. But, during the spawn, they will be with the pads.
For both species of fish, attempt to place the bait or lures under the structure. Accommodations, guide services, and general lake information is available from our website.
Crescent Lake Reviews
Big Bass Fun
★★★★★
"
Bought a fishing trip for my husband for christmas knowing we were going to Florida. He then picked crescent lake and it was one of the best options possible. We both caught our personal best bass weighing up to 6 pounds. What a day to remember. I want to come back already. Thank you Capt Gino!
"
Other important links:
http://www.lakecrescent.com/ http://www.floridaconservation.org/fishing/forecast/ner.html#crescent