Sonoma County, with its biggest city Santa Rosa, is known all around America for its delicious wine. With Napa County located just nearby, they form California's well-known wine valley.
Sonoma County's waterfront is largely undeveloped. So while you'll probably go into another county to fish it or launch your boat, the waters off Sonoma and neighboring counties are popular fishing grounds for both deep sea fishing and world-class trophy bass fishing.
Although many people from around America come to visit this area for wine tasting, or to take a glance at the miles-long wine fields, there is much more to Sonoma County. Or there is much more to be done and seen, particularly, in Santa Rosa.
Santa Rosa is located only half an hour's drive from the Pacific ocean. Also, the Russian river passes right next to the city, and Santa Rosa Creek crosses right through the city. The ocean waters area nearby makes Santa Rosa perfect for inshore fishing, as well as offshore fishing charters.
Although the hidden attraction, and carrying the most popular is the several local lakes, with world record catch ratio per angler. While each beach in Santa Rosa offers a wonderful experience, making this city one of the best fishing destinations in California, its the off the beaten path excursions that everyone remembers.
Popular Nearby Santa Rosa Fishing Locations

Instant Confirmation

  Angler's Top Choice

FREE Cancellation
Other Great Lakes with Santa Rosa Fishing Charters
Fishing Charters Near Santa Rosa
When it comes to Santa Rosa, fishing charters are offered for any kind of experience you want to encounter. Most commonly are boat trips done to many locations, including the river, creeks, the ocean, and beautiful crystal clear lakes that is right nearby the city.
Of course, the boat trips differ from each other by the fish types you will catch on your charter, and of course if the fishing trips are happening in shallow or deep waters.
One is for sure – you can expect one of the best fishing charter experiences right here. Santa Rosa offers unforgettable fishing adventures. Party Boat fishing is also an experience you can partake in when fishing on the shores of Santa Rosa.
Sonoma Lake Fishing
Sonoma Lake is a well know reservoir, which covers an area of approximately 2,500 acres. Santa Rosa charters are offered here regularly. This lake is mostly known for being the best largemouth bass fishing lake in California. The lake is full of this warm-water living fish, together with the gamefish.
The CDFW mentions that trout and landlocked steelhead fish also live in this lake, but without any concrete listing of their stockings. Overall, warm water fish generally live in Sonoma Lake. Sonoma Lake is best when visited with fishing charters. With this boat inshore fishing experience, you will do more than just fishing. The boat trip also offers to explore the lake's long creek arms, as the captain also takes to boat to less accessible fishing waters.
Fishing charter, boat services, private charter rental, and a marina are found on the shore of this lake. It is a family-friendly area, where kids can enjoy fun activities too.
Inshore Fishing
Starting from the inshore fishing trips on the Pacific Ocean – to the inshore fishing charters offers on the many rivers, lakes, and creeks nearby – the choice is abundant. Most of the water areas found around Santa Rosa are calm waters, so inshore fishing is always an available option.
Catching fish inshore is an experience of its own, not only for the fishing but also for the coasts that are nearby and you can have a picturesque fishing experience.
Deep Sea Fishing
If you prefer to go saltwater fishing, deep sea, or fishing offshore, might be a perfect choice. Santa Rosa is near the coast of the Pacific Ocean, so experiencing the best out-of-ocean fishing can be done in one of the Santa Rosa beach fishing charters, right here on the pacific ocean.
In a family or friend environment, you can spend a great time deep sea fishing. It is 30 km off the beach, and apart from all the ocean fish you will get to see, dolphins observing will be so much fun.
Santa Rosa Beach Fishing Reviews
Great time!
★★★★★
"
The absolute best spot for fishing, near the Santa Rosa area. I've been going for years on my own, but decide to hire a guide what a difference. Took me 5 years to learn what I learned in one day. It was reasonably priced, and very knowledgeable. This has now become our group's favorite!
"
Great experience!
★★★★★
"
We found some great inter tubes for floating down the river for rent from iOutdoors and they were so nice! Would do it again!
"
Great trip
★★★★★
"
We rented kayaks in advance through iOutdoors they were efficient and easy to book. I like that. They let me change from a tandem to a single earlier on the week which was great. We arrived and they had everything ready. Showed us where to be pick up and what to expect and do. They are a very efficient run business.
"
CLICK HERE TO WRITE A SACRAMENTO CA REVIEW
Santa Rosa Beach Fishing Charter
Before joining any of the fishing charters offered on various beaches around the area, there are a few tips one should know before starting it.
A fishing license is a must. Since Santa Rosa fishing charters offer exclusive opportunities to catch fish, one must have all the legal documents required.
Whether you decide to participate in the fishing trip alone or on a guided family fishing tour, the boat responsible will grant you safety gear. You should bring your own fishing equipment, as the boat crew is not providing it for the passengers.
The captain will take you fishing in the areas full of fish, as well as a lot of sightseeing and picturesque areas will be passed. The captain knows the exact places to take the boat on the trip, so just by relaxing you will spend a great day.
There are various beaches found close to Santa Rosa bay, and the ones that have great reviews will be mentioned in the following part of the text.
Ralphine Lake Fishing
Ralphine Lake takes up 26 acres, and it is located in the Howarth Memorial Park in Santa Rosa. The lake's fishing season lasts for a short period each year, yet if you want to fish for a trout – this is the place to go.
 The season on Ralphine Lake lasts usually from early to late spring. Trout restocking takes place usually in February or early March, so the fishing season starts right after the restocking. Trout fish can finish quite fast, but the season on the lake is not quite over yet.
 The lake is also home to bass, catfish, and bluegill. These are fish that naturally bred and continued to live in Ralphine Lake. If you aim to fetch these fish rather than for trout, any season outside of the spring will be perfect for you.
 The lake offers many options apart from fishing. Park area is surrounding it, as picnic tables are placed all around for people to use. Renting a canoe or kayak is possible, as you can launch your own fishing boat – guaranteeing a wonderful experience.
It is a family-friendly area, as your kids will enjoy it as much as the grown-ups.
Top Targeted Fish Species
Russian River Fishing
Russian River is stretched almost all over Sonoma County. It flows down from Mendocino County and enters the Pacific Ocean just up the coastline from Bodega Bay. It flows right next to Santa Rosa, making it really easy to reach and attract tourists for any kind of activity – especially fishing.
There are few roads that pass over the river and provide an easier approach to the fishing areas found in various places on the river.
The river offers fishing all throughout the year, with different fish swimming in its waters.
The steelhead is a fish that enjoys colder waters, so fishermen can continue their fishing adventures even in winter.
Hordes of American Shad fish swim in the Russian River in spring. This particular fish swims in warmer waters, so it reappears in the river every spring.
In summer, the smallmouth bass comes to the Russian river to reproduce. Consequently, this fish is abundant during warm seasons. This season attacks tourists for different kinds of activities on the river, so if you enjoy giggles and splash sounds while fishing – this season is the right for you.
The river has a very long coast and offers a variety of activities all year long – so choosing to fish here would be the right choice.
Santa Rosa Creek Fishing
 Santa Rosa Creek is a tributary to the Russian River. It passes right through Santa Rosa City Center, making it one of the most famous places one can visit here.
The most famous type of fish swimming in the creek waters are trout, salmon, and steelhead, yet they are forbidden from fishing.
Other types of fish, such as the smallmouth bass and channel catfish are allowed for fishing. The season opener for these fish is usually from the end of April, all the way into the middle of November. Only some areas of Santa Rosa Creek allow fishermen, and only during the seasonal opening mentioned above.  
Local Santa Rosa Fishing Guides
Meet the team of
Santa Rosa Fishing Guides
, we know the best spots, baits, and techniques to give you the greatest fishing experience in the Ione area.
San Pablo Bay Fishing
Sonoma County's shore stretches for 6 miles on the San Pablo Bay, connecting the sweet waters of the California Delta to the San Francisco Bay.
This Bay is a famous fishing ground in the area, especially for the sturgeon and striped bass fish. These fish pass through the San Pablo Bay Area without a specific concentration area. They swim in these waters during all seasons, only to go upriver for hatching during springtime.
Sturgeon is frequent during winter seasons, too, with anglers targeting it, especially during this season.
Salmon is a signature fish of the North Pacific Ocean. Therefore, it lives in these areas too. At certain times, many salmon pass through San Pablo Bay, mostly on their way to the Sacramento River.
The bay inhabits perch, rays, and sharks, and if you aim to fish them, read the regulations on this area.
San Pablo offers fishing offshore as well as inshore fishing trips. It is always better to fish using a fishing charter.
Gualala River Fishing
Gualala River Fishing
Gualala River offers different kinds of coastal fishing experiences, as on and off-fishing charters can appear on the river's surface.
This river is on the boundary between Sonoma and Mendocino, less than a two-hour drive from the Santa Rosa city center. Before you get ready and set yourself to visit this river, make sure to check if the fishing season is closed due to hatching. Plan your fishing trip accordingly.
The Gualala River is open for fishing all year except for the seasonal hatching closure in April and May. You can fish for hatchery steelhead and trout. Winter offers better fishing conditions for the selfish, as more return to the river during Christmas.
Make sure to check for the river's fishing regulations. Barbless hooks are a must, and bait season is kept shorter – but with more steelhead to fish in the winter months.
Also, keep in mind to check the regulations on low-water closers during dry seasons.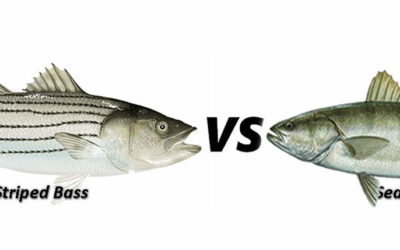 Sea Bass & Striped Bass: A Comparison The sea bass and the striped bass are different types of species even though they have the ''bass'' word in their name. When it...
read more
Salmon Creek Fishing
The Creek is a short stream just a few miles north of Bodega Bay, but very authentic and different from the other surrounding areas.
Salmon Creek is open for inshore fishing just on a mile-long land. The creek starts just below Highway 1, and its stream continues to the Pacific Ocean, emptying itself. Salmon Creek State Beach starts, and Salmon Creek ends.
Before you lure yourself into fishing in this creek, check the low-water regulations enacted during dry seasons. Also, Salmon creek has barbless hook rules and seasons, so be careful to do your fishing according to the given orders.
Here, you can catch hatchery fin-clipped steelhead, as they are denser in the river's northern part. Also, wild winter steelhead swims in this river, but bringing this fish home might need some regulations to be read beforehand.
Before you plan your fishing trip, check for additional rules or regulations.
Bodega Bay Fishing
One of the best destinations for fishing on the Pacific Ocean is Sonoma County, just half an hour's car ride from Santa Rosa city center. Bodega Bay is famous among tourists, especially during the summer period.
The middle of the summer is the best season for fishing in Bodega Bay. Salmon is especially famous in the North Pacific Ocean, and salmon's reproduction season is around the middle of this season. They can be found in abundance around this period of time – which is the perfect season to go fishing offshore.
Rockfish and lingcod, together with the perch and flounder fish, are also warm water fish, better to fetch with inshore fishing charters. They are generally living in shallow and rocky areas close to the beach.
The early fall brings albacore fish to the Pacific Ocean waters. Fishing trips are made when the weather is excellent, and the albacore can stay in these waters for a while.
The seasonal crabbing starts in deep fall, with the traditional prime season opening on the first Saturday of November. This continues through the winter, making Bodega Bay a top fishing area for a big part of the year.
The Pacific Ocean has a few more places where occasional fishing can be done, such as Salt Point or Sonoma Coast State Park. Yet, these places offer more leisure activities rather than fishing charters.
Lake Fishing
The secrets the other travelers and locals do not want you to know beautiful lakes and excellent fishing charters.
Questions? Feel free to call us, Email us or use the chat us to speak to one of our specialists.
Questions? Feel free to call us, Email us or use the chat us to speak to one of our specialists.
Questions? Feel free to call us, Email us or use the chat us to speak to one of our specialists.
What are you waiting for?
We also have great deals available other than Santa Rosa Ca in the following cities that match your search criteria.