Bass Online on a Lake near You in Arkansas!
Arkansas's original state slogan – "The Land of Opportunity", is a fitting description of the state's fishing opportunities. In addition to more than 600,000 acres of lakes and 90,000 miles of rivers and streams, the state has an abundance of freshwater species that fishermen may target.
Arkansas fishing is among the finest in the country. By alone, the fishing in the Tri-Lakes region is world-class. With Arkansas lakes, excitement and amazement don't end with fishing, as scuba diving and hunting are other popular pastimes.
For decades, the Arkansas Game and Fish Commission was once the world's biggest state-owned, warm-water hatchery. Three trout hatcheries are also scattered throughout the state.
Large and smallmouth bass, catfish, black and white crappie, walleye, bluegill, redear sunfish, rainbow trout, white, hybrid, and striped bass are just a few of the many types of fish you can find in Arkansas lakes.
Let's go around the water system in Arkansas and see what it offers.
2022 Best Arkansas Bass Fishing Lakes
​Lake Ouachita is a full-service lake that offers various recreational activities for fishers and non-anglers. Scuba divers flock to the lake because of its crystal-clear waters. Locals and visitors use the 93 available campsites to go swimming, kayaking, or camping.
Both Mount Ida and Hot Springs National Park are located near Lake Ouachita and provide a variety of outdoor activities. The sport of bass fishing has become quite popular over the years, and bass, bream, crappie, and catfish may all be caught at the lake.
The U.S. Army Corps of Engineers built Lake Ouachita between 1946 and 1954 as part of a flood control and hydroelectric project. Thousands of people visit the lake yearly to catch striped bass and admire its natural beauty.
There are several species of largemouth and Kentucky bass in Lake Hamilton, as well as stripey, white, and stripey/white hybrids. You can find bluegill and redear sunfish in the area, too.
Most of the coastline is private, although the Arkansas Game and Fish Commission's fish hatchery provides public bank fishing on the southeast side. Below the Blakely Dam, which divides Lake Hamilton from Lake Ouachita, there is another public access point.
Lake Hamilton's tailwater is also a public access point below the Carpenter Dam at the fish hatchery.
In addition, the incubator features a big fishing pier that is "sweetened" with brush piles, which offer habitat, particularly for bluegill and crappie. There are also a lot of largemouth fish captured there, too.
Bream lay their eggs in the bankside cover during full moons. The Game and Fish Commission supplies fall-run rainbow trout below Blakely and Carpenter dams.
3. Bull Shoals Lake, Arkansas – Map
The Ozark Mountains, home to Bull Shoals Lake, are a breathtaking sight. The Tri-Lakes region, which includes Lake Taneycomo and Table Rock Lake, is one of the most sought-after fishing places in the United States, according to National Geographic.
There are legends of bull shoals producing twelve-pound largemouth bass.
Additionally, the lakes provide a wide variety of fish species, including striped bass, catfish, bluegill, bluegill trout, rainbow trout, and brown trout. Because of its reputation as one of the top sites in North America to go fishing, it's not hard to understand why.
There are plenty of places to launch a boat and explore the lakes' 1,000 miles of stunning coastline, thanks to the area's twenty-one boat ramps. Choose from one of the numerous nearby campsites and have a great time throughout the weekend.
Bull Shoals Lake is a massive body of water that extends into Missouri.
4. Greers Ferry Lake, Arkansas – Map
Greers Ferry Lake is located on the site of a once-bustling town – Higden, so it's still possible to glimpse some of the town's streets. In the hopes of capturing the next World Record Walleye, fishermen utilize these routes to launch their boats.
These days, a resident of that area could also visit the lake to partake in one of the various activities offered by the vast, lovely body of water.
Greers Ferry Lake is a popular vacation spot for both tourists and locals who come to swim, cliff dive, boat, fish, scuba dive, and camp.
Largemouth and smallmouth bass, white crappie, white bass, channel catfish, walleye, black crappie, bluegill, and hybrid striped bass are among the lake's many fish species.
5. Arkansas River, Arkansas – Map
Anglers can find more than 300 miles of fish habitat in the Arkansas River, which flows from Oklahoma to Mississippi.
No artificial lakes in Arkansas can compare to the size of the river's bass-fishing zone, even if you exclude the sections officially known as Ozark Lake and Lake Dardanelle.
On the river, bass fishing tournaments are prevalent. To learn how to catch bass in summer, read this article.
6. Beaver Lake, Arkansas – Map
Beaver Lake is known for bass fishing across the region. It's also a popular spot for kayaking, fishing and swimming, catamaran sailing, stand-up paddleboarding, pontoon boats, and scuba diving.
The artificial reservoir provides a water supply for the people of Northwest Arkansas. Six hundred and seventy-seven campgrounds are available in twelve different leisure zones.
There are 28 boat ramps and nine hotels surrounding the lake, making it a tourist attraction for hundreds of fishers and campers each year.
Beaver Lake is home to a substantial population of striped bass and some occasional largemouth bass.
7. Norfork, Arkansas – Map
In terms of striped bass fishing, Norfork Lake is Arkansas's oldest and largest artificial reservoir. Anglers routinely catch striped bass weighing between thirty and forty pounds. Crappie and white bass are other popular targets for night fishing.
The Norfork National Fish Hatchery regularly supplies trout to the lake and its branches. From the Norfolk River in 1988, a world-record brown trout was landed.
In 2000, one fisherman managed to reel in a brook trout that weighed an astonishing four pounds and twelve ounces. The mix of streams, rivers, and lakes is an ideal choice for anglers who want to make a catch.
As one of the country's cleanest lakes, it offers exceptional visibility. Scuba diving, cave exploration, watersports, hiking, spearfishing, bicycling, or a picturesque drive along the 550 miles of coastline are just some of the non-fishing-related outdoor activities visitors may enjoy.
8. Millwood Lake, Arkansas – Map
Millwood Lake is a terrific alternative for a weekend lake retreat if you seek a more isolated location. The Millwood Dam blocks the Little River and the Saline River, forming a reservoir known as Lake Millwood.
As the lake's thirty thousand acres of water are filled with wood, most of it will become inaccessible to boaters. The trade-off is the abundance of fish that rely on wood for their existence.
White-tailed deer, squirrels, rabbits, armadillos, opossums, and mink are just a few of the many creatures you can see around Millwood Lake.
It's possible to find picnic spaces, boat ramps, and swimming holes at any of the fifteen parks that dot the lake's shoreline.
9. Ouachita River, Arkansas – Map
Short parts of the Ouachita and Little Missouri rivers, despite their small size and lack of big-fish potential, provide superb rainbow trout fishing in the spring and fall. The Arkansas Game and Fish Commission delivers trout at two locations on the Little Missouri River.
Lake Greeson's winter and spring releases below Narrows Dam are ideal for trout.
Fishing for standard-size trout from the banks on both sides of the river is excellent from early December through late April or early May.
You can catch put-and-take rainbows below Blakely Mountain Dam (Lake Ouachita) and Carpenter Dam (Lake Hamilton) on the Ouachita River's lower reaches from the shore or in a boat during the chilly season.
10. Lake Dardanelle, Arkansas – Map
Lake Dardanelle is mainly known for its fishing. There are a variety of additional alternatives, including a five-aquarium visitor center, golf, concerts, and horseback riding. Cabins, lodges, and campsites are available for overnight stays near the lake.
Bass and other fish like the lake's rock and wood cover and its abundance of aquatic flora. Bream, largemouth bass, and even crappie are some of the fish you can find in the waters.
In the spring and autumn, hybrid bass may be found around Ozark Dam, towards the lake's lower reaches, where you can enjoy superb striper fishing.
Based on the Overall Satisfaction rating from Actual Customers!
4.95 Overall Satisfaction rating
Join us in Texas, interested in a Career as a Fishing Captain?
Full-time or Part-time
We have a 98% Success Record
Bonce Lake – Degray Lake, Arkansas
This vast (13,400-acre) U.S. Army Corps of Engineers reservoir in Arkadelphia, DeGray Lake, is well-known for its largemouth bass fishing. Striped bass and hybrid stripers, on the other hand, may produce some of the quickest action.
When fishing, anglers are more likely to come across a combination of hybrid stripers and white bass.
At DeGray Lake Resort State Park Lodge and Iron Mountain Lodge and Marina, look for schools of fish thrashing around on the lake's surface.
Final Words
Arkansas bass fishing is one of the most exquisite in the states. The Arkansas river system provides scenic views and excellent fishing for all fishing enthusiasts.
For those planning a trip to Arkansas, make sure to free up a few extra days in your calendar since you won't be able to visit all of the spots in a few days.
FAQ
What is the largest lake in Arkansas?
Lake Ouachita is the largest water area in the state of Arkansas.
Can you swim in Greers Ferry Lake?
Yes, you can swim in Greers Ferry Lake. This lake also offers many other activities, such as sunbathing, splashing, and snorkeling.
Is fishing in the Mississippi River allowed?
Yes, you can fish alongside the vast stretch of the Mississippi River.
Where are the best fishing opportunities in Arkansas?
There are a ton of spots in Arkansas that anglers can enjoy. Some of these include White River, Lake Ouachita, Greers Ferry Lake, and more.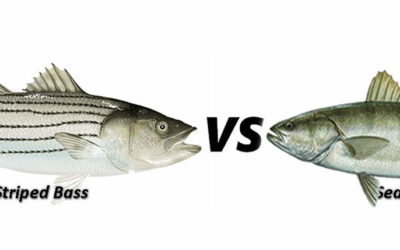 Sea Bass & Striped Bass: A Comparison The sea bass and the striped bass are different types of species even though they have the ''bass'' word in their name. When it comes to targeting the right fish, anglers need to know their similarities and differences. The...
read more
Other Great Ways to Experience Bass Fishing