Adam Caught all Time Personal BEST 9 pounds 6 ounces on Okeechobee
Hello this is Capt Mark Rose with your Lake Okeechobee fishing report from Tuesday Dec 27th 2016.
Fished the Horney Pond area on the west side of Lake Okeechobee, fishing today was really good. Had the opportunity to go out with Jerry and his son Adam from Georgia. They were down here for the holidays and what a better way to spend the time then to go fishing.
We threw topwater most of the day, Adam caught his all time personal BEST 9 pounds 6 ounces on Okeechobee. We caught a lot of fish today and the only thing we threw was topwater.
[fusion_content_boxes layout="icon-boxed" columns="1″ class="" id=""]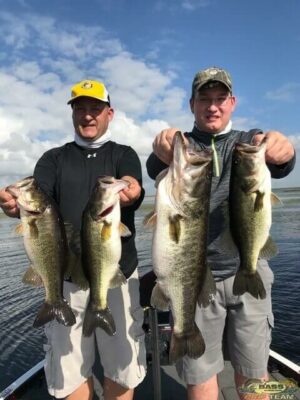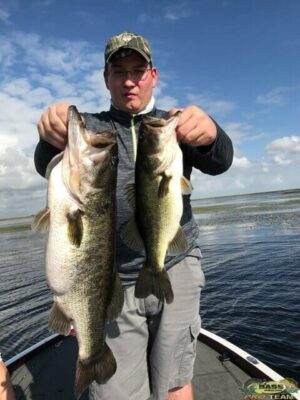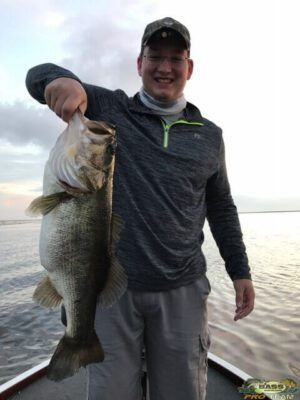 [/fusion_content_boxes]
The key today was to fish the topwater near the grass beds and work it slow, if so they will come up and eat it!
Water temp was about 76 degrees with just a slight breeze out of the northeast.
Till next time, tight lines from Capt Mark Rose.
If you enjoyed this fishing report you might like this fishing report on Lake Okeechobee.
Don't forget to follow us on Facebook and Instagram.
Anyways for all your Florida fishing adventures go to BassOnline thank you.
[fusion_builder_container hundred_percent="yes" overflow="visible"][fusion_builder_row][fusion_builder_column type="1_1″ background_position="left top" background_color="" border_size="" border_color="" border_style="solid" spacing="yes" background_image="" background_repeat="no-repeat" padding="" margin_top="0px" margin_bottom="0px" class="" id="" animation_type="" animation_speed="0.3″ animation_direction="left" hide_on_mobile="no" center_content="no" min_height="none"][fusion_accordion]
[fusion_toggle title="CLICK HERE TO WRITE A REVIEW" open="no"]

[/fusion_toggle]
[/fusion_accordion]
[/fusion_builder_column][fusion_builder_column type="1_1″ background_position="left top" background_color="" border_size="" border_color="" border_style="solid" spacing="yes" background_image="" background_repeat="no-repeat" padding="" margin_top="0px" margin_bottom="0px" class="" id="" animation_type="" animation_speed="0.3″ animation_direction="left" hide_on_mobile="no" center_content="no" min_height="none"]
[fusion_content_boxes layout="icon-boxed" columns="1″ class="" id=""]
[fusion_content_box title="About Capt Mark Rose" backgroundcolor="#b2ce96″ icon="fa-user" iconcolor="#3bbf4a" circlecolor="#ffffff" circlebordercolor="#oooooo" iconflip="yes" iconrotate="" iconspin="" image="http://bassonline.com/wp-content/uploads/2016/01/Mark-Rose-fishing-card-single-1-e1452109204801.png" image_width="50″ image_height="50″ link="/fishing-guides/okeechobee-fishing-guides/" linktarget="_self" linktext="" animation_type="0″ animation_direction="down" animation_speed="0.1″]Capt. Mark Rose hometown is Pittsburgh PA. Mark has been fishing Lake Erie and Lake Okeechobee since 1999. He fishes Lake Erie in the spring for smallmouth. He runs a detail shop in his hometown during the summer, spring and fall and heads to Florida during the winter months to do what he loves, guide on Lake Okeechobee.[/fusion_content_box][/fusion_content_boxes]
[/fusion_builder_column][/fusion_builder_row][/fusion_builder_container]