First Everglades Fishing Charter
Have you thought about what there is to do in South Florida? Whether you are on the west coast or cast coast, getting in the outdoors is a must. The Everglades canal systems are a perfect fishing destination for the family. If you are looking to hook into big numbers on your bass fishing trip, come explore the Florida Everglades. Join us on a First Everglades Fishing Charter in sunny Florida.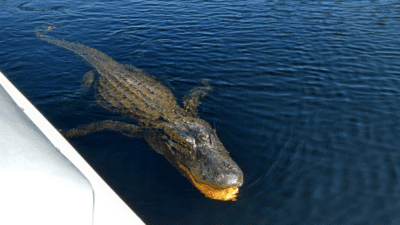 One of the blessings about the Everglades is the constant action. When the water is right, the bite turns on strong. This is the perfect opportunity to get out with one of our local experts and catch as many bass as possible. Several locations are incredibly productive this time of year. Alligator Alley is one of them and can be easily accessed from the southwest coast of Florida. Another great location is Everglades Holiday Park out of Fort Lauderdale, FL. Get your family hooked on fishing for an adventure of a lifetime!
Captain Mark Rogers had the pleasure of fishing with Jake and his dad. They were traveling and vacationing on the west coast of Florida. While they were here, Florida largemouth bass fishing was a must. So off they went to go explore Alligator Alley with artificial lures.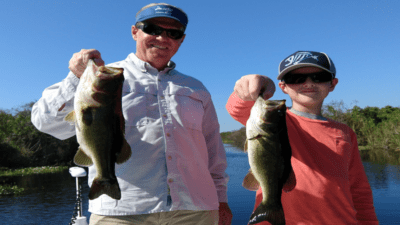 It was a cool beautiful morning for bass fishing on the Alley. The Everglades was a very productive fishery on this fishing trip. Jake and his dad enjoyed a slow drift down the canal throwing an assortment of baits at the bass. The topwater bite was on whether you wanted to throw poppers or spooks. You can also fish slower on the bottom with sencos or ribbon tail worms.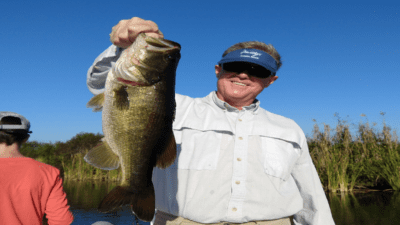 Jake and his dad had a lot of fun catching a variety of species in the Everglades. They caught a large number of bass along with Oscars, mudfish or bowfin and cichlids. The biggest bass of the trip weighed 4.5 pounds. That is a solid bass for the Everglades. Bigger ones are out there and you can catch one
Just shortly after this awesome fishing trip, Captain Joe Gruny adventured out of Holiday Park. Broward County is another productive fishery for large numbers and handfuls of largemouth bass. Alex was traveling from Argentina to set the hook into some Florida bass.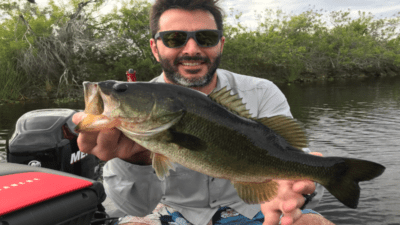 According to Captain Joe, "Everglades fishing is off the chain." Alex can most certainly agree as he caught over 45 largemouth bass on his short trip on the water. It was his first time ever catching bass. If you have never caught bass before, explore the Everglades. This destination will not let you down.
Alex had a fantastic time on the water catching a bass weighing up to 6 pounds all on artificial baits. The most productive artificial baits are topwater poppers, flukes, sencos, and worms. You can throw a variety of baits at them and catch some quality bass.
Captain Joe is looking forward to catching them up with Alex next time he is traveling to South Florida!
Don't miss out on your fishing adventure here in Florida. Everglades bass fishing is on fire and will continue to get better. This is the perfect opportunity to catch bass and get your family hooked. Bring your young kids along for some of the best fishing this month. We look forward to seeing you on the water next time!
Come Visit Florida and Catch Yours Today
If you enjoyed this post about South Florida Fishing, you might also enjoy this
fishing report
from the same area.
Don't forget to follow us on Facebook, YouTube, Twitter and Instagram.